Of melodies and rhythms
Darbari sets sail at Chhayanaut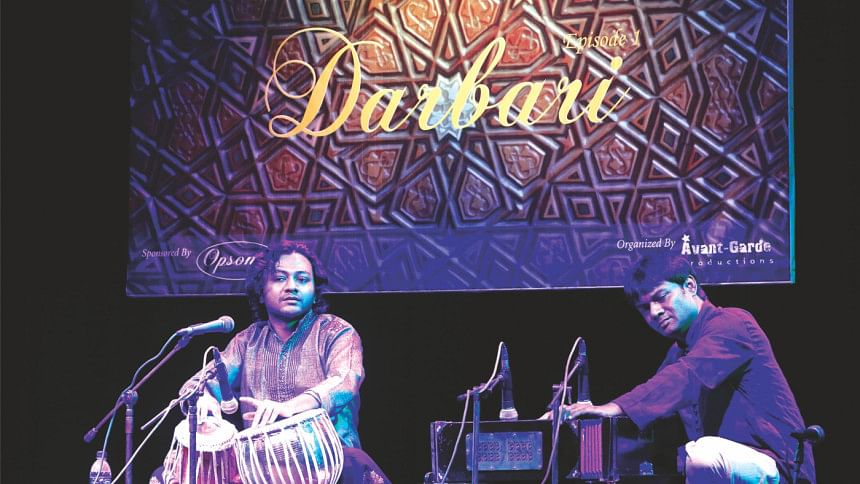 The first episode of Darbari, a new platform for classical music, was held at the main auditorium of Chhayanaut, Dhanmondi on December 11. Avant-garde Productions organised the event, sponsored by Opsonin.  
Talented tabla artiste Mir Naqibul Islam and lone santoor artiste of Bangladesh Salahuddin Santanu first took the stage. Santanu mentioned that solo harmonium recital is generally discouraged in festivals or conferences in our subcontinent. But it can be initiated like any other solo instrument recital. Set on Raga Yaman, Santanu played alap, jod and jhala with elaborating subtle melodic game of the raga in three octaves. It was a soothing recital that the artiste entertained the audience.
Mir Naqibul Islam's solo tabla lahora came next on teentaal, while Santanu was on nagma playing the sweet melody of Raga Mishra Kaushik Dhwani. Naqib started off with an experimental recital of tabla, blending elements from Varanasi Gharana and Farukhabad Gharana. Later, he mesmerised the audience with presenting kayda and rela, composed by Pt. Jnan Prakash Ghosh and his Guru Ashok Paul. Naqib's solo performance was evocative of rhythmic sound variation especially on drut teentaal, gat, tukda, chalan, laggi, chakradar and padan. The layakari genius recited many bols while performing.
Noted flautist Murtaza Kabir Murad, accompanied by Ratan Kumar Das on tabla, played Hansadhwani, a raga belonging to the Bilawal thaat. The artiste fascinated the music lovers with a blooming melody in mandra saptak. Revolving around the melody of the bandish "Laagi Lagan Pati Sakhi Sang", composed by Bhindi Bazaar Gharana Ustad Aman Ali Khan, Murad put together a garland of melody on a teentaal gat. A bit of sawal-jawab followed. He later played a Bhatiali dhun at the event.            

Salahuddin Santanu wrapped up the soiree with performing a peaceful and touchy Raga Puria Dhaneshri on his santoor while Mir Naqibul Islam was on tabla, playing madhyalaya and drut teentaal. Santanu's drut gat and jhala performance was remarkable.    
Ahmed Tahsin Shams, CEO of Avant-garde spoke prior to the performance.