Zahara Mitu's dreams on the silver screen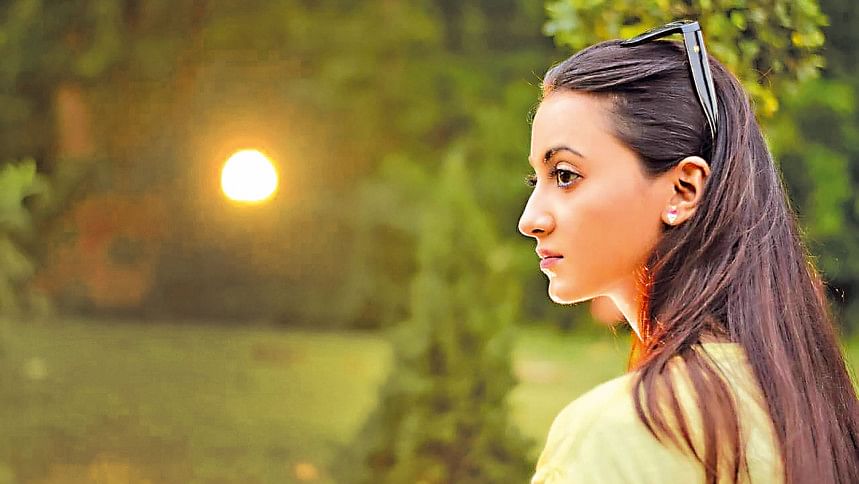 Model and actress Zahara Mitu became a prominent face in the industry after winning the crown in Miss Super Model Bangladesh 2017. She stars in "Joy Bangla", directed by Kazi Hayat, and is currently busy with a number of movies. In a short span of time, she has worked with renowned stars like Shakib Khan and West Bengal actor, Dev. In a recent interview with The Daily Star, the talented actress talked about her upcoming projects, and more.
What can you tell us about your upcoming movie, 'Joy Bangla', which is being funded by the government?
I am playing the role of Dola, opposite Bappy Chowdhury. The film is adapted from Muntasir Mamun's young adult novel, "Joy Bangla", under the direction of Kazi Hayat. The story is set in Dhaka during the 1960s and 70s. I read the novel in 2013 when it was available in book fairs, and really liked the plot. Now a film is being made on the same, and I am very happy to be working in it. 
Are there any upcoming projects you can tell us about?
I will start shooting for "Kutigir" from December 22, and it will continue in Gazipur. The story of the film is based on rural life, and Shaheen Shumon is the director. I will be playing the role of a playful rural girl, opposite Bappy. I am also working with him on "Jontrona", directed by Apurba Rana.
You are working with Shakib Khan in 'Agun'. What can you tell us about that film?
I started working on "Agun" a while back.  Hopefully, the shoot will end soon.  Besides, I am working on the film, "Commando" with West Bengal actor Dev, as the male lead. The shooting is yet to finish.
What are your expectations from working on movies? 
I used to host different shows earlier, including the likes of BPL. I have worked on tele-fictions as well. Then, I got movie offers, which I had never expected. But now, working on films is my top priority. I really want to impress the audience with my acting. To be honest, I fell in love with the camera while working on "Commando".
Who is your most favourite heroine of the silver screen?
There are many in my list of favourites, but I would like to mention Shabnur. I love her pairing with Riaz on screen. I have seen all their movies. Shabnur's acting makes me feel a lot of emotions, which is why she is my most favourite in the industry.