Portrait of a Cover Artist: Mostafiz Karigar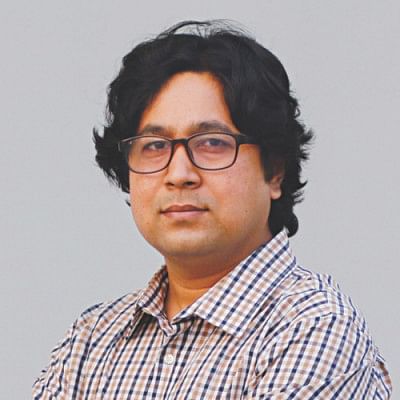 A full-time painter by profession, Mostafiz Karigar developed a keen interest in painting as well as writing since childhood. That in turn, encouraged him to dwell in the ever so magnificent world of books. Soon enough, he was involved with various literary clubs to nurture his habits. Pursuing his dreams, he attained his BFA in Ceramics from the Faculty of Fine Art, University of Dhaka. In time, his work began to garner admiration from his friends, who would often request for his artwork as their book covers, and he became relatively known in the art community. Karigar began his endeavours with the Ekushey Grantha Mela from 2007, and has been one of the highly sought after artists ever since. This year he has contributed to 350 different books. In an interview with The Daily Star, he sheds some light regarding his passion.
How do you set up the routine for your artwork regarding Boi Mela season?
Given the immense pressure during this time of the year, I mostly try to wake up early in the morning. Then I start my work at home and continue till noon. Later in the day, I spend time at my studio in Katabon with my friends, many of whom are poets, writers and publishers.
Could you describe your preferred medium when it comes to illustration?
As my method is not CGI based, I tend to draw freehand and use water colour or acrylic. After the majority of the physical work is complete, I have to transfer it to the computer in order to add a digital touch-up. Apart from this style, I am rather fond of using the paper collage technique as well.
How do you decide what to put on the cover of a book?
As this is a very busy time of the season, it is difficult to go through all the books that I have to deal with. If it's a story book, the synopsis helps me get the gist of it, and if it's a poetry book, I read a few poems to get the essence.
Who would you name as your inspiration in this field of work?
Since the very beginning, I have admired the superb artwork of Dhruba Esh. I also like Sabyasachi Hazra's work very much. The brilliant works of Satyajit Ray and Purnendu Pattrea, continue to fascinate me to this day, and I study their work regularly.