I backed out of a film for 'Habibi': Nusraat Faria
Celebrated actress Nusraat Faria made her singing debut with "Pataka" in 2018. With her very first song, she had created quite a buzz among her fans Her second song, "Ami Chai Thakte" was also a hit. Her third original track, "Habibi" was released on November 7. The "Premi O Premi" actress got candid about preparing for the song and more in a conversation with The Daily Star.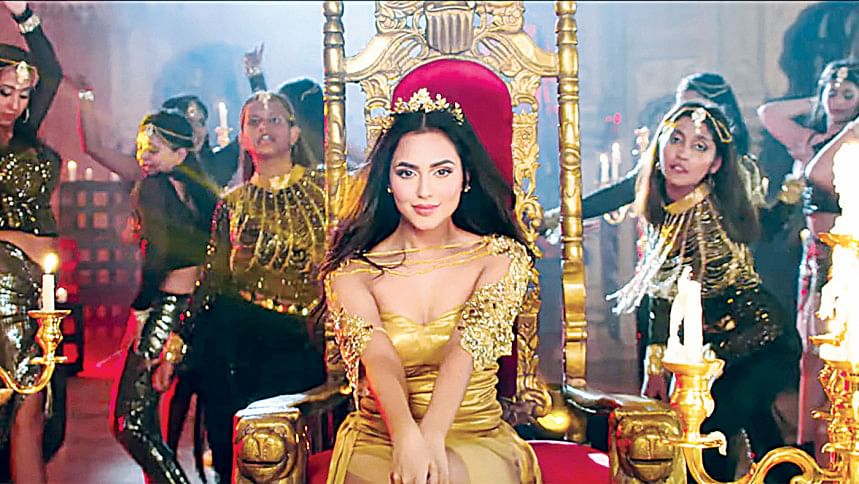 You have truly worked hard for the song, 'Habibi'. What was the process like?
I started preparing for the song 20 days in advance. I also had to study for my third-year law final exams at the time. I shot for "Habibi" on October 14, and had a paper due the next day. There was a lot of pressure on me, but I was determined to look beautiful and fit for the song. Although I was quite stressed out, those 20 days were memorable and wonderful. I even backed out of a film for "Habibi"; I gave my blood and sweat to it.
Your original songs 'Pataka' and 'Ami Chai Thakte' came out in 2018 and 2020 respectively. What were your expectations from them?
It has been three years since the release of my first song, "Pataka". If the audience had not appreciated that song, I would not have put out "Ami Chai Thakte". I think there is an interest among my fans, for more music from me. I collaborated with the Indian production house SVF Music for all my original songs till now, and I have had a great experience working with them.
You have proved your talents as an actress, a model and a singer. What is your mantra for success?
I believe the secret to my success is the love I have for my work. If you love what you do, everything else is likely to fall into place. Before me, actresses like Diti and Moushumi Apu have dabbled in singing. I have always aimed for something different and spectacular as a singer.
You got engaged over a year ago. Can we expect a wedding any time soon?
I am not thinking about my wedding at the moment, as I am quite busy. I need a few more months to plan everything out.