Vivid expressions in monochrome
Mainuddin's solo exhibit opens today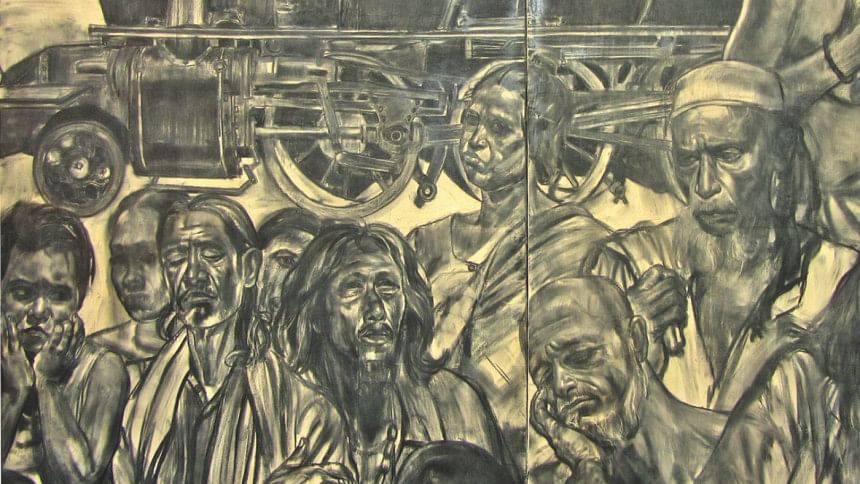 Md. Mainuddin's drawings and painting exhibition, which begins at La Galerie of Alliance Francaise today (January 2) and continues up to January 18 is called "Manifestation of the Human". The artist may not be as prolific as Marcel Duchamp or Salvador Dali, but he is amazing in his own way with his black and white extravaganza, which covers the entire gallery in its mysterious manner.
The figures cover the entire room and the smoke from the engine goes all along. There is a portrait of a seated man with a white shirt, with stubs of beard, glasses and a moustache. He wears a copper band a blue checked lungi, plus a blue shirt.
The figures are realistic in their approach, the clothes, and bending of the bones the playing of the violin or the dotara by an older man. He wears a dhoti, a heavy moustache and layers of beads. The creases of the clothes have been done with care. A man with a thin, wispy beard and a skull cap, open shirt and cloth on his shoulder sits by himself. The frills, the coat sleeves, the girl child's teep and amulet, along with the chain ending in the amulet, are as realistic as they can get. The leader carries a black paper rolled, to pipe out his message to the group in another work.
The woman with the single bead blouse and simple checked sari is there. So is the bare-bodied woman with her white sari, lamenting her fate. The old man is thinking deep with his eyes shut. There is a seated woman, with many, seated man before her. There is a bare-bodied girl, playing chess. A girl paints a flower with a sad, drawn face, at one end.
A man with flowers in his head is playing with chess, as a central, large figure dominating the others, at one end of the room. He is in contrast to the sad figures that go with the black smoke, in the length of the room.
The expected guests at the inaugural ceremony are Rafiqun Nabi, Prof. Abul Barq Alvi, and Prof. Nisar Hossain.
Born in 1983 in Bhola, Mainuddin did his BFA and MFA from Dhaka University and got first class first. So far, Mainuddin has received several awards including Bangladesh Shilpakala Academy Award (2013), Best Award in Painting in Bangladesh Young Artist Art Competition organized by Bangladesh Shilpakala Academy (2012), Grand Prize in Nowab Sir Shamsul Huda Painting Award (2011) and many more. Mainuddin had his first solo drawing exhibition titled Norobodhi Jonosrot held in Dhaka Art Centre which drew a lot of acclaim from art aficionados and connoisseurs.