'Narir Shopno' underway at DrikPath Bhobon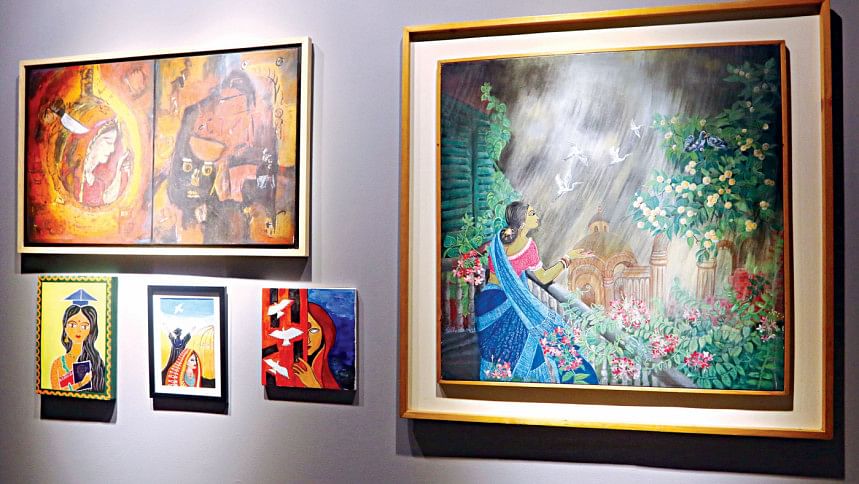 "Narir Shopno'', a group art exhibition organised by Naripokkho, is underway at DrikPath Bhobon in Panthapath. Naripokkho is a women's activist organisation striving for the advancement of women's rights and raising collective voices against violence, discrimination and injustice. The exhibition is a part of the organisation's year-long programme to introduce young women to this platform. Through this programme, Naripokkho aims to create a network of women across generations to strengthen the movement for women's rights in Bangladesh.
The exhibition showcases the dreams of Bangladeshi women for a safe and ideal society. Inspired by Begum Rokeya's ground-breaking short story "Sultana's Dream", it features creative and colourful visualisations from female artists aged between 15 and 35. The 50 artworks on display portray the artists' perceptions about a gender-inclusive Bangladesh.
After an open call, the organisers received more than 200 artworks, consisting of creative and colourful visualisations of what the artists see as the bricks and mortar of a safe and idyllic society for women. "I had a wonderful time curating the exhibition as this was the first time I participated in an all-female exhibition," shared Taiara Farhana Tareque, the curator.
The artworks consist of paintings and digital illustrations. "My work is a basic diagram of how getting older feels— shedding hope like skin and dead leaves, and how some of them cling to us anyway," shared Anuva Chowdhury, a 17 year old participant. She prefers using digital tools for the flexibility of incorporating new changes and ideas.
Similarly, Ruposree Jaflong's ''Rhythm of Jakha'' reflects the lives of Hajong women. The Mongolian Hajong community is an indigenous group and the role of Hajong women in housework is pivotal for sustaining everyday life. "The word 'jakha' means fishing. My painting highlights the dramatic cool rhythm of women fishing," she explained. In addition to a paintbrush, Ruposree has used a mix of needles and yarn to resemble the Hajong women's traditional attire.
Tania Ahmed has explored women's freedom through ''Mukti Spriha''. "The fact that this exhibition attempts to visualise women's dreams inspired me to participate. My painting depicts how the dream of being free, like a bird, has not been fulfilled yet," she added.
The exhibition will conclude on December 16.