Bengali motifs in modern forms
Shakoor Shah's "Muse of Myths" at Bengal Gallery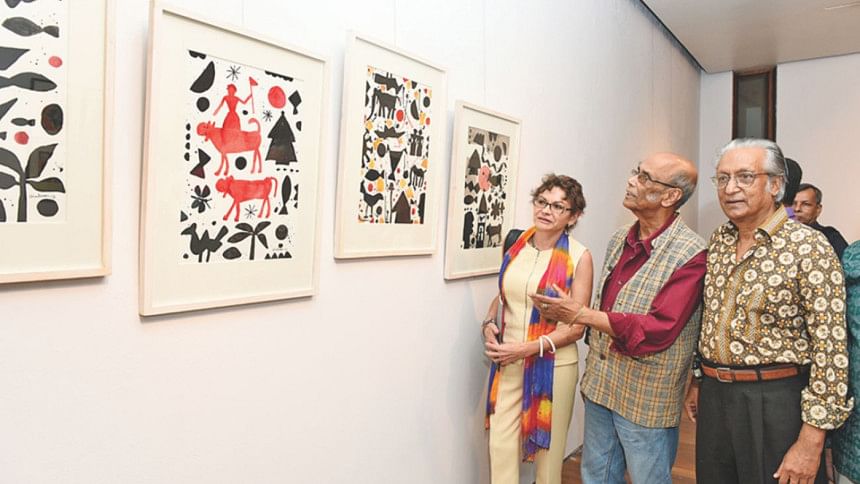 "Muse of Myths", a solo art exhibition by eminent artist Abdus Shakoor Shah, is currently on at the Bengal Gallery of Fine Arts, Dhanmandi. Celebrated litterateur Syed Shamsul Haq and Ambassador of France to Bangladesh, Sophie Aubert jointly inaugurated the exhibit on October 9 evening.
"Muse of Myths" features 48 artworks, which have been done using acrylic, drawing, watercolour and mixed media.
Student of renowned artist KG Subramanyam, Abdus Shakoor Shah became known as an artist in the tradition of Jamini Roy, Quamrul Hasan and Qayyum Chowdhury. His works include Bengali folk motifs, and he draws inspiration from "Nakshikantha", "pata chitra" and "terra cotta". He gives them modern forms. In addition, he has also painted from "Mymensingh Geetika".
Born in 1946, he obtained BFA from Bangladesh College of Fine Arts and Crafts (now Institute of Fine Arts) in 1970 before moving to Kolkata. 
Shakoor experimented with "Mymensingh Geetika", and has done illustration calligraphy and imaginative drawings in drawing room style.
Shakoor's work is a combination of tradition and metamorphosis. He continues to interest art lovers all over India. His stylistic images of fields, flowers, birds, and memories of blue skies and wind form a study of styles and perseverance.
One of his works has women's figures that go hand in hand with elephants, lions and houses. They are in red and white. There are portraits of men and women with red, white and blue faces. These are combined with blocks of red and off white.
A background of ultramarine is combined with full bloomed flowers. A plaited girl wears earrings, "teep", and bright, alluring lipstick.
There are cows with humans, boats, lions and fish in one combination. Similarly a human being on a lion's back, a butterfly, and a Christmas tree are found in yet another painting. There is also calligraphy with a girl in a scarf and a woman's sari.
The exhibition will run every day from 12pm to 8pm till October 29.