The Poet of Non-Conformity
A look at Nazrul's literary legacy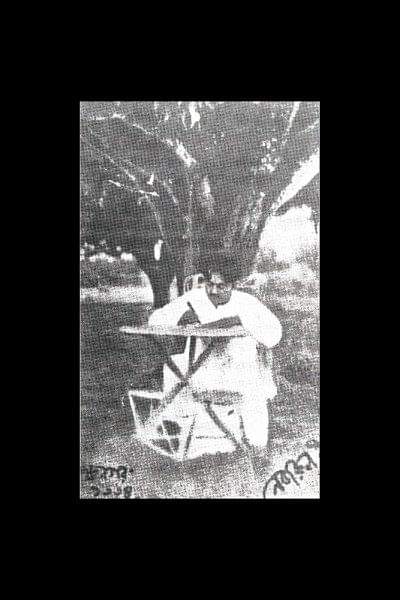 Kazi Nazrul's legacy as the Rebel Poet was well established during the colonial era. Openly dissenting against the British dominion in India, he was also critical of the Indian Independence Movement, and disagreed with Gandhi's non-violent acts of civil disobedience. His half-weekly publication Dhumkhetu contained impassioned responses that not only addressed the collective rebellions, but also the goals of the nationalist struggle. A man of such intense emotion was also given to romantic ardour, and his poetry reflects the simmering passions trapped beneath his skin, and true to his title, the Rebel writer cared not for form and style, and made way for modern Bengali poetry in a way it had never been attempted before.
Perhaps he was fated to this non-conforming stance; born in steep poverty, he had very little formal education and his familial upbringing reared him on religious doctrines. He worked as a muezzin in his local mosque to help support his family in his early life. While in the British Indian army, he explored literary terrains at home and beyond extensively and was particularly enamoured by the works of Tagore, Sarat Chandra Chattopadhyay, Hafez, Rumi and Omar Khayyam. His works were infused with Persian and Arabic vocabulary, which compounded his beliefs in a humanitarian philosophy that transcended gender, race, religion and class. Through this interjection, Nazrul expressed a truth both unique and universal, his openness to culture interpreted as non-sectarian and indiscriminate. In this light, the Rebel Poet is also the Poet of Freedom.
However, what makes Nazrul stand out is his remarkable way of stretching language and literary borders. He often experimented with context and form, leading to what Nazrul singer and expert Sumon Chowdhury calls "Content based on asymmetry, not to be confused with surrealism, which gave rise to Bangla Ghazals." Ghazals, which originated in the Middle East, were given a new air of mysticism and ambiguity as Nazrul interspersed the form with Kirtan myths, such as Radha's admonishment to Krishna in "Kaar nikunje raat kataye, ashle praate pushpo chor…"     
"Kazi Nazrul Islam's innate restlessness is conducive to the instability of his era; his growing years took place within The First World War and the many anti-British revolutions taking place in his homeland. When he returned from the Indian Army, the Bolshevik Revolution was brimming. At the time India also saw the influx of many foreigners, through trade and otherwise, which gave him the opportunity to meet people from diverse backgrounds, thus probably providing a preliminary influence which was to be later expressed in his works. We know very little about the life he led during his youth up to 1920, but they were crucial in shaping his philosophical and literary focus," added Sumon Chowdhury.
In an era when Imperial dominion imposed Western literary traditions and narratives, Nazrul's fascination towards Oriental languages and texts become a literary, decolonising dissent. His innovative take on such forms makes him impossible to pin down within any literary, cultural movement, embodying emancipation in its truest form.