Homage to the master dancer
Memoir on Bulbul Chowdhury launched at The Daily Star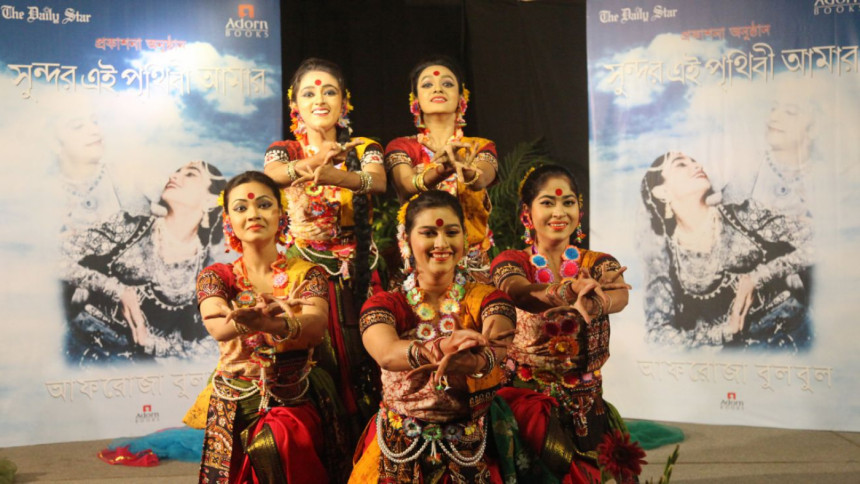 The launching of the book "Sundor Ei Prithibi Amar", the memoirs of Afroza Bulbul on her husband and pioneer dance artist Nrityacharya Bulbul Chowdhury, published by Adorn Publication, was held at AS Mahmud Seminar Hall of The Daily Star Centre in the capital on March 11.
The Daily Star and Adorn Publications jointly arranged the launching of the book. 
Professor Emeritus Anisuzzaman presided over the programme. He, along with veteran journalist and cultural personality Kamal Lohani, noted artist Mustafa Monwar, renowned dance artistes Amanul Haque, Laila Hassan and Minu Haque, daughter of Bulbul Chowdhury Nargis Bulbul Chowdhury, Professor Biswajit Ghosh of Dhaka University, the publisher of the book Syed Zakir Hussain and Editor and Publisher of The Daily Star Mahfuz Anam unveiled the book.
They also discussed on the life and works of Bulbul Chowdhury. Following the death of her mother, Nargis Bulbul Chowdhury transcribed the book while her sibling Fareed Bulbul designed the cover for the book.  
Professor Biswajit Ghosh urged the publisher to bring all the literary creations of Bulbul Chowdhury into light so that the forthcoming generation can discover another creative faculty of the Master dancer. 
Minu Haque expressed her gratitude to the writer, publisher and all associated with the publishing of the book. She also requested to the family members of Bulbul Chowdhury to disseminate any recorded choreographies of Bulbul Chowdhury to noted choreographers, if there are any. Laila Hasan termed Bulbul Chowdhury her idol and inspiration.
Kamal Lohani shared many unknown stories on Bulbul Chowdhury at the event. Kamal Lohani urged the government and the cultural affairs ministry to bring back the lost heritage of BAFA. 
Later, Pooja Sengupta and artistes of Bulbul Academy of Fine Arts (BAFA) presented dances at the event. Pooja showcased the negative attitudes of the people towards dance as a profession, and dancers' commitment to the art form against the adversities. Artistes of BAFA offered a vibrant dance piece depicting Spring, the season of flower and love. They swayed the audience with their brisk dance mudras.  
A versatile genius, Rashid Ahmed Chowdhury -- popularly known as Bulbul Chowdhury, was a Bengali dancer of British India, and later East Pakistan. He is regarded as a pioneer of modern dance in Bangladesh, as a founding figure of dance among the conservative Muslim community.
Born in Chittagong, Chowdhury earned Bachelor of Arts degree from the Scottish Church College in 1938, and Master of Arts from the University of Calcutta in 1943. In 1953, Chowdhury with his troupe visited Europe. He was declared as the National Dancer of Pakistan in 1949. Chowdhury was married to Afroza Bulbul Chowdhury, a dancer and actress. On May 17, 1954, at the age of 35, Chowdhury died in Calcutta. After his death, Afroza, founded the Bulbul Institute of Culture in Karachi and the Bulbul Academy of Fine Arts (BAFA) in Dhaka.