SUST students break hunger strike after 163 hours at Dr Zafar Iqbal's request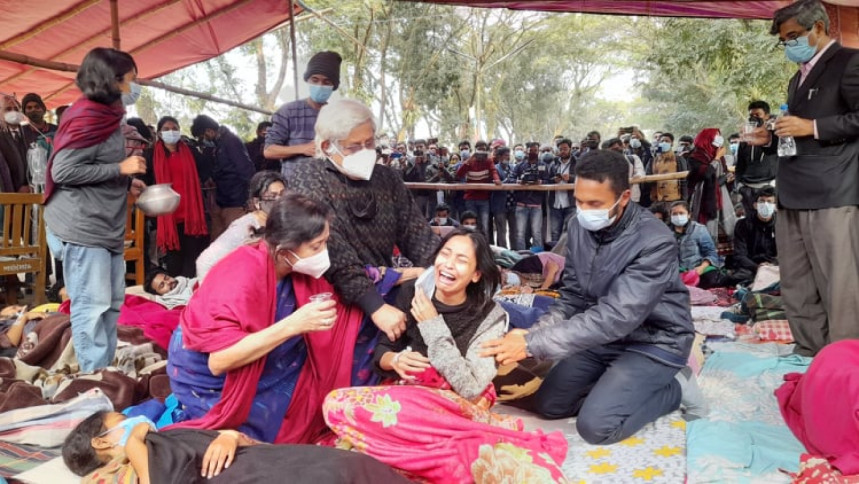 Twenty-eight Shahjalal University of Science and Technology (SUST) students ended their 'hunger strike until death' after 163 hours, at 10:20am today -- at the request of renowned writer and former SUST Professor Dr Muhammad Zafar Iqbal.
Twenty-three students were fasting since 2:50 pm last Wednesday (January 19), with five others joined later on Sunday and Monday, reports our Sylhet correspondent.
"Sir (Dr Zafar Iqbal) has requested that we end hunger strike considering the situation of those at risk. Keeping faith in sir's words, we decided to break the fast," said Abdullah Al Rafi, one of the students, after meeting with the former professor.
Later, twenty students who had been admitted to hospital after becoming critically ill during the strike returned to campus, and the entire group of twenty-eight broke their fast.
They began their hunger strike as part of their protest demanding SUST VC Prof Farid Uddin Ahmed's resignation.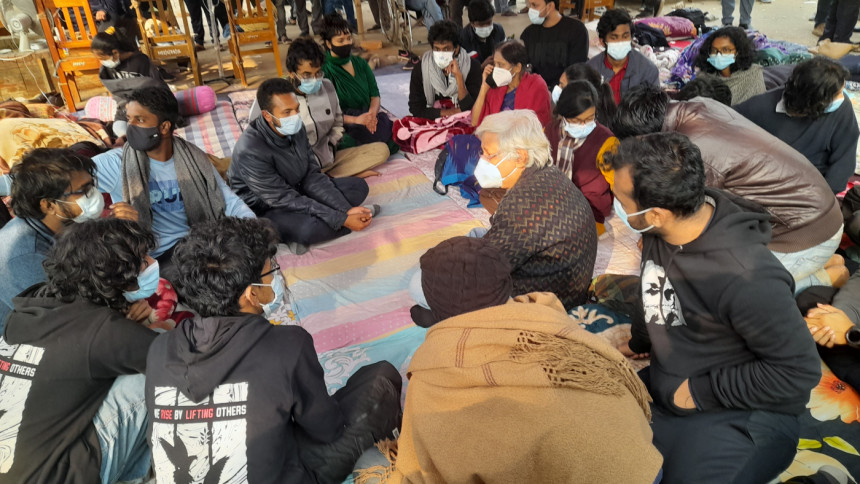 Muhammad Zafar Iqbal and his wife Dr Yasmeen Haque, also a former professor of the same university, arrived at SUST around 4am today. The couple then met the students on strike and talked with them.
"Life is very precious. Today (yesterday) I had a discussion with a high-level delegation at my house who promised that your demands will be met. That's why we have come without delay and will not leave without you breaking your fast," said Zafar Iqbal addressing the students on hunger strike.
"Your demands will be met. The universities of Bangladesh will be fixed because of you," he added.
About the condition of those on hunger strike, Dr Zafar Iqbal said that he was shocked to see the situation.
"I thought there was a medical team here to take care of them (those on hunger strike)," he said.
"But when I came here, I found out that the doctors were threatened and removed from here," he also said while talking to journalists.
"When the condition of the protesters at the campus is so bad, then what is the condition of the 20 unwell (hospitalised) students! I'm scared. This is utterly inhumane," he added.