Sust Protests: Over 200 sued for attempted murder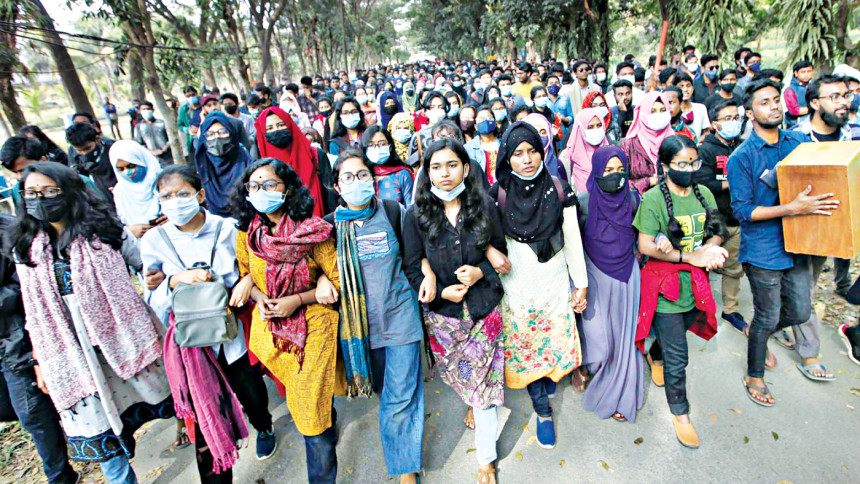 Hundreds of students continued to demonstrate on Sust campus for the fifth day yesterday while police filed a case accusing 200-300  unnamed students of attempted murder of law enforcers.
On Sunday evening, at least 30 students of Shahjalal University of Science and Technology were injured as police charged them with truncheons, fired rubber bullets and threw sound grenades to free the vice-chancellor who was confined to his office by the demonstrators.
"The case is just a formality. It was not filed to intimidate or harass the general students protesting on campus. Since policemen were hurt and firearms were used, we had to file a case," Azbahar Ali Sheikh, deputy commissioner (north) of Sylhet Metropolitan Police, told The Daily Star.
The demonstrators announced last night that they would fast unto death unless VC Farid Uddin Ahmed resigned from his post by 12:00pm today. They also declared that they would protest on campus all night demanding that police withdraw the case filed against them.
On Thursday, resident students of Begum Sirajunnessa Chowdhury Hall began protesting following allegations that Provost Zafrin Ahmed Liza misbehaved with a student who called him to report substandard foods at the dormitory.
The demand for the resignation of the VC came on Sunday. Prof Zafrin resigned from her post after the student-police clash on the same day.
The complaint filed yesterday by Sub-Inspector Abdul Hannan mentioned that the students threw bricks, crude bombs, and opened fire at police.
The police then fired 31 rubber bullets and threw 21 sound grenades to take control of the situation and rescue the VC from confinement.
The students were accused of attempted murder, battery, wrongful confinement, unlawful assembly, obstruction of public duty.
The demonstrators said the case was filed to intimidate them into suspending the protests.
The students yesterday sent a letter via the postal service to President Abdul Hamid, also the chancellor of the university, demanding the VC's resignation and the appointment of a new VC.
Hundreds of them gathered on campus in the morning and staged a sit-in in front of the VC's residence later in the day.
In the afternoon, a delegation of the ruling Awami League led by its Organising Secretary Shafiul Alam Chowdhury met the students and the VC.
The delegation urged the students to end the stalemate through discussion, but the students refused the offer.
Sust authorities on Sunday closed the university for an indefinite period and asked all students to vacate the dorms by Monday noon.