Police clash with students: SUST closed indefinitely
Provost of Sirajunnesa Chowdhury hall resigns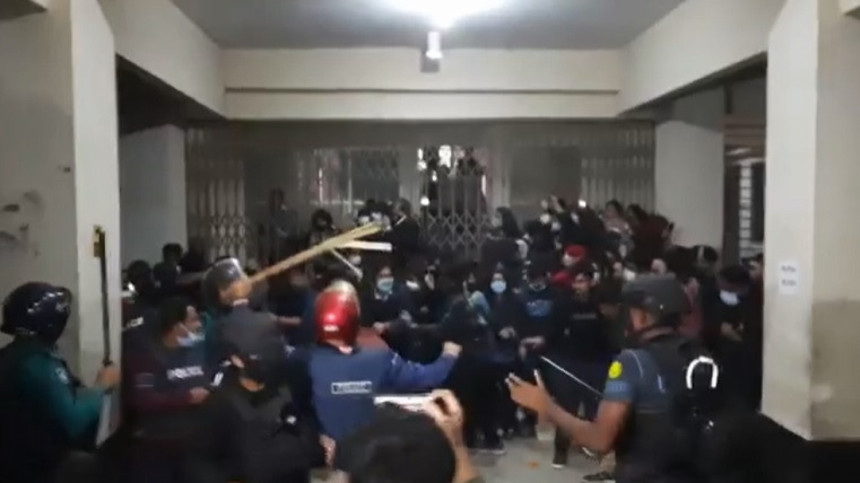 Authorities closed down Shahjalal University of Science and Technology (SUST) for an indefinite period of time today in the wake of student protests that sparked from January 13.
All classes and examinations of the university will be suspended until further notice. Residential students were ordered to vacate halls within 12:00 pm tomorrow, reports our Sylhet correspondent quoting SUST Vice-Chancellor Prof Farid Uddin Ahmed.
The decision was taken at an emergency syndicate meeting at the university held this evening, he added.
Meanwhile, Associate Professor Zafrin Ahmed Liza, provost of Begum Sirajunnesa Chowdhury hall, resigned from the post citing personal reasons, said the VC.
Professor Nazia Chowdhury is appointed as the new provost of the hall, he added.
Earlier, at least 30 students sustained injuries as police charged batons and blasted sound grenades while rescuing confined SUST VC this afternoon.
Azbahar Ali Sheikh, deputy commissioner of Sylhet Metropolitan Police, and Prof Anwarul Islam, treasurer of the university, were also injured as students hurled brickbats during the clash.
VC Prof Farid Uddin Ahmed was rescued two-and-half-hour after students of Begum Shamsunnesa hall confined him at M Wazed Miah Building (ICT Building) around 3:00 pm demanding removal of the hall's provost.
Around 3:00 pm, the protesters confronted VC Prof Farid when he came out of his office to attend a meeting with the deans.
An hour later, a unit of Critical Response Team (CRT) of Sylhet Metropolitan Police reached the campus, charged batons, fired sound grenades and rescued VC Prof Farid.
The VC was escorted by the police team to his residence.
The students continued demonstration again last night after their hall provost -- Zafrin Ahmed Liza -- "misbehaved" with a student when she approached her with some problems.
The protesters have been demanding a student-friendly hall provosts committee and resolving mismanagement at the dormitory.