Low on quality, high on price
DU hall canteens hit all-time low on all fronts after reopening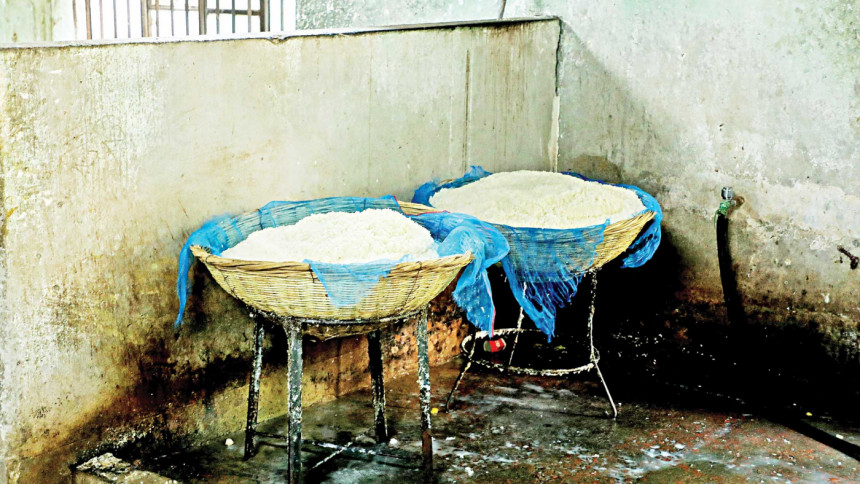 It has barely been a month since Dhaka University has reopened, but students have already started to find themselves pinched by various problems. One of them, increasing food prices at the university's canteens, is becoming a particular headache, students said.
Juel Mia, a residential student of Muktijoddha Ziaur Rahman Hall, was complaining to this correspondent last week. "I live on a tight budget. I cannot afford to go beyond it, but I've already spent more than my estimated food cost for the month, and there's still half-a-month to go," he said in frustration.
Before the pandemic, three meals a day would cost around Tk 100, but now, the cost has gone up to Tk 150, Juel told The Daily Star.
Beef and rice cost Tk 55-60, while poultry chicken costs Tk 40-45 per piece. A piece of fish costs Tk 40 and students have to whip out Tk 35 for egg curry.
However, they claimed that despite the price hike, the quality of the food has not increased an ounce.
"We have to spend extra money on each meal, but food quality has not improved at all. Moreover, our income has not increased either," said Md Feroz, a sociology major, echoing the sentiment of many residential students.
But canteen officials have their own account over the matter. "We had to raise our prices due to the price hike of essential goods in the market," said Jahangir Alam, canteen manager of Shaheed Sergeant Zahurul Haque Hall.
Asked about this, Prof Delowar Hossain, provost of Shaheed Sergeant Zahurul Haque Hall, said, "We haven't received any complaint till now. But if we're informed, and if needed, we will subsidise the food."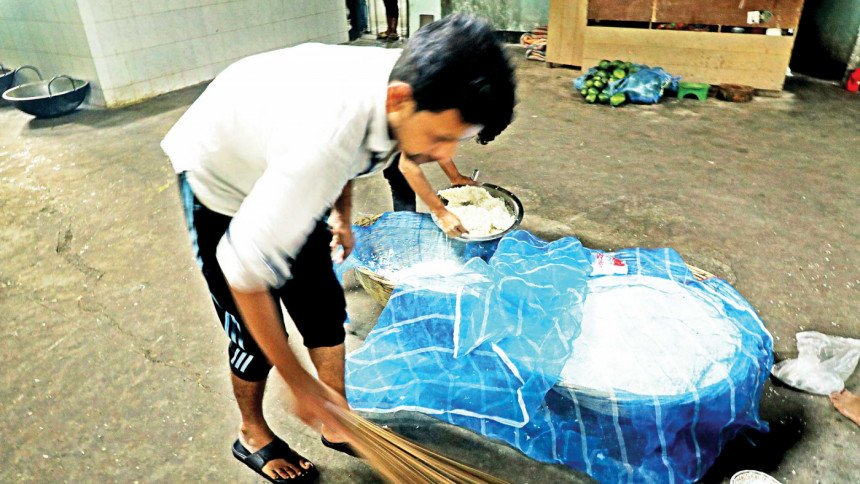 "If canteen owners are found to be causing suffering for the students, we will take steps against them," he said.
'NOT EVEN MINIMUM LEVEL OF HYGIENE'
Upon visiting many hall canteens in the university, this correspondent found that most of their kitchens are run without a minimum level of hygiene. At 11:30am last Sunday, right after lunch had been cooked, the food was kept without covers, with flies buzzing around over the rice pot. 
When this correspondent started to record
footage of this with his phone, a canteen staff rushed in to cover the food.
Earlier before the reopening, university authorities formulated a "Standard Operating Procedure" (SOP) to ensure proper hygiene and safety measures once students start coming in to the campus. As part of the SOP, students were instructed to get properly balanced diets to achieve better immunity.
But the quality of food at the hall canteens is not helping in that regard, complained students. Contacted, vice chancellor Prof Dr M Akhtaruzzaman said, "We will not compromise an inch in this matter. Hall administrations will immediately sit with canteen owners about this."