A look at who might be Pakistan's next PM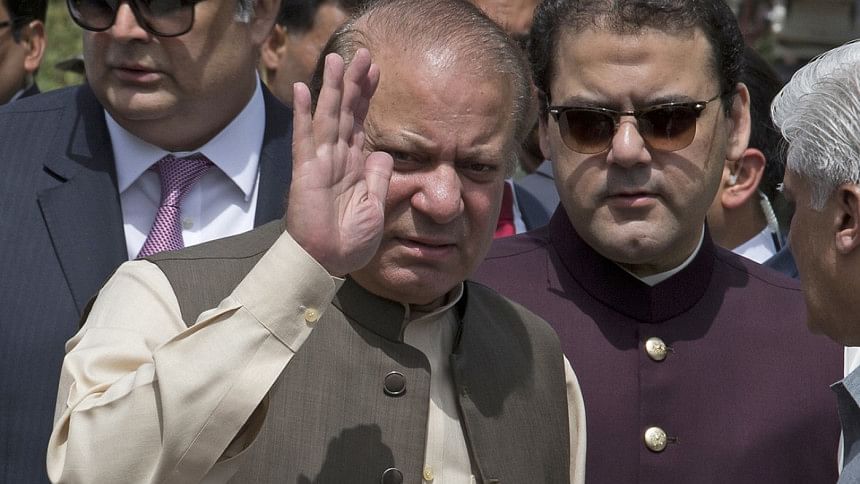 With Pakistani Prime Minister Nawaz Sharif disqualified by the country's top court and out of his job, questions are swirling over who will succeed him as head of government.

The Supreme Court's decision to dismiss the thrice-elected Sharif followed a petition by the country's opposition, which had levelled corruption allegations against the prime minister and his family members. Sharif promptly resigned after Friday's ruling and will now face criminal charges.

Legal experts say that under constitutional rules, Sharif and his Pakistan Muslim League party will have to nominate a lawmaker to replace him. That nominee will then have to be elected by the National Assembly, where Sharif's party enjoys a comfortable majority.
Here is a look at some possible successors to Sharif:
AHSAN IQBAL, minister for planning and development
An engineering graduate, Iqbal has been a member of Sharif's party since 1988. He studied business in the United States and is considered a close Sharif ally. He was elected from Narowal, a city in Pakistan's most populous province, Punjab, where 60 percent of the country's 200 million people live.
AYAZ SADIQ, parliamentary speaker
Sadiq was elected from the city of Lahore, the capital of eastern Punjab province. In the race there, he defeated a close associate of Sharif's chief opponent, cricketer-turned-politician Imran Khan who has spearheaded the opposition petition that triggered the Supreme Court's ruling on Friday. Pundits say Sharif could select Sadiq as his successor just to annoy Khan.
KHURRAM DASTGIR KHAN, commerce minister
Also an engineer, Khan was elected from the industrial city of Gujranwala, also in eastern Punjab province, a stronghold of Sharif.
SHAHID KHAQAN ABBASI, petroleum minister
Abbasi is another close ally of Sharif. He faced charges along with Sharif following the 1999 bloodless coup by Gen. Pervez Musharraf who overthrew Sharif. Abbasi was elected from the mountain resort area of Murree, also in Punjab.
KHWAJA MUHAMMED ASIF, defense minister
Asif has been a harsh critic of Pakistan's powerful military and its propensity to involve itself in the country's civilian affair. He was elected from Sialkot, also in Punjab.
SHAHBAZ SHARIF, chief minister in Punjab province and the prime minister's brother
If Nawaz Sharif selects his brother to succeed him, Shahbaz Sharif would first have to win a by-election for a seat in Parliament.