Death toll in South Asia flooding rises to 245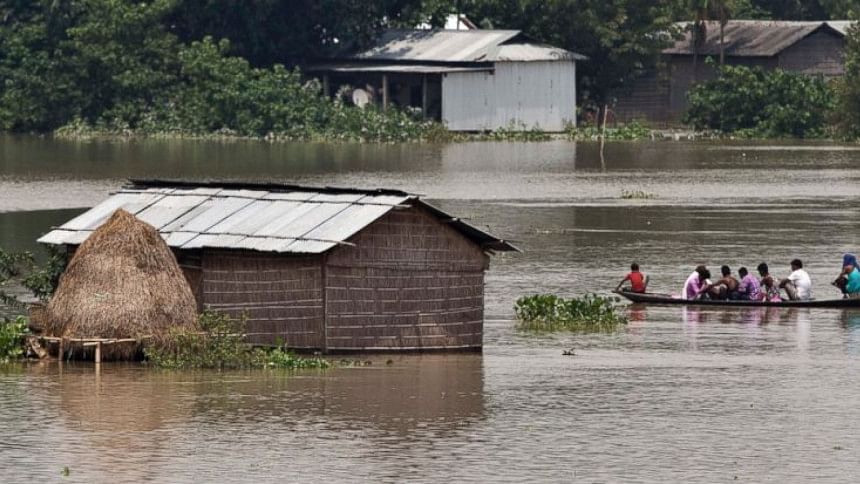 The death toll in flooding and landslides that devastated parts of northern India, southern Nepal and Bangladesh over the past few days has risen to 245, while millions of others have been displaced, officials said Tuesday.
In Nepal, authorities scrambled to send relief supplies to flood-hit areas where incessant rain has flooded hundreds of villages, killing 110 people.
Security forces helped rescue people marooned on rooftops, while helicopters were distributing food and drinking water packets in the worst-hit southern districts.
With hundreds of thousands of people affected by the floods, the government was focusing on moving in relief supplies as soon as possible, said Ram Krishna Subedi, a home ministry spokesman.
Nepal's home minister, Janardan Sharma, spent the morning at a relief distribution center at Kathmandu's airport to ensure that the aid was reaching all areas affected by the flooding. Nepal's government has been under criticism for not being able to reach people desperate for help.
Across Nepal's southern border, flooding swamped 13 districts in the Indian state of Bihar. Officials said 41 people had been killed, many from drowning, or after being caught in collapsed houses or under toppled trees.
Some 200,000 people were temporarily living in the more than 250 relief camps that the government has set up in school and government buildings.
Indian soldiers in boats and helicopters helped distribute food packets, medicine and drinking water to people affected by the floods.
Forty-six people were killed in the northern state of Himachal Pradesh on Sunday when two buses were buried by a landslide in the Himalayan foothills. Another 21 have died in the remote northeastern state of Assam, where soldiers raced to rescue people marooned on rooftops.
In neighboring Bangladesh, at least 18 major rivers were flowing at dangerously high levels, according to the state-run Flood Forecasting and Warning Center.
Over the past two days, 27 people have died in the low-lying delta nation, while another 600,000 are marooned, Bangladesh's disaster management minister, Mofazzal Hossain Chowdhury, said. Around 368,000 people have taken refuge in more than 970 makeshift government shelters, he said.
Deadly landslides and flooding are common across South Asia during the summer monsoon season that stretches from June to September.