'Trafficking key financier' named
Police identify alleged 'money man' behind Rohingya labour trafficking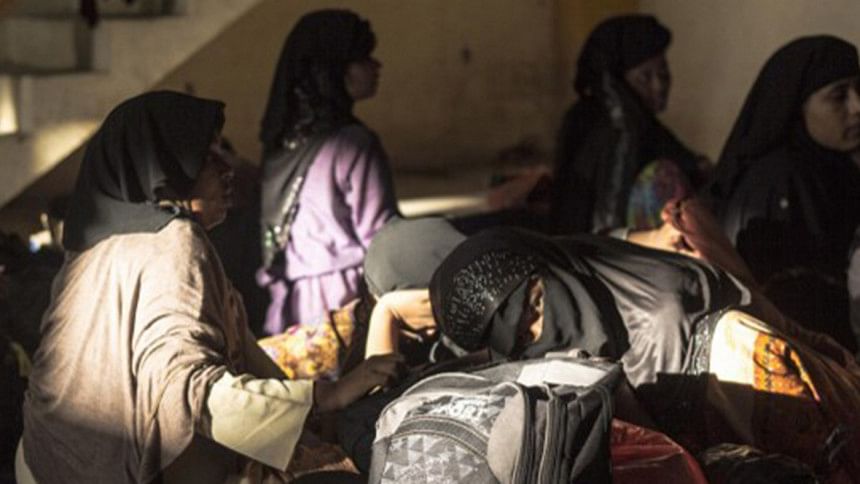 Cops yesterday obtained an arrest warrant for a man they said was a key financier behind the entire Rohingya  trafficking racket in the South reports Thai daily, The Nation.

The suspect, the 50th and latest wanted in connection with human labour trafficking in the region, has been identified as fugitive Pajjuban Angchotiphan, or Ko Tong. He is a brother of a high-ranking local politician based in Satun.

National police chief General Somyot Poompangmoung, meanwhile, has floated the idea of opening a temporary centre to shelter  Rohingya and other migrants in the South to cope with the large number of them scattered throughout the area.

Somyot said that he would meet with his Malaysian counterpart in Phuket on Wednesday to discuss the  Rohingya smuggling crisis. Malaysia is the prime destination of 'boat people' after they are smuggled to Thailand.

The Royal Thai Police commissioner said he was ready to keep transferring police of various units if they were suspected of ties with human traffickers or who deemed incompetent - in their previous roles or carrying out the ongoing crackdown on trafficking.

Another 14 police have been transferred away from areas where trafficking has taken place. In all, 67 officers have been transferred.

Somyot said anyone found not guilty after an internal investigation would return to their previous post.

He promised to look into an allegation about a senior immigration policeman based in Songkhla's Sadao district accused of using a service vehicle to transport Rohingya.

Another 10 police are set to be transferred to inactive positions while being investigated. Somyot did not give further details.

Malaysia-based daily The Star reported yesterday that Thai and Malaysian police were expected to meet in Hat Yai on Friday to discuss the human trafficking issues plaguing both nations.

Abandoned, nearly starved

The move will see authorities from both sides going all out in their clampdown on the nefarious trade following the recent discovery by Thai police of trafficking camps on a mountain on the Thai-Malaysian border in Padang Besar in Songkhla, and scores of migrant corpses in shallow graves.

Provincial Police Region 9 Deputy Commissioner Puthichart Ekachant said the meeting with their Malaysian counterparts would likely be held in Hat Yai but he did not give further details.

Meanwhile, a group of 151 Rohingya will be charged with illegal entry after it was found they voluntarily entered Thailand unlawfully. 

A Rohingya man will be charged with human trafficking after police discovered he served as a guard who controlled Rohingya detainees at a camp.

A group of 26 Rohingya was left stranded in the jungles in Hat Yai district for 14 days, after they were abandoned by smugglers following the crackdown. 

The group, including six boys and three girls, are nearly starved. They ate dry tamarind seeds to survive.