Anwar Ibrahim's family seeks royal pardon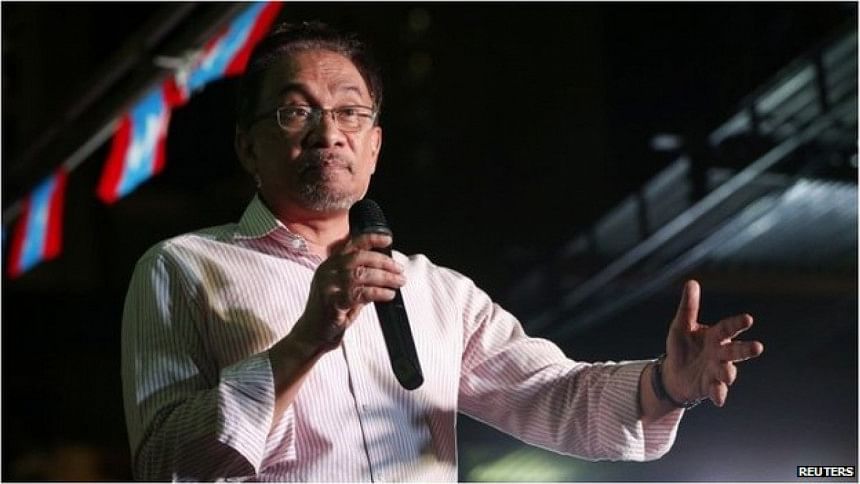 The family of jailed Malaysian opposition leader Anwar Ibrahim says they have sought a royal pardon over his conviction for sodomy.
Anwar was jailed for five years earlier this month in a case which he has always maintained was brought to keep him out of politics.
His family said he was a political prisoner who had been "tyrannised" and that his health was at risk in prison.
The pardon bid means a delay in Anwar's disqualification from politics.
He has widely been seen as the only real threat to the ruling coalition, which insists that his conviction was fair.
Under the constitution, Anwar would have been automatically banned from politics for five years within 14 days of his conviction, unless he sought an appeal.
He had previously said he would not seek a pardon, as that would imply an admission of guilt.
But in a statement on behalf of his family, Anwar's daughter Nurul Nuha Anwar said the case was a miscarriage of justice.
"We placed our confidence in the constitutional process and believe that justice will prevail when all the facts are scrutinised without political intervention," she said.
The pardon petition was submitted to the Yang di-Pertuan Agong, Malaysia's elected monarch. The monarchy rotates between the hereditary rulers of nine Malaysian states.
Sodomy is illegal in Muslim-majority Malaysia, though very few people are ever prosecuted.
Anwar - who has already served one six-year term for another sodomy conviction that was later overturned - has always insisted he is innocent.
In a statement released after he was sent to jail on 10 February, he said the charge was "complete fabrication - coming from a political conspiracy to stop my political career" and that he would be silenced.
A spokesman for Anwar's People's Justice Party (PKR) said the party leadership "respects and fully understands" the decision to pursue a pardon, saying he had been "persecuted for his unrelenting challenge against the powerful ruling elite".
"We call on the Palace to acknowledge the blatant transgression in the judicial process and promptly step in to rectify the situation," said Vice-President Tian Chua. "There is no remedy to the miscarriage of justice except an immediate release of Anwar Ibrahim."
Timeline: Anwar Ibrahim
1993 to 1998 - Deputy Prime Minister, under Prime Minister Mahathir bin Mohamad
1999 - Jailed for abuse of power, sparking huge street protests
2000 - Found guilty of sodomy with his wife's driver
2004 - Supreme Court overturns sodomy conviction, freeing him from jail. He quickly emerges as the de facto opposition leader
March 2008 - ruling coalition narrowly wins general election, but with its worst results in 50 years. The opposition makes unprecedented gains
Aug 2008 - Anwar charged with sodomy for a second time, but despite this is soon voted in as an MP
Feb 2009 - Second trial for sodomy starts
Jan 2012 - Acquitted of sodomy by High Court
May 2013: Leads opposition to best-ever performance in general elections
Mar 2014: 2012 acquittal overturned by court after government appeal