Women will come out victorious
Women will come out victorious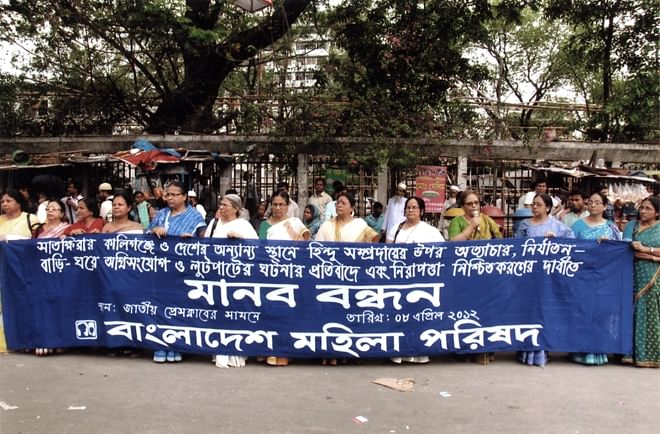 When in 1947-48 Dhaka became the capital of the province of East Pakistan, womenfolk of the country used to go to school and college, work as teachers, engage in agriculture work etc., but moving about within Dhaka city was almost a challenging undertaking for them. When a woman passenger traveled by rickshaw the vehicle used to be covered with a long piece of cloth.  But the spontaneous participation of such a large number of women in today's convention proves that they have come a long way. They have progressed both at home and abroad. When Begum Sufia Kamal in the early years began to write in a bid to break the shackles, Begum Rokeya Sakhawat Hossain had advised her to work for the emancipation of all and not of her own self only. Because, if others remain in shackles, her own freedom  will be of little significance. Today, the goal of us all and of Mahila Parishad in particular is the emancipation of the womenfolk at large. Today, we see tremendous progress of women. They are working successfully at home and abroad and they are making the country proud. This is a great achievement. And yet there is no end to repression of women. Women are being harassed on the roads.
It's true that we have female speaker in our parliament. It is also true that lour female workers in the garment sector are working hard to keep the wheels of economy moving. But men take control of their hard earned money. Though we have achieved progress in many spheres, women are still being deprived of their rights. And we have seen the reemergence of the obscurantist forces that consider women as an object of their lust. They want to put women within the four walls of their homes once again. They do not recognize  the fact that women are earning a living independently and contributing to the economy in general. They want to thwart the forward march of women and put them in shackles once again. Therefore, despite the progress and achievements, women continue to face the adverse reality. They are still engaged in the fight against the evil forces in society. They are still in negotiation with the state authorities for their rights.
Ram Mohan Roy nearly 300 years ago observed that man fail to assess the economic price of women working from dawn to dusk in her household. Today, women shall have to demand for their rightful position in economy, society and state. Men and women shall have to work together and fight together to attain this goal. This is not the fight for the emancipation of women only; it is much more than this. In fact, it is women's human rights. Women's emancipation will mean holistic progress of the entire nation. Bangladesh Mahila Parishad has been working relentlessly for the last 44 years. They have been able to earn the confidence of the womenfolk of the country. A large number of women are members of this organization. The organization has hundreds of branches all lover the country.
I am sure BMP will have more achievements to its credit in the coming days. The reason for their success is the firm belief in justice and welfare. Their fight is the fight for the total emancipation of the people of Bangladesh. We are engaged in a fight against communalism in a bid to establish a society on the basis of justice and equality. This fight encompasses rights, recognition and honor of women of the country. There is no doubt in my mind that women will come out victorious in this fight. They have courage, determination and fixed goal.  I congratulate you will for undertaking the daunting task.
The writer is Professor Emeritus, University of Dhaka.