No clear remedy for a pervasive ill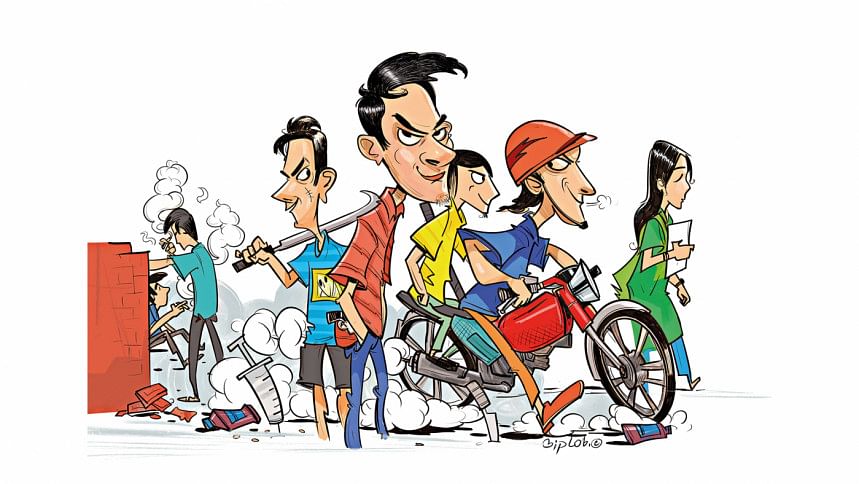 The Cabinet Committee on Law and Order at the home ministry recently suggested that the legal age determining who is a "child" be lowered.
Chief of the committee, Liberation War Affairs Minister AKM Mozammel Haque, said the age should be 14 years and below instead of the current 18 years.
This will allow law enforcers to send children to jail and not let them get away with committing "heinous crimes", he said.
The issue of what age defines a child or minor has come to the fore ever since 10th-grader Ashraful Islam Jitu beat his teacher to death with a cricket stump in Ashulia on June 25, supposedly, to impress a girl.
They came to our house and took Rakin away, without telling us where they are going. He was kept in the lockup inside the police station. This arrest will define his life even if he does get out on bail.
As public outrage poured over the death of Utpal Kumar Sarkar, the teacher and a Hindu, certain questions were not asked: How does a teenager like Jitu become "Jitu Dada", who thought nothing of beating his teacher to death with a cricket stump in front of the whole school? Jitu's teachers have given extensive interviews about his errant ways, his bad manners and propensity towards drugs and gang culture – but could say little about what he likes, what his struggles were, who his idols were.
Last Tuesday, high-school student Farhan* (not his real name) lay on his bed in his Pallabi home, his leg bandaged and resting on a pillow.
The leg had been hacked last Saturday when some neighbourhood boys calling themselves "DTCB Street" beat him up in the schoolyard.
"They had rods and one boy had a large cleaver. He swung at me and I moved so the blow landed on my leg," said Farhan.
"DTCB Street" is a gang of Mirpur-12, where the letters stand for "D, Ta, C Block".
This is an area where flats cost between Tk 9,000-12,000 per month, and most have gated security, but no lifts. The streets are clearly laid out, and kindergartens and snack stalls dot every corner, making it an ideal neighbourhood for low to middle-income families to live and raise children in.
When asked why he had been beaten up like that, Farhan launched into a convoluted, lengthy tale about a tussle over "respect".
In a nutshell, he had demanded "respect" from his juniors on account of his age, and the juniors had refused to comply. Instead, one of the juniors brought out the big guns – a "senior" cousin and his "older" friends.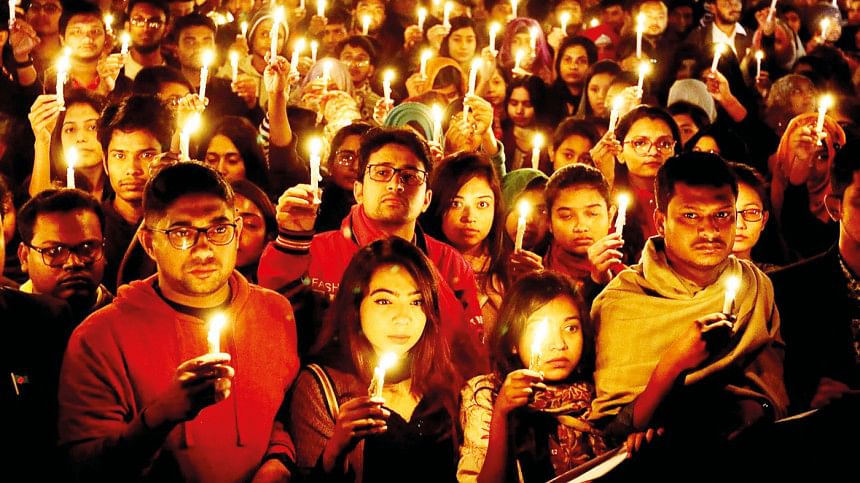 "On that day I was called by a junior who said, a senior bhai is here to solve this issue. They told me that they have agreed to give me 'respect'," said the boy. And so, off Farhan went, lured by the prospect of being granted the much-coveted "respect".
As they beat him up in the Eid-gah field, the whole episode was recorded and edited with slow-motion special effects. The video was then laid over with a trippy "drift" tune and someone rapping lyrics roughly translated as "Beat him up, don't mess with Mirpur boys, we will make you wear a sari from Benarasi palli." The level of creative effort cannot be denied.
When asked why he had been beaten up like that, Farhan launched into a convoluted, lengthy tale about a tussle over "respect".
Farhan's sister called 999 and the boys were hauled off by the Pallabi police and slapped with attempt-to-murder charges – after all, putting aside the notion that this was turf war fought in the teenage spirit, Farhan could truly have been killed.
Pallabi Police Officer-in-Charge (OC) Parvez Islam called it a "gang" and said "7 members of the gang including its team leader were arrested in a raid". The inspector (investigation) cast them off as "hopeless cases" saying that "no amount of arrests will fix this problem until the parents learn how to control them".
The "gang's" active presence on social media, shows that the arrested team leader is an adult named Md Habibur Rahman, but the rest of his followers seem to be teenagers and younger children. Some of the teenagers hold official roles like "Shooter of HD" presumably for producing TikTok-style videos.
Most of the videos involve the group walking down the street in large numbers or posing with bikes, flashing victory signs. The nod to hip-hop culture is overt in the videos.
Fifteen-year-old Rakin* (not his real name) who was taking part in the assault, and was arrested by the Pallabi police, features in several of those videos.
"They came to our house and took Rakin away, without telling us where they are going. He was kept in the lockup inside the police station. This arrest will define his life even if he does get out on bail," said Rakin's mother.
On social media, he portrays himself as a tough teenager, sporting side-fades and rectangle sunglasses, adding strobe effects and high bass to his videos.
At home, he is a kid who is stellar in math, keeps an English vocabulary notebook and shares a bed with his grandmother. All his social media activity, his forays into PubG was done using his mother's phone.
Rakin lives in a two-bedroom apartment, that his father and older brother can barely afford with their jobs as a personal driver and waiter. The apartment is airy and the building has a caretaker and a lift – Rakin is clearly loved and cared for.
This beloved teenager however is growing up in a neighbourhood where the only after-school activity involves going to coaching centres for lessons and hanging out in street-corners and making TikTok videos.
There is usually only one cultural event a year, held in a nearby field. Even though the neighbourhood is not affluent, gaudy sports bikes are plenty and there is an inverse relationship between the engine capacity of the motorbike, and the willingness to wear a helmet. As our female correspondent walked into an alley, an older woman verbally harassed her for "wearing her scarf wrong".
In this neighbourhood, teenagers like Rakin, Farhan and the others are left to entertain themselves using smartphones. They find their own idols. On TikTok, homemade videos like the one Rakin and his friends were making while beating up Farhan, are plenty – most, in all probability, being staged.
Teenagers like them, act out exactly how and when to slap or beat up their girlfriends and promote toxic masculine behaviour. Since this is user-generated content, there is no oversight on what values are being represented, and since this is a new technology, the parents have no idea.
Mohammadpur Police Station OC Abul Kalam Azad said the situation is similar in his area. "Children of low-income families are getting involved in such teen gangs. In many cases, they do not even know what the punishment will be if they commit a crime. No one in society makes them aware. They commit various crimes due to lack of awareness."
He said many are school dropouts with parents working long hours. "These parents don't know how their children are passing their time," he said. Soon they gain the patronage of local criminals and move to bigger crimes.
Farhan was asked why everyone wanted "respect" so badly – he had no answer. The response perhaps is that no teenager wants to be left out. Zahin (not his real name), a teenager from a slum of Bhashantek, explains the pangs of being ostracised by his friends after he had to drop out after fifth grade to help his father sell fish.
"I like going to the gaming arcade but they do drugs there.
"I do not have a smartphone so I cannot be in my friends' TikTok videos, but I am good at shooting videos so they at least let me shoot.
"I cannot go to school, and they sometimes bunk school and hang out, so I cannot go with them.
"Outside of work, I just hang out with my friends. I miss English and Religion classes."
Grownups would be quick to judge the teenager and dismiss these as juvenile problems – but to Zahin, these are big. He manifested his pain through self harm – he has two rows of over a dozen blade-cut scars on his forearm. The cuts are neat, deliberately done and only a month old.
"I cut myself in front of my friends. They thought I was crazy. I let them think that."
Juvenile "delinquents" – the law enforcers criminalise them; society calls them products of failed parenting and the media call them gang members. But there is hardly anyone helping them grow in a healthy way.