The political rumblings in India over 1971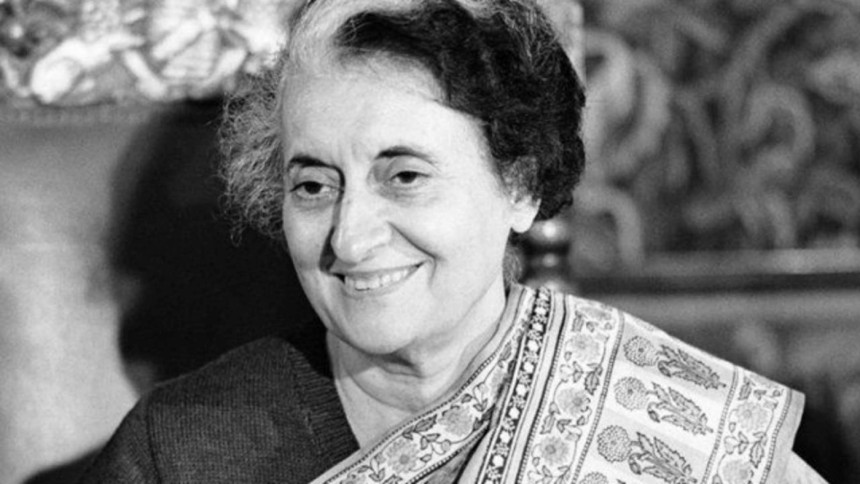 As a teenage school student in 1971 living in Delhi, I had a limited idea about Bangabandhu Sheikh Mujibur Rahman. But on March 7 of that year, when my father, then a teacher in Delhi University, was listening to Bangabandhu's speech on his old Murphy radio set, I, standing next to him in the room, was electrified by Bangabandhu's voice and his words inspiring an entire nation to join the Liberation War. It was a voice like no other politician I have ever heard.
Looking back, I feel that his words never gave the impression of being carefully chosen, but were part of layman's language that came out from the depth of his heart and conviction about the future of his country. As I grew up, that voice and those words have remained with me, and to be precise, continued to haunt me. They do it even after half a century.
I had a glimpse of the spill-over effects of the Liberation War in Bangladesh when I went to Kolkata during the annual summer holidays in 1971, when I saw clubs, political parties, government agencies and NGOs undertaking relief work for the Bangladeshi refugees in the border areas. It was the picture of a highly united India using their meagre resources to help out hapless inhabitants of another country, which left a lasting impression on me. In other words, it was a whole-of-India approach.
So, on December 16, 2021, it was rather disappointing to see rough edges evident on that united India as politics was being played out on the issue. I wondered how far we had travelled from the heady days of 1971. Not that political differences were not there back then, but the political fault lines in today's India are unprecedented.
In the run-up to and during the party's build-up to the celebration of Vijay Divas, Congress leaders, including Sonia Gandhi, Rahul Gandhi and Priyanka Gandhi Vadra and AK Antony, complained that Indira Gandhi was never singled out for her stellar role in 1971 during the Indian government's official programmes marking the day. Sonia said Indira Gandhi would have wanted the party to celebrate Vijay Divas "not in a boastful spirit or in a spirit of self-glorification, but in a spirit of reflection and resolve." Her dig at the government of Prime Minister Narendra Modi was not to be missed.
At the event, Antony said the then opposition leader Atal Bihari Vajpayee had hailed Indira Gandhi after the 1971 war victory as "Durga," and many other opposition leaders hailed her as "Shakti." "But," he quickly added, "as India marked the 50th year of Bangladesh's liberation … during the course of the last one year … the present government… I have not heard a sentence of praise, appreciation (for) the role played by Indira Gandhi. I feel sorry about that."
In 2020, Sonia set up a committee, chaired by Antony, to plan and coordinate the party's activities to commemorate the 1971 Liberation War of Bangladesh. Many view the Congress' marking this year's Vijay Divas as part of its strategy to chip away at the Bharatiya Janata Party's (BJP) plank of nationalism by reminding the country that it was Indira Gandhi who played a key role in the break-up of Pakistan. The combined voice of Sonia, Rahul and Priyanka against no mention of Indira's role at official programmes are seen by political analysts as having been made keeping in mind the coming assembly elections in five states—particularly in Uttar Pradesh, which is so crucial for the BJP. This year being the golden jubilee year of the 1971 war, the events relating to it acquired more visibility than those held on the previous anniversaries. Interestingly, Rahul made the remarks at a public rally in Dehradun on December 16 that virtually kicked off the Congress campaign for the coming assembly poll in the northern state of Uttarakhand.
The closest an official function came to acknowledge the then Indian government's role was on December 16, when Defence Minister Rajnath Singh, according a defence ministry press release, spoke how "the historic victory of 1971 was achieved through the valour, gallantry, and professionalism of the commanders and troops and was (the) result of meticulous planning, dynamic leadership and innovation at multiple echelons." One hopes "multiple echelons" include the then political leadership.
Indira's role in the Bangladesh's Liberation War should not be juxtaposed with the national security plank of any other party. Nor should a party feel insecure about its own national security plank because of the 1971 war win.
The 1971 war leading to the emergence of Bangladesh is a seminal event in post-World War history, and it should unite rather than divide India. The new generation should be told about it, and any discussion on that war is inseparable with the role of Indira Gandhi. There is broad agreement across the political arena in India that the 1971 war was a rejection of the notion of nationhood based on religion and promoted all-inclusive nationalism rising above politics. The victory in 1971 was shaped by a combination of political, military, diplomatic and people-to-people aspects in India, and it should be kept that way.
Pallab Bhattacharya is a special correspondent for The Daily Star. He writes from New Delhi, India.