A billion Covid-19 jabs and India's hope and caution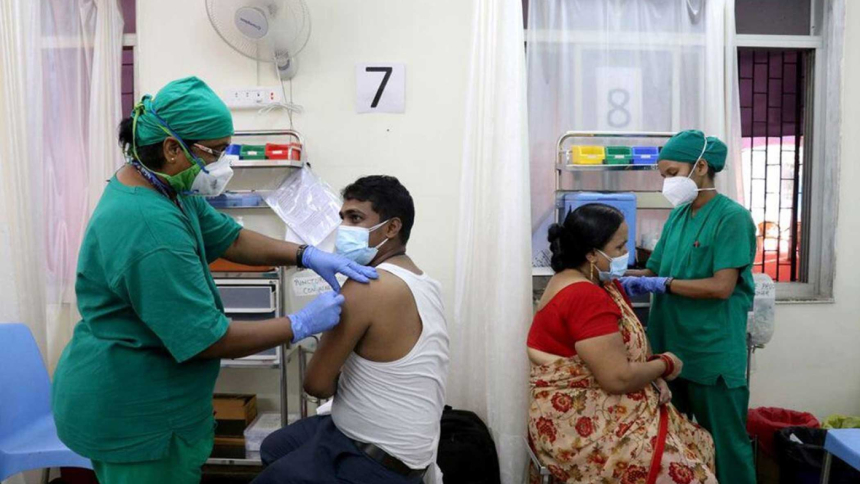 In October, India reached the important milestone of administering one billion Covid-19 vaccine doses, accomplished in 278 days since the inoculation drive was launched on January 16 this year. The occasion was celebrated by the government of Prime Minister Narendra Modi, who termed it as a "triumph of Indian science and entrepreneurship." The Archaeological Survey of India lit up 100 heritage monuments, including the Red Fort in Delhi, in colours of the national flag as a tribute to healthcare professionals, frontline workers, scientists, vaccine manufacturers and the citizens of the country who bravely fought the pandemic.
According to official data, over 75 percent of India's 940 million eligible adult population received at least one dose of a Covid vaccine, while around 31 percent received both the doses, as of October 2021. This is by no means a small achievement, given the logistical complexity of administering one billion doses in less than a year, in a country as vast and diverse as India. The only other country to have administered one billion doses is China, who raced to the milestone in June.
Given the unpredictable nature of the coronavirus, the scale and intensity of the pandemic as well as the challenges surrounding manufacturing, distribution and delivery of vaccines undoubtedly represents a significant effort on the government's part. Over the last several months, healthcare workers worked round-the-clock to accelerate vaccination coverage in every part of the country. Many travelled across difficult terrains and to the remotest areas to vaccinate people.
At present, the Covid situation on the ground appears to be good, with fresh daily rise of the disease dipping to the lowest since March, and with no report of a mutation of the virus or emergence of a new variant in genome sequencing done till the middle of October. Public health experts say that though new cases and breakthrough cases for fully vaccinated would continue to occur, they are likely to be less virulent.
The daily rise in new infections has been below 20,000 for several weeks, reflecting the sustained downward trajectory of the disease. According to official data, the average daily doses administered in a month has gone up from 1.969 million in May to 3.989 million in June, 4.341 million in July and 5.929 million in August. The average daily vaccination in September was 7.869 million, while it was 6.256 million per day in the first week of October. September 17 was a red-letter day in the Covid immunisation campaign when, marking Modi's 71st birthday, 25 million jabs were administered across India.
The main idea behind ramping up the vaccination drive, backed up by a significant increase in vaccine supplies, was the festival season in October and November (Durga Puja and Diwali) so that more and more people would get at least one dose. The pace slackened due to the festivals as the country soaked in the festive spirit in October-November.
India's Covid immunisation exercise gathered pace after a policy reversal in which the federal government wrested back the control of vaccination from the authorities in opposition-ruled states in June, and also announced free jabs for all above the age of 18 years, ending weeks of almost daily blame-game over price and procurement of the vaccines. This policy change was forced largely by the Supreme Court.
However, celebrations around administering one billion vaccine doses does not hide a possible red flag: the discrepancy between the number of fully vaccinated individuals and those with just one shot, which gives an estimated 30 to 50 percent protection against the virus. Only around 20 percent of the country's 1.4 billion people have received both the doses. The government has acknowledged that a "sizeable number of eligible beneficiaries" have not taken their second dose, but it has declined to share the numbers. The disparity between the partially and fully vaccinated in India is among the highest in the world, and of concern to a country that has already reported over 450,000 deaths.
The government is aware of this problem and has called on states and UTs to focus on administering the second doses, and advised them to frame strategies to close the gap. On November 3, Prime Minister Modi cautioned against complacency in Covid vaccination drive, particularly in 40 laggard districts spread across six states, and called for a door-to-door drive in those areas.
Public health experts in and outside the government are keeping their fingers crossed largely due to the three months of October, November and December, when Durga Puja, Diwali, Christmas and New Year festivals are on. Many medical experts warn of a rise in Covid cases if crowd management is not done properly and Covid protocols are not abided by during festivals. Secondly, there are areas of concern in states like West Bengal, Tamil Nadu, Telangana, Odisha and Andhra Pradesh where new cases are either plateauing or dropping very slowly.
One of the major challenges of attaining the objective of fully inoculating every adult by the year-end is the 12-week gap between the two doses of Covishield, which extends even farther in the event of a person getting infected after the first dose. The government has to take a call on how to bridge the gap between the two doses.
Another challenge will be the vaccination of children, particularly those having comorbidities. India's first vaccine for children has been given emergency use authorisation (EUA), and the government is likely to frame the final guidelines and set a timeline of the vaccine roll-out for children. This assumes significance as schools and colleges have reopened or are resuming physical classes in phases in many states.
Secondly, India's drug sector regulator recently gave EUA to Bharat Biotech's vaccine Covaxin for children between two years and 18 years of age. The government has to tread cautiously here, because no other country is administering the Covid jab to children aged between two and six years. Although the safety and immunogenicity of Covaxin have been found to be the same among adults and children, it may be quite a task to convince parents to allow their children to get vaccinated.
Another thrust area should be to jab adults in rural areas. Experts are of the view that vaccination should be done door-to-door in those areas where a wage-earner cannot afford to go without even a day's work. Many of them may still be harbouring vaccine hesitancy. But there is no time for such hesitancy now when India is sitting on piles of vaccine doses.
There is also an external dimension to India's ramped-up vaccine production since August. Modi's "vaccine maitri" diplomacy, though halted by the deadly second wave of the pandemic in March-April, has positioned India as a key player in meeting global needs, particularly of middle-income and poorer countries in Asia, Africa and Latin America. After restarting the vaccine exports of Covid-19 vaccines in October with four million doses, India is expected to increase it in the coming months as domestic stocks build up and most of its own large population is vaccinated either partially or fully.
The Serum Institute of India, manufacturing the Oxford-AstraZeneca vaccine, and Bharat Biotech are ready to further increase their production capacities, and with a few other locally-developed vaccines closer to production or clearing national regulatory approvals, India is expected to be producing 300-320 million shots a month by early next year—more than the average 210 million doses it administers at home per month. The vaccine export policy is not cast in stone.
Flexibility is the buzzword of such a policy, keeping in mind the domestic requirement first. If national interests during the peak of the second wave warranted India to give overriding priority to meet domestic needs, the changed situation today should give equal focus to global collaboration. The World Health Organization (WHO) approval to Covaxin, India's indigenous Covid-19 jab, is expected to help that objective.
Pallab Bhattacharya is a special correspondent for The Daily Star. He writes from New Delhi, India.