[WATCH] Kid's wish to become Iron Boy for a day comes true
There is none but Iron Boy who can save the day when Sydney is in trouble.
Make-A-Wish Foundation and New South Wales Police teamed up on Thursday to help Dom, a nine-year-old boy battling cystic fibrosis, have his dream to become a superhero come true, reports Mashable.
The eventful day began with Dom and his family flying to the police headquarters in Parramatta in the morning for an urgent briefing, according to a police statement.
NSW Police Commissioner Andrew Scipione made a plea for help to save Make-A-Wish reporter Hope Joy who had been kidnapped by the super villain Ultron.
Ultron had also overrun Clark Island in Sydney Harbour with the help of his henchman.  
Thank you #IronBoyAU pic.twitter.com/tauHxGWrpa

— Make-A-Wish Sydney (@MakeAWishSydney) February 11, 2016
Dom knew right away what he had to do-- suit up and become Iron Boy. His brother Joseph, coming along as his trusted sidekick Colonel Rhodes, was also ready to help.
#IronBoyAU arrives to save the day at @SydOperaHouse pic.twitter.com/PMReZElBtO

— NSW Police (@nswpolice) February 11, 2016
The hopes of the nation rode with Iron Boy as he headed off to save Joy and the city form Ultron.
Politicians including NSW Premiere Mike Baird and Sydney mayor Clover Moore echoed Scipione's call for assistance.
#IronBoyAU to the rescue - Super Hero Dom saves the day pic.twitter.com/af3WBzv2VP

— NSW Police (@nswpolice) February 11, 2016
Even the Iron Man in the blockbuster films Robert Downey Jr, along with Twitter CEO Jack Dorsey and actor Liam Hemsworth, tweeted their support with words of encouragement for Dom on his mission.
We didn't think the day could get any better for #IronBoyAU, then he got this message: @MarvelAUNZ @RobertDowneyJrhttps://t.co/B4pndSIeTr

— Make-A-WishAustralia (@MakeAWishAust) February 11, 2016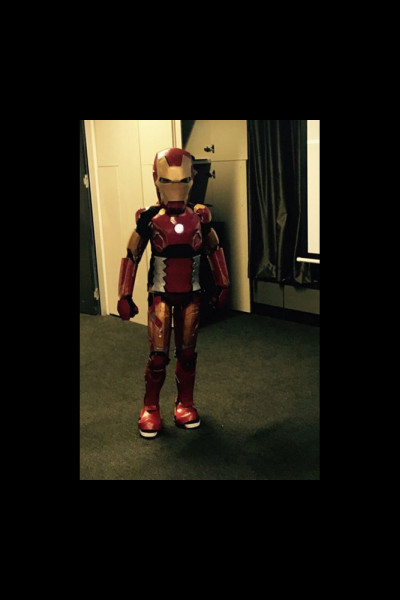 Eventually, Iron Boy located Joy on Clark Island and rescued her easily defeating Ultron's henchman.
However, the mission was not over yet! Crowds gathered at the Sydney Opera House in the afternoon to watch the final battle between Iron Boy and Ultron, who was waiting there as Iron Boy arrived with his entourage, ready to save Sydney.
And then in the battle, Ultron was decisively defeated as he had no hope against Iron Boy's superior strength and power.
Commissioner Scipione congratulated Iron Boy, awarding him with a medal of valour, on a job well done.
"On behalf of a grateful Police Force and indeed the people of Sydney, I would like to thank Dominic for his tremendous efforts today," he said in a statement, adding "Not only has Domenic battled villains and saved his city, he's stared down his illness and won the day."
Sent a very special boy on a top secret mission today. Go get 'em, Domenic! #IronBoyAU @MakeAWishAust

— Robert Downey Jr (@RobertDowneyJr) February 11, 2016
"Those henchmen, they think they're so awesome," Dom told reporters, adding that his favourite part of the day was "fighting Ultron", and that his schoolmates will be amazed to know that he fought evil and became famous.
Go, Dom! #IronBoyAU pic.twitter.com/Z7XifiPF7U

— Liam Hemsworth (@LiamHemsworth) February 11, 2016
"I love it how he makes the suits," Dom replied to a query asking why Iron Man was his favourite character.
Dom also revealed that he prefers to have the power of healing if he had one superpower.
 "Because if I get shot in the head, I survive," he said.
"It takes a whole team to make things like this amazing," Danielle Chartres, Make-A-Wish foundation's wish manager, told the media, referring to the team of scriptwriters, suit makers, actors and staffers who helped out on the day.
"It was amazing," Dom's mother Nicole told reporters.
Such experiences help kids like Dom to get through the hard times, she also said, adding that the feeling of walking up to the Opera House where a big crowd had gathered was "overwhelming."
"Dom was so excited. It was just one surprise after another," Nicole added.