Fitbit captures exact moment of devastating heartbreak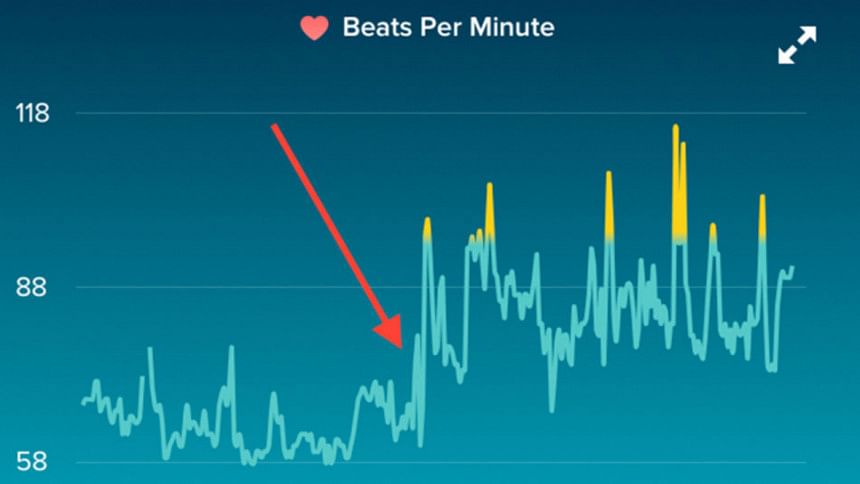 Breakups take a toll on your heart and one man has exact data to prove how getting dumped feels like.
Koby Soto was having a bad day this Saturday and he actually has date to prove that, reports Mashable.  
His boyfriend of around one month broke up with him, which was traumatic enough, but when Soto, cofounder of Tel Aviv property management startup Guesty, checked his Fitbit later, he was surprised to see his heightened emotions reflected in his health data.
His skyrocketing, erratic heart rate had all been captured faithfully by his fitness tracker, he told Mashable.
The 28-year-old had an exam Monday, so he took time off from using social networks before posting a screenshot of Saturday's heart rate on Twitter and Hacker News on Tuesday.
Soto had no idea that his tweet would attract any attention. But the image quickly garnered a lot of likes and as of writing this report; it was liked almost 1000 times.
"I don't have a lot of followers," he said. "I'm absolutely overwhelmed ... it's attention I'm not used to."
Soto purchased his Fitbit to track workouts, but he's not intimidated by the fact it has captured so much more. "The first time I saw it I was shocked, and thought it was a bit funny," he said. "I didn't expect to be tracked."
"But now, maybe awe, it's cool. I don't get spooked by the fact that I'm being logged."
Soto said this is the first time a wearable has captured any of his emotional trauma.
"I've been in a few relationships a lot longer than this and the breakups were much more intense, but I wasn't wearing a Fitbit," Soto was quoted as saying according to Mashable.
There was one silver lining, however — a decent fat burn. "It's funny, because [the Fitbit] thought I was working out, but I wasn't doing anything," he said.
"I'm quite an emotional type of guy, so when I'm in a breakup, I'm in a constant bad mood and constant stress."
Soto said he wasn't surprised at the data his Fitbit had collected. "The fact that wearables are so common these days, especially ones measuring heartbeat, lets us look at stuff we already knew about," he said. "Everyone's had a breakup, so everyone knows [the feeling]."
"It's interesting to see the literal measurements and not to just talk about emotions."