Ex-refugee wins $1m global teacher prize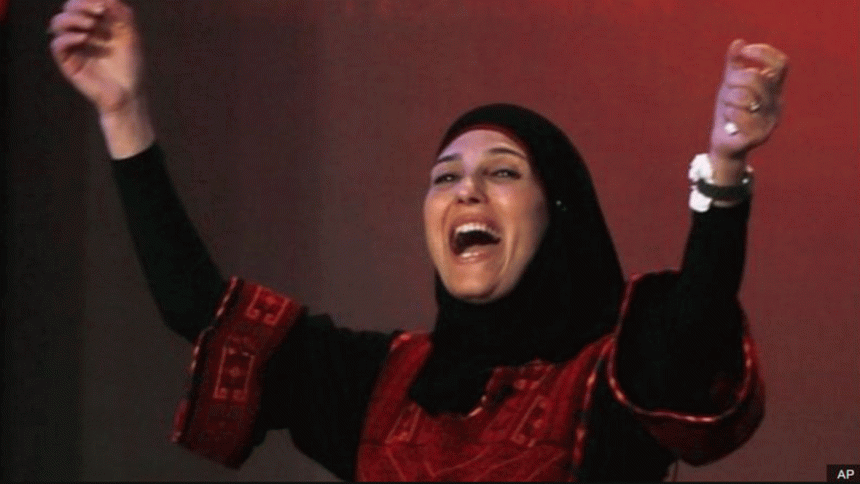 Hanan Al Hroub grew up in a Palestinian refugee camp and now is a teacher of refugees herself.
She specialises in supporting children who have been traumatised by violence.
The winner was announced at an awards ceremony in Dubai, with a video message of congratulation sent by Prince William.
Pope Francis sent a message saying that teachers were "the builders of peace and unity".
Ms Al Hroub told the audience that "teachers could change the world".
Growing up in a refugee camp near Bethlehem, Ms Al Hroub now works with refugee pupils, with an approach using play that is aimed at resolving violence and tension.
"I am proud to be a Palestinian female teacher standing on this stage," she said after receiving the award.
She says she will spend the prize money on supporting her students.
Prince William spoke of the "incredible responsibility" of teachers and that they could "influence, inspire and shape a young person's life for the better".
There was a UK finalist, Colin Hegarty, a maths teacher from London who has created a website with interactive online maths lessons.
The finalists for the Global Teacher Prize included teachers from India, Kenya, Finland and the United States.
Created by the Varkey Foundation, the charitable arm of the GEMS international education firm, the prize and Oscars-style ceremony are intended to raise the status of the teaching profession.
The audience for the event included Hollywood stars such as Salma Hayek and Matthew McConaughey and political figures including former UK prime minister Tony Blair and the vice president of the United Arab Emirates Sheikh Mohammed bin Rashid Al Maktoum.
The top 10 finalists were invited on stage by a video message from physicist Stephen Hawking and were congratulated by video messages from US vice-president Joe Biden and former US president Bill Clinton.
Sunny Varkey, founder of the Varkey Foundation and who created the prize, said he hoped that Hanan Al Hroub's story would "inspire those looking to enter the teaching profession".