Chandigarh elderly couple's assault caught on CCTV, 1 held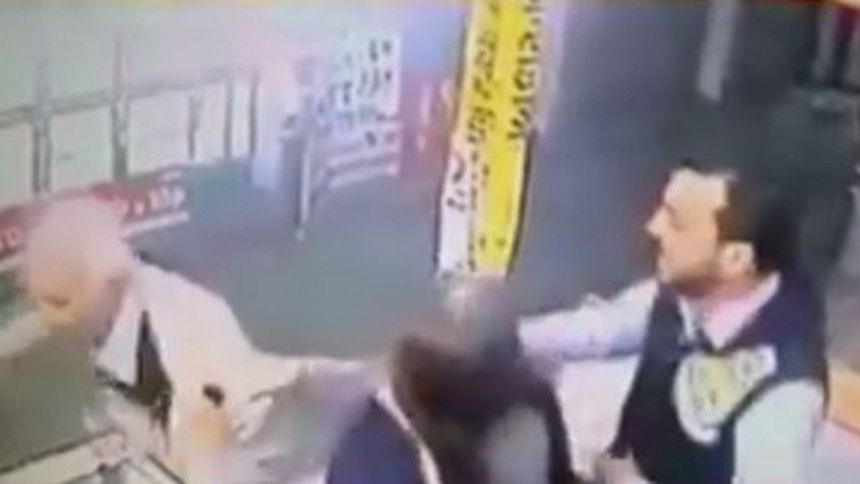 The video of brutal assault on an elderly couple by a youth in India's Chandigarh had gone viral on the social media. People came down hard on the 24-year-old driver, terming him "inhuman", "shameless" and "devil", reports Hindustan Times.
In the video that was shown by various news channels in India and went viral on social media, the youth can be seen repeatedly punching and slapping the couple. He can also be seen damaging the shop. While the accused was assaulting the elderly couple, a few people who were present there did not come to the rescue of the victims.
#ShameCaughtOnCamera

Elderly couple assaulted by youth in Chandigarh; accused has been arrested by Chandigarh Police

Posted by ibnlive.com on Friday, 11 December 2015
Some Chandigarh municipal councillors posted the video on their Facebook pages and had condemned the act, the report added.
The youth, identified as Rajeev, was arrested for thrashing the couple in their late fifties at their mobile shop in Sector 18 of Chandigarh city on Thursday.
Rajeev, a resident of Sector 19, has been booked under voluntarily causing hurt act, house-trespass act and criminal intimidation act after he beat up Joginderpal Soni, 58, and his wife Santosh Kumari, 56.
Police said the son of the victims was a friend of the accused and the former insisted on striking a compromise.
"Surprisingly the son of the victims did not want us to register any case against the accused. Moreover, victims too kept insisting on a compromise. We could not allow compromise as it is clear from the CCTV footage that accused had committed an offence that is brutal in nature," said Sector 19 Station House Officer (SHO) Maninder Singh.
The accused had told the police that he got furious at Santosh Kumari since she allegedly had said something "wrong" about his mother. Father of Rajeev had died many years back.
The brutal assault by the accused was captured in the CCTV camera installed at the shop, following which a case was registered.
Police sources said Santosh and Joginderpal have suffered multiple injuries and the exact nature of wounds would be clear in the medical reports, which were awaited.
Contacted, victims said they did not want to pursue the complaint against the accused as they knew him since long.
The SHO said, "We received a call that a youth had assaulted an elderly couple in Sector 18, following which we reached the spot. When we enquired from the victims, they were not ready to lodge a complaint. We initially registered a daily diary report but later when we checked the CCTV footage, we arrested the accused."
Police produced the accused and the victims before the Sub-Divisional Magistrate (east) Tapasya Raghav, where the victims pleaded for a compromise.