"I don't want to die before my time comes – I want to live my life fully"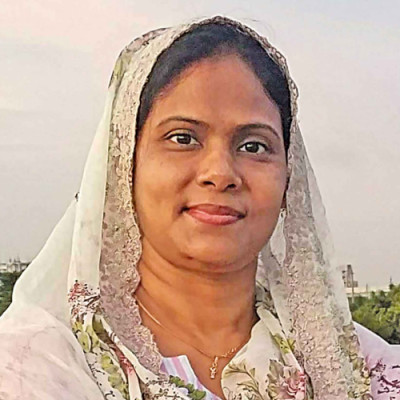 Firoza Afroj Subarna, 43, a homemaker in Dhaka, had no idea her world would be upturned at the end of 2013 when her seemingly healthy body began to show signs of something sinister. One of the most common urinary tract cancer symptoms is blood in the urine, which led to Firoza's diagnosis of transitional cell carcinoma (TCC) in her kidney. Her family was left devastated. Her daughters had difficulties adjusting to this new reality while her husband, Md. Mokhlasur Rahman, struggled to balance being her primary caretaker while also maintaining his job.
Firoza's story is one of overcoming many adversities. In 2014, she had her right kidney removed in an effort to contain the TCC, an aggressive cancer that spreads rapidly across the body. However, in 2015, the cancer attacked her lungs and her bones. Doctors tried to keep her condition stable through chemotherapy and radiotherapy. While these treatments are known to be painful and invasive, Firoza remained optimistic: "I was only in pain during the chemo and radiotherapy; the rest of the time I felt completely healthy and led a normal life." In 2016, a liver cyst appeared, and after careful observation, doctors decided to operate. Traces of cancer were still left behind, so doctors opted for oral chemotherapy.
While seeking treatment in India in 2018, Firoza's doctor suggested a treatment a bit different than chemotherapy, named immunotherapy. Firoza was initially apprehensive of the suggestion since spending four lakh taka monthly on immunotherapy was not feasible for her family. But she soon bit the bullet and began the therapy, and she hasn't regretted it since. "I know how daunting and expensive immunotherapy can be, especially for people from the middle-class or lower, but I couldn't recommend it more," shares Firoza. She has been receiving the treatment from United Hospital  from 2018 till present. Firoza and her husband's only demand is that the governments reduce cancer drug costs and make it more accessible.   
Even after almost eight years of fighting cancer, Firoza has never once given up. "I used to be in constant fear of my life suddenly ending. The emotional turmoil was immense, both on me and my family. My willpower soon began to get stronger, and I realised that I don't want to die before my time comes – I want to live my life fully. And that is exactly what I'm doing now."
Interviewed and written by Mayabee Arannya of The Daily Star.