ASUS shaping a tech-savvy Bangladesh with innovative laptops
The digital transformation of Bangladesh over the past two decades has been fueled by the increasing convergence of technology with our everyday lives. Today, the modern Bangladeshi youth are forging their own paths on the global stage with the help of rapid digitization. And in this extraordinary journey of Bangladesh's smart growth, brands like ASUS are helping the young generation leap forward in the digital era.
Worldwide, the freelancing and content creator community is growing at a rapid pace. In Bangladesh too, the content creator community is growing rapidly, along with a stream of digital-first young tech-savvy professionals who need real solutions, real-fast.
Professionals like video editors, graphics designers, photographers, VFX designers, etc. need powerful computers. And increasingly, people from these communities are preferring creator laptops for easy portability and convenience, and ASUS is supporting them in this journey.
To effectively support the growing number of content creators in the country, ASUS has brought in its Content Creator series laptops: the Studiobook Pro 16 OLED (W7600), and the Studiobook 16 OLED (H5600) --an advanced ecosystem of laptops that delivers performance and features suitable for any level of creator, from professionals to hobbyists.
The ASUS ProArt Studiobook series is specifically designed with modern smart content creators in mind who want flexible and fast working and seamless workflow. These laptops offer a stunning OLED display for the most accurate colour production with strong performance and a smooth user experience, thanks to their cutting-edge designs and creator-focused technologies.
One such unique design element is the ASUS Dial. The ASUS Dial is a completely new way to interact with technology and create in the most natural, immersive way. Users can press hold ASUS Dial to turn on the ProArt Creator Hub menu of tools and rotate it to adjust settings, making it easier and faster to create content while customizing workflow.
ASUS Dial, the intuitive and customizable physical controller is compatible with content production software like Adobe suites and many more. When creators press the ASUS Dial, it displays the ASUS Dial menu suited to the related Adobe app, allowing for easy adjustment of commonly used functions such as zoom, brightness, and contrast via rotating dials.
Additionally, there is also a touchpad that can support a stylus. It adds three physical buttons, allowing 3D creators to move and select or rotate 3D objects conveniently, even without a mouse or drawing pad. The Studiobook keyboard also adds a shortcut key and a Windows key which can be set to functions in ProArt Creator Hub.
The innovative and stylish laptops are, in fact, aimed at highly mobile advanced creators, who appreciate the latest performance-enhancing technologies as they spend busy lives creating content and being productive on the road, frequently working in multiple locations, including studios, offices and public places.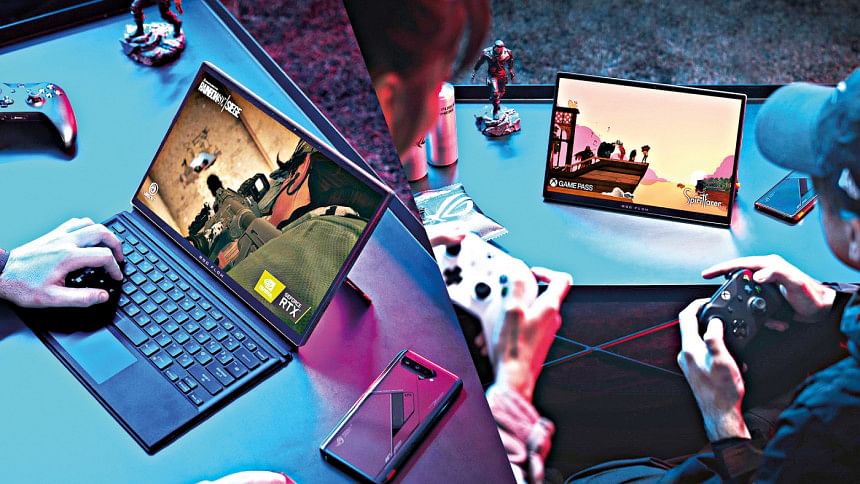 All in all, these laptops offer great performance and features for a new generation of aspiring creators, such as social influencers, live-streamers, vloggers, budding artists, young musicians and more, who create to explore their talent and express themselves, in terms of appearance, performance, and durability—helping modern content creators work smartly and efficiently from anywhere.
For today's tech-savvy smart users who are always on the go and those who prefer to work in their dedicated workspace, ASUS's laptops are designed and built in a way to remove creativity barriers from our workflow and offer incredible performance, design, and a burgeoning ecosystem.
"ASUS has always believed in innovation. Our laptops are built with the aim of making users' lives easier and helping them boost their productivity through state-of-the-art technology and powerful performance. We offer laptops for all consumer segments, ranging from artists, designers and content creators to students and business professionals.
That is how ASUS has become the market leader in the creator series laptop category capturing over 80% market share. The same can be said for the gaming segment where ASUS dominates by possessing over 80% market share," said Md Al Fuad, Business Development Manager, ASUS Bangladesh.
Another segment in Bangladesh that ASUS is actively catering to is the gaming sector. ASUS is empowering the new generation of Bangladeshi gamers with its Republic of Gamers (ROG) series, specifically the ROG Flow Z13 (GZ301ZE). As the world's fastest gaming tablet, the Z13 has some unique design benefits over typical laptops.
Republic of Gamers (ROG) is an ASUS sub-brand dedicated to creating the world's best gaming machines and hardware. ROG is aimed to provide the latest and the most powerful computing solutions to the market to cater the pros from the competitive esports scenario to avid gamers and digital content creators.  With the Flow Z13, ASUS takes the bold next step aimed at giving modern gamers more portability and flexibility. This is a bold experiment that also stylishly doubles up as an ultra-portable, but powerful gaming tablet, making it nothing short of an audacious fashion statement.
The Flow Z13 is the world's most powerful gaming laptop, and a tablet, that combines the best aspects of tablet mobility with PC versatility to create an all-new gaming experience. A tablet form factor allows the Z13 to stay incredibly light and slim at just 1.1 kg and 12 mm thick while packing the gaming power of much larger devices. Built to accommodate all styles of play, the mouse, gamepad and touch are all flawless on the Z13.
With the power of the 12th Gen Intel® Core™ i9-12900H processor and an NVIDIA® GeForce RTX™ 3050 Ti Laptop GPU, this machine is ready to tackle all the latest games and most demanding applications.  No matter how gamers prefer to interact with a PC, the Flow Z13 supports it. It can be used as a laptop or you can remove the keyboard, connect a controller, and unwind on the couch while using it. When using the device with standard keyboard and mouse controls, the screen cover doubles as a fully functional keyboard with 1.7 mm of travel.
Due to its unique form factor, the Z13 also excels when used to play titles that support gamepads. Gamers can expect an excellent wireless connection and can pair up multiple controllers to take on some friends with classic split-screen action.
As a high-end gaming tablet, the device features Corning Gorilla Glass-protected touchscreen, which comes in FHD 120 Hz options for an ultra-smooth gaming experience. The Z13 supports mobile and touch-compatible games as well as traditional PC games. Responsive touch controls live inside the 13-inch display, allowing gamers to enjoy the best of mobile gaming on the go.
With all these cutting-edge features, ASUS ROG is, in fact, forging the next generation of Bangladeshi gamers and content creators who can challenge anyone on the global stage.
In 2022 and beyond, Bangladesh is now concentrating on becoming a digital-first smart nation as a result of the advent of digitalization. With ASUS's vast range of laptop offerings for different customer segments of different needs, modern tech-savvy Bangladeshis are taking the next big step in joining the global arena, armed with the technology of their choice.
The dream of a smart Bangladesh is materializing slowly. And ASUS plays a significant role in supporting the vision of smart Bangladesh by bringing smart devices into the market. In this age of digitization and rapid globalization, with the help of global brands like ASUS, Bangladesh is not far behind in its dreams of a smart, digital Bangladesh.