Father-son bond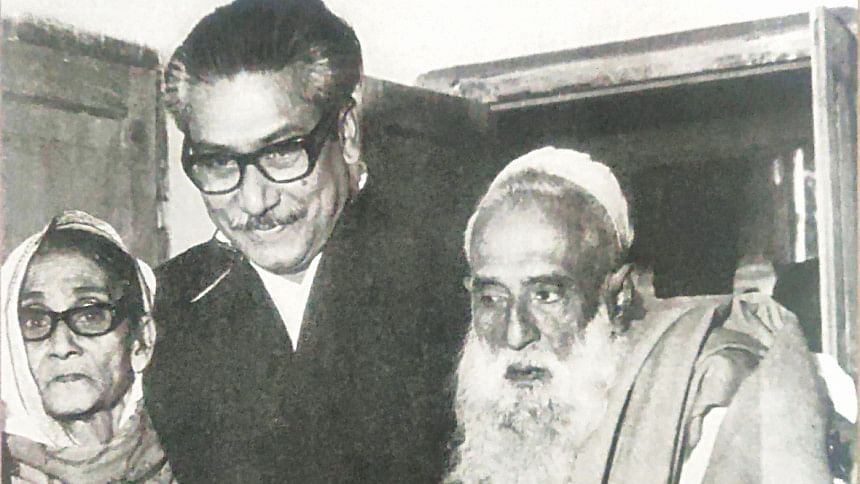 [Bangabandhu's confiscated letter written to his father, Sheikh Lutfar Rahman, in Tungipara, Faridpur address
from Dhaka Central Prison on 12.11.1958.]
Political imprisonment
Dhaka Jail
12.11.58
Abba,
You and Ma please receive my salam. Ma was very hurt this time because I was arrested right in front of her! Please pray so that they cannot do anything to me with this false allegation. Once I had been convicted of robbery as well. Allah is there, the truth will definitely emerge victorious. You are well aware that I have nothing. Please look after my children. I would have asked them to go home but that will hamper their studies.
They have politically imprisoned me again; this was not required. Because there is no politics anymore and I will not get involved in it anymore either. I will not get involved in it even if the government permits.
I do not want to work for a country whose people believe that I can take bribes. This country does not value dedication and sacrifice. If I can ever get out of jail, I will try to find some sort of work so that I can look after you and my children. I have suffered myself and made you suffer as well. Pass my salam to everyone in the family and ask them to pray for me. Take care of your and Ma's health. Don't feel sad and don't worry. Ask Ma to not cry so much. I am doing well.
Affectionately yours,
Mujib
NB: Please rent out the house at Gopalganj. That house will not be needed anymore.
Mujib
Reference: Govt. of East Pakistan. Home Poll, F/N. 606-48-PF. Part-9
[Bangabandhu's father, Sheikh Lutfar Rahman's confiscated letter written on 03-06-1962 from Tungipara, Faridpur to imprisoned Sheikh Mujibur Rahman's Dhaka Central Jail address.]
Tungipara
03.06.62
Baba Khoka,
Take my blessings first. I received your letter from 29/4/62 a month later. Younger daughter-in-law (chhoto bou) wrote a letter from Dhaka stating that you will be released soon and in a few days, will come to visit us with everyone. But it has been 20/25 days and I have yet to receive any news. "Allah has said that He will torture those who torture His followers." Everyone is becoming aware that this is happening, and world history bears testament to this. You too have noticed that it has not been too long. Detaining you is like inflicting various forms of torture upon us old parents, your young children, and wife. We are bound to helplessly tolerate this but Allah will surely not tolerate this. Don't worry, everything is up to Allah. Whatever He does, He does for the good of people. The truth will definitely win. After receiving no results by falsely accusing you, and getting proof of your honesty, I don't understand why they have still kept you imprisoned. I had heard that you will be the first to be released but now I don't see any possibility of that happening. The citizens have already appealed to the government for the release of all political prisoners and students. Perhaps you all will soon be released… Everyone in Dhaka is doing well. Meera's mother had an asthma attack but I heard she got better in Gopalganj. All of us at home are doing well. Your sister is very ill. I am always praying to Allah that He keeps you all well. It is very difficult for an 80-year old man to write like this. That is why I have to write slowly and it takes time to write.
Yours,
Abba
Sheikh Mujibur Rahman
Security Prisoner
Central Jail
Dacca
Reference: Govt. of East Pakistan. Home Poll, F/N 606-48PF.Part-15
Source: Bangabandhu'r Oprokashito Chithipotro (Bangabandhu's Unpublished Letters) by Dr. Sunil Kanti De.
The letters are translated by Tasnim Kabir of The Daily Star.