Father and son football face off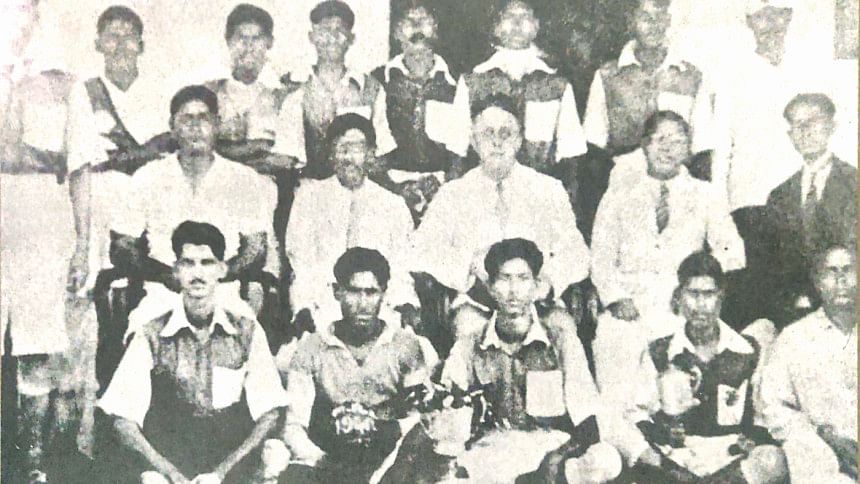 (1940)
In school I was crazy about sports. However, my father tried to discourage me from playing since my heart wasn't strong. My father himself was a good sportsman. He was secretary of the Officers' Club. I was captain of the Mission School. When my team played father's club people were quite excited. Our school team was quite strong. We used to admit the best players of the region and exempt them from paying tuition fees.
In 1940 my team managed to defeat my father's team in almost every sport. And yet the Officers' Club had no shortage of funds. It would recruit players from outside our area. All of them were big-name players. In the last football match of the season our team drew with father's team for five successive days. We were all students and the eleven of us always played together whereas the Officers' Club always had to hire a fresh set of players for every game. But we had become exhausted from the effort. Father said we would have to play the next morning to come up with a decisive result. He argued that they couldn't keep the players that they had hired in our town forever since it was costing them a lot.
However, I pointed out that we had examinations the next morning and thus wouldn't be able to play at that time. The secretary of Gopalganj Club began to shuttle back and forth between my father and me and after some time gave up in exasperation, declaring, 'This is between you and your father; I can't keep shuttling back and forth as a negotiator between you two forever.'
The headmaster of our school was a man called Roshoranjan Sen Gupta. He used to tutor me at that time. My father summoned him. I took up position along with my players at one goalpost while my father took his stand on the other side. The headmaster urged me to yield to my father's request and play the next morning since they had a real problem on their hands what with their out-of-town players. I told him that the eleven of us were exhausted since we had been playing endlessly all year long. I pointed out to him that our bodies were aching and we needed to rest for at least a couple of days. The alternative would be to have us lose badly. I also stressed that we hadn't lost a game that whole year and this was the final of the prestigious A.Z. Khan Shield Tournament. A.Z. Khan was a SDO who had died in Gopalganj. Among his sons, Amir and Ahmed were my childhood friends. I was especially close to Amir. He now works in Radio Pakistan and is better known as Amiruzzaman Khan. When his family had to leave Gopalganj when Mr Khan died, I was very sad. But to come back to my story, in the end I had to yield to the headmaster's request and so our team played father's team the next morning. We lost the game by one goal.
Source: Sheikh Mujibur Rahman's The Unfinished Memoirs published by University Press Limited