Encounter with Suhrawardy and Fazlul Huq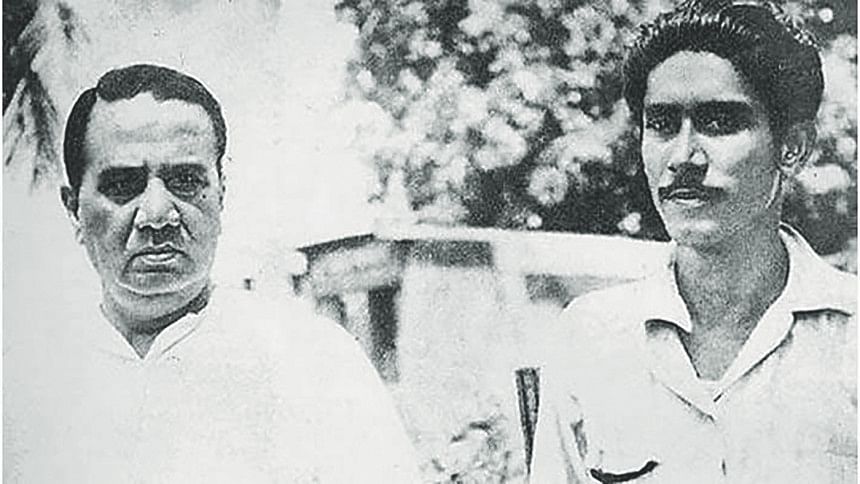 (1938)
In 1938 a significant event of my life occurred. Mr [Fazlul] Huq was then the prime minister of Bengal and Mr Suhrawardy the labour minister. They were scheduled to visit Gopalganj. A huge meeting was to be organized for their visit. It was decided to hold an exhibition on the occasion too. After all, the two eminent leaders of the Muslim community of Bengal would be coming to town and all Muslims of the area were excited at the prospect. I was still in school then. As I noted before, I was older than the boys I used to hang out with and so was given responsibility of the volunteer brigade. I formed the brigade with everyone who was willing to join it regardless of their religion or beliefs. Later, it became apparent that the Hindu boys were leaving the group one by one. Unable to figure out why this was happening, I asked a friend what was going on. He told me that the Congress party had directed them not to participate in the event and had even instructed them to make sure the leaders were not given a grand reception. They were also asked to ensure that shops were made to shut down on that day. In those days Hindus owned 80 per cent of the shops in town. The news surprised me since we didn't treat Hindus and Muslims differently then. I was very friendly with the Hindu boys. We used to play, sing and roam the streets together.
Our leaders said that because Mr Huq had formed the government with the help of the Muslim league, the Hindus were fuming. This information had an electric effect on me. Mr Huq and Mr Suhrawardy were to be given a reception. We had to do everything that was necessary to achieve this. I formed a volunteer brigade with the help of the Muslim boys. Some Scheduled Caste Hindus joined our brigade too. They did so because Mukunda Bihari Mullick was a minister of the cabinet and he was part of Mr Huq's entourage. The Hindus formed a majority of the town's population. People came from the villages, armed with all sorts of weapons, ready to fight if there were any attempts to thwart the event. There was even the possibility of a communal riot breaking out.
Mr Huq and Mr Suhrawardy arrived as scheduled and the meeting was finally held. The exhibition was inaugurated formally. Everything took place peacefully. Mr Huq went to the Public Hall while Mr Suhrawardy went to the Mission School. Since I was a student of the Mission School I welcomed him. He inspected the school and then walked towards the launch and I followed him all the way. He asked me a few questions haltingly in Bengali that I answered as well as I could. He looked at me and asked me my name and wanted to know about my family. A government official told him about my family's origins. He took me by the arm and asked me affectionately, 'Don't you have the Muslim League in your area?' I told him that there was no such organization and that not even the Muslim Students' League was active here. He made no other comment but wrote down my name and address in his notebook. A few days later I got a note from him thanking me and asking me to meet him if I ever went to Calcutta. I replied to his letter. This is how I started to write to him from time to time.
Source: Sheikh Mujibur Rahman's The Unfinished Memoirs published by University Press Limited.