On China and Nationalism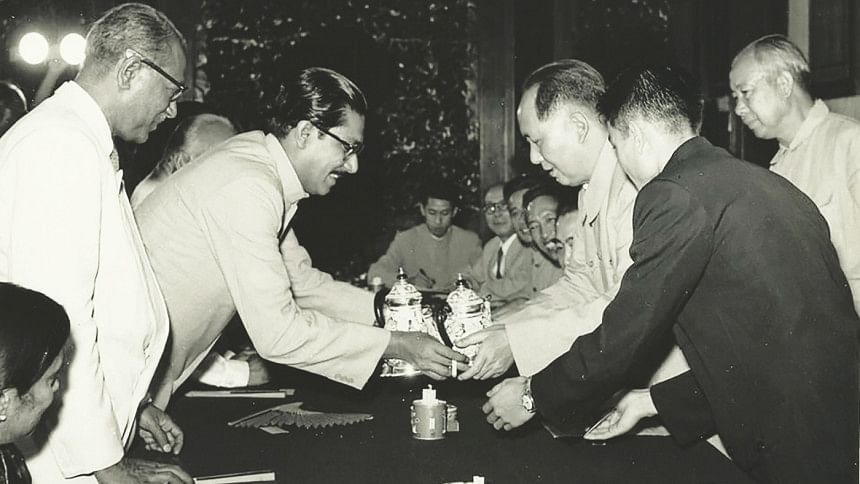 Bangla is my mother language. Speeches should be made in one's mother language. Since people from all countries around the world know at least a little bit about the language movement of the people of East Bengal. Manik Bhai, Ataur Rahman Khan and Ilias corrected my speech. People from every country deliver speeches in their own mother languages. We are the only ones who deliver speeches in English and take pride in doing so.
None of us from Pakistan mention our domestic matters in our speeches. Because, if we are to expose the distress that happened during the rule of the Muslim League government, we will be looked down upon by the people from other parts of the world. Many people asked us why someone from India delivered a speech in Bangla, and someone from Pakistan did the same. I said, Bangladesh has split up and one part has fallen under India, while the other has fallen under Pakistan. Many people know that Bangla is the language of Rabindranath Tagore. He is known as "Tagore" around the world. People give him enough respect around the world. I said, 55 percent of Pakistan's people speak in this language. And Bangla is one of the world's greatest languages. I noticed that even though Madam Sun Yat-sen speaks excellent English, she delivered her speech in the Chinese language. She did not utter a single English word.
I spoke to many people in China, and many of them know English, but they won't speak in English. They speak using interpreters. We went to see Nanking University. The Vice Chancellor of the university knows English, but welcomed us in the Chinese language. The interpreter explained everything to us. I noticed that the Chancellor was slowly correcting the interpreter's English at certain points, when needed. This is called nationalism. This is called compassion for one's country and one's mother tongue.
Our session continued, and the speeches were never-ending. There was a reason for delivering that many speeches. Every day the photos of the sessions and of those who gave speeches would be included in the bulletins. Many people gave into this temptation. And my speech was given because I was to deliver a speech in Bangla.
Source:  Amar Dekha Naya Chin (The New China as I Saw), by Sheikh Mujibur Rahman, published by Bangla Academy
Translated by Mrittika Anan Rahman of The Daily Star.
Note: The Father of the Nation, Bangabandhu Sheikh Mujibur Rahman, visited China in 1952. The Peace Conference of the Asian and Pacific Regions was being held and his name was given from East Pakistan to be a member of the representative team of Pakistan. He was released from prison this very year. Due to his protests during the Bangla language movement, since March 11, 1948, he was frequently imprisoned. In October of 1952 the conference was held and during this time, he recorded his experiences in China in a notebook. This is an excerpt from his notes.