Bangabandhu and Suhrawardy's partnership continues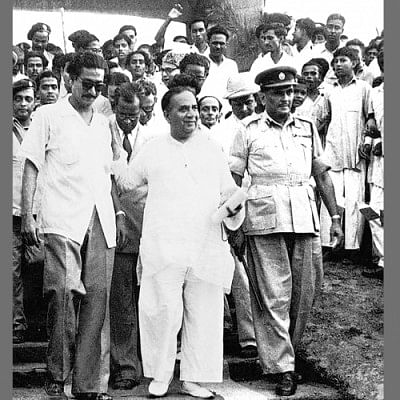 [This confiscated letter was written on 21/12/1950 by Security Prisoner Bangabandhu Sheikh Mujibur Rahman while in Faridpur District Jail, addressed to H. S. Suhrawardy in Lahore (West Pakistan).]
Sheikh Mujibur Rahman
Security prisoner
District Jail
Faridpur
East Bengal.
21/12/50
Jonab Suhrawardy Shaheb
My Salam to you. Very glad to hear that Moulana Shaheb is out from the jail. He was suffering from blood pressure and heart trouble. Last November, I was transferred from Dacca Jail to Gopalganj to produce before the Gopalganj Court. Again I was retransferred to Faridpur jail because, in the sub-jail, there is no accommodation for the Security Prisoner. I am to attend in all dates of the case from Faridpur Jail. A single journey from Faridpur to Gopalganj requires 60 hours, the route and the conveyance generally used are proverbially tiresome. I do not know, how long this case will continue. Anyhow I do not care for that. Mr. Abdus Salam Khan came to see me in the Faridpur Jail. He will move my Habeas Corpus Rule Petition in the High Court. Mr. Salam is also one of the accused in the Gopalganj Case. This is the first case, in the history of Pakistan that Police entered inside the mosque and used Lathi to disperse the people. Please do not think for me. I know, those who preferred to die for any cause are seldom defeated. Great things are achieved through great sacrifices. Allah is more Powerful than anybody else, and I want justice from Him.
How you are going on? I can feel that you are very busy. Please convey my salam to Moulana Niazi, Mr. Golam Mohammad Khan, Nowabzada Zulfiquar and other friends of mine. I always remember their love and affection. Please tell them if I get the chance, I must go to Lahore and see them again.
Last October when we met in the Dacca Central Jail gate, you kindly promised to send some books for me. I have not yet received any book. You should not forget that I am alone and books are the only companion of mine. Anyway my days are going on. Please take special care for your health.
Yours affectionately
Mujibur.
Passed to S.P., D.I.B Faridpur
Sd/-
Scal
22-12-50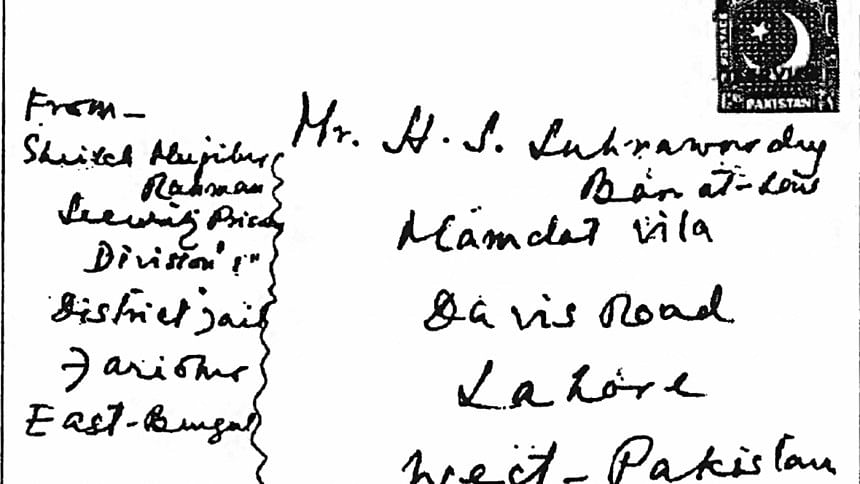 Reference: Government of East Bengal, Home Poll, F/N, 606-48PF, Part-3
Suhrawardy's letter to Mujib:
56 Clifton
Karachi
22.4.52
My dear Mujibur,
I thank heavens, they have released you. I am sorry to learn you are still unwell. If you wish to come over to Karachi, do so by all means. It may do your health some good. It is so terrible to hear that they have arrested the leaders of the Awami Muslim League all over the place and yet we can do nothing. How long will our people have to endure these miseries – and surely God watches, and He will come to our rescue. I do not say things to please people. I consider this State Language controversy to be meaningless and will really disrupt Pakistan, if they do not drop the matter. At the worst, let us have Regional State Languages – Bengali for Bengal, and Urdu for West Pak., and for some time carry on with English as the Inter-Region Language and the International Language. However, it is no use saying these things, as no on in prepared to listen. But I would advise, Muslims in Bengal to learn Urdu as a compulsory 2nd Language, and if I am right, they will not object, if they are properly approached.
Yours
Shaheed Suhrawardy
Source: Bangabandhu'r Oprokashito Chithipotro (Bangabandhu's Unpublished Letters) by Dr. Sunil Kanti De.