Mega projects should be part of a long-term development plan
In conversation with Dr Khan Mahmud Amanat, Professor, Civil Engineering Department, BUET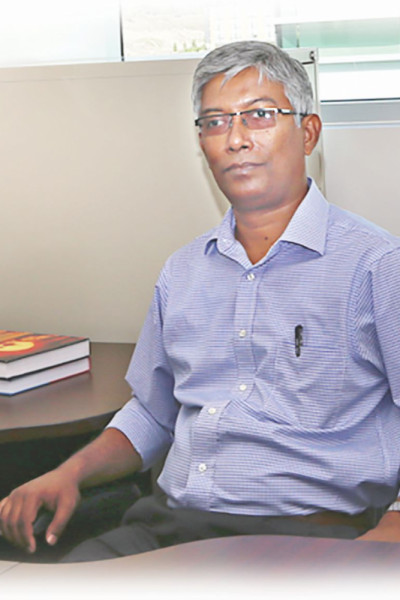 Bangladesh government has embarked on several big construction projects such as Padma Bridge, Rooppur Nuclear Power Plant, Payra Port, Dhaka Elevated Expressway and Metro Rail, etc. Successful completion and optimal use of mega projects require long-term planning, cost-effective construction, efficient use and proper maintenance. In a recent conversation with The Daily Star Professor Dr Khan Mahmud Amanat discusses these issues in the context of ongoing construction projects in Bangladesh.
Professor Amanat begins with the remark that a resource-strapped country like Bangladesh should ensure effective use of every single taka of investment in construction projects. He shares that Bangladesh now produces high-quality steel and cement. The government should promote use of local construction materials in the infrastructure projects which will significantly reduce construction cost as well as strengthen the local construction industry and employment. Citing the example of the Karnaphuli tunnel project, he says that tunnel lining blocks are being imported from China which may have increased the cost of the project significantly. These blocks could easily be produced in the country. The government should include a provision of using locally available raw materials in contract documents of all the construction projects, adds Dr Amanat.
To ensure longevity and efficiency of mega infrastructures, regular maintenance and enforcement of traffic rules are essential, opines Professor Amanat. When a small portion of a pavement is damaged, it must be repaired immediately to prevent further damage and to avoid major costly repair work. The government must strictly control movement of over-loaded trucks on the roads. Overloaded vehicles pose high risk for accidents. The brake system in the wheels of a truck is designed for standard loads. These brake systems are likely to fail when the vehicle carries more than its rated load.The damaging effect of an overloaded vehicle on the durability of a pavement is manifold. Studies show that only 25-percent-overloading (e.g. carrying 25 tonnes instead of the approved 20 tonnes) causes close to three times more damage. Similarly, a 50-percent-overloaded vehicle has the potential of causing five times more damage. To ensure road safety, safeguard our investment and maintain sustainable development, no overloaded vehicles should be allowed to ply on the roads.
Mega construction projects provide an excellent opportunity for training manpower through technology transfer. Although all the mega projects have some sort of arrangement for facilitating the knowledge transfer process, we're lagging behind due to incompetency of the appointed persons, laments Professor Amanat. Almost in all cases, the appointed persons do not have enough academic background or experience to understand the advanced technology being followed in the mega projects. The attitude towards these appointments is also problematic. In many situations, it has been observed that the experience gathered through technology transfer process is not given due credit. As a result, the involved person unduly lags behind his/her peers at the time of promotion. Professor Amanat suggests that the government should appoint people who have sufficient background knowledge and aptitude to learn about cutting-edge technology in technology transfer projects. 
As a long-term solution to the transportation problem of the country, rail and waterways need to be developed along with roads, highlights Professor Amanat. He hopes that the metro rail project will improve citywide communication and shorten travel time. Generally, a city area grows as a commercial hub when it provides easy connectivity, e.g. through a metro station. Therefore, a long-term plan for urban development of the locality around metro stations should be undertaken to get its benefits to the full extent.
Professor Amanat emphasises on long-term planning for mega infrastructure projects. In many cases it has been observed that decisions on a mega project are taken on political motivation and then a feasibility study is carried out, often forcefully, to justify it. Such practices should be avoided for sustainable growth in future. Mega projects should be undertaken as a part of a long-term development plan. In order to have steady and sustainable development, policymakers must be in consensus about such plans regardless of their political ideology. In preparing the long-term plans, emphasis should be given to the opinion of local experts rather than foreigners. The Rohingya crisis has proved that our country actually does not have a true, unselfish ally. Any foreign prescription for development is likely to serve their cause, or more specifically, their business interests rather than those of our country.