ANNIVERSARY SUPPLEMENTS 2021
Editor's Note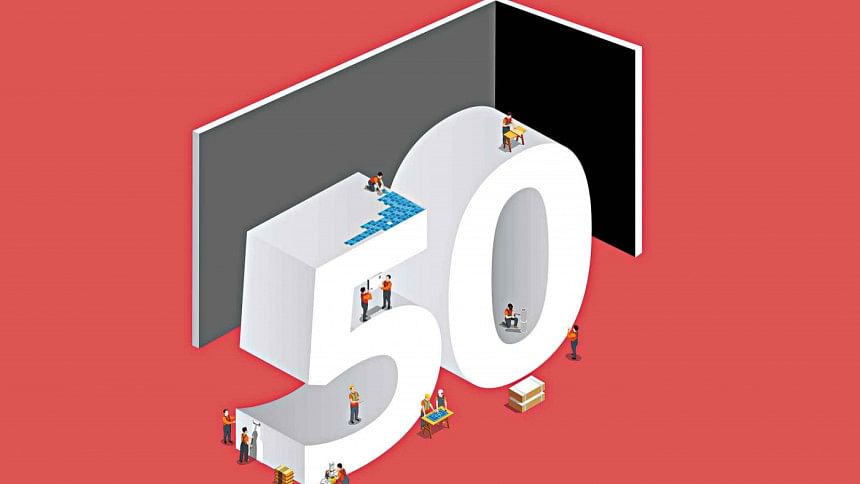 Dear readers,
As we celebrate the 50 years of our independence, no one can deny that Bangladesh has made tremendous progress in various social and economic indicators. The country saw a steady increase in its GDP and per capita income, which currently stands at around USD 2,000. Life expectancy has risen from 46.5 in 1971 to 72 years at present. Other indicators too give the impression that the country is on an upward trajectory. In this final issue of our special five-part supplement, we take a look at what more Bangladesh aspires to achieve in the next 50 years.
     As the world rapidly adopts newer technologies, Bangladesh has also climbed on the digitisation bandwagon, with mixed success. The country still has a long way to go before it can catch up to the technologically advanced countries. As the world enters the Fourth Industrial Revolution, Bangladesh has a unique opportunity to develop and innovate at a speed that has perhaps never been possible before. And it must capitalise on that.
     However, at the same time, Bangladesh faces a number of challenges. The Covid-19 pandemic that brought the world, including Bangladesh, to a standstill clearly demonstrates that there is no room for complacency. As the world recovers slowly from the setbacks of 2020, we need to re-envision a future path that is both peaceful and prosperous.
     In this issue, experts from different fields give their take on what the country should do for such a bright future. We thank them for their incisive analysis, and we also express our gratitude to our readers and patrons who have inspired us consistently for the last 30 years, to fulfil our motto - Your Right to Know.
Mahfuz Anam
Editor & Publisher