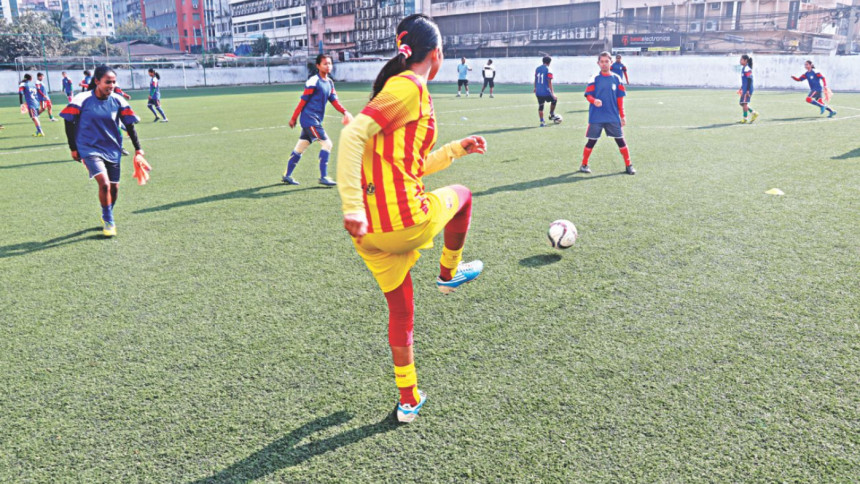 December 20, 2015. History was made at the Nepal Army Physical Training Centre in Kathmandu when the referee blew the final whistle, his hands pointing toward the mighty team in red and green.
While throughout 2015, mostly undesirable incidents made breaking news on TV channels and newspapers, a bunch of young Bangladeshi girls made the U-14 football team. In these days of turmoil, these youngsters brought in glory and victory to the country after they beat host nation Nepal by 1-nil at the AFC U-14 Girls' Regional Championship.
History was made the moment they clinched their first international title for Bangladesh at any level of women's football.
If Nepal's team was strong, our team turned out to be the strongest. The kind of atmosphere surrounding the stadium—thousands of fans chanting and jumping for Nepal—however, was not quite conducive for the visiting team. But nothing could break their spirit. They were in the finals and they had to win the game; that was the only mantra they kept repeating to themselves and to each other.
"From the very beginning, we took control of the match as we kept the opponent's defence busy with frequent attacks," says Marzia.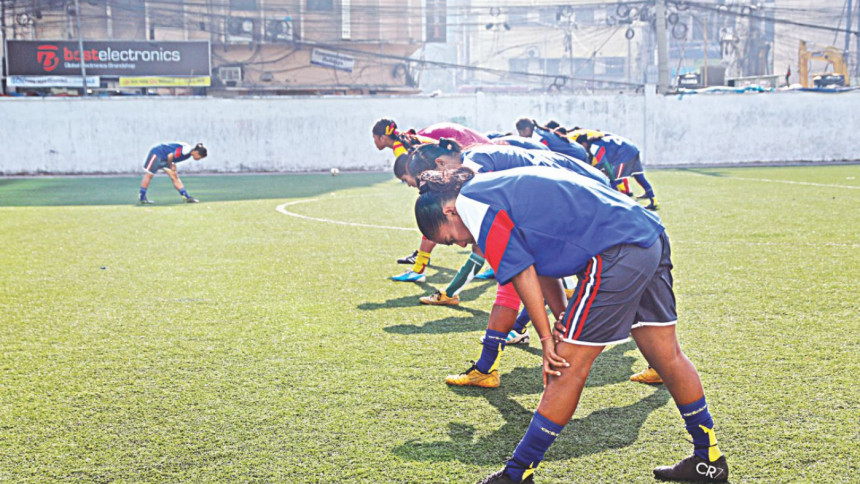 These girls, who are still in their teens, are now seen giving interviews and facing the media. However, they are yet to celebrate with their family as many of them have already started preparing for their upcoming South Asian Women's football league to be held in February.
"Going home can wait, practice can't," states Krishna, the little captain of the winning team, with firm determination etched on her face.
What made the young women, aged 13 to 14 years, so confident about their victory? Their consistent performance throughout the series against Bhutan (16 – 0), Iran (2 – 1), and India (1-1), could be part of the reason, but it was mostly their determination and hard work that did the trick.
2015 also marked the year for footballers like Sabina Khatun, who played for a foreign club, the Maldives Police Club, at the Club Maldives Women's Futsal Fiesta 2015 in Male. Sabina, the striker of Bangladeshi National Women's Football Team, was the first Bangladeshi woman footballer to play for a foreign club and she made her debut season memorable by scoring 37 goals in just six 
matches, including an astonishing 16-goal in one match. Sabina Khatun's success paved the way for two other Bangladeshi players, national midfielder Mirona and goalkeeper Sabina Akhter, who were selected by Dhivehi Sifainge Club, an outfit of the Maldives National Defense Force.
Back in 2008, when Kazi Salahuddin became the president of BFF, Bangladesh got its first women's football team, thanks to the then president's dedication, and the hard work of sports organiser and important member of BFF, Sirajul Islam Bachchu. They played their first match against Nepal in 2010. In the last few years, women's football has faced a series of highs and lows, and the Bangladesh Football Federation is determined to promote the sports further among women.
"Since its inception, the situation has changed a lot for BFF, and we are headed towards further growth, as our young talented footballers aim for higher peaks," comments Mahfuza Akhter Kiron, AFC Exco member and Deputy Chairperson, Women's wing, BFF.
"The journey was never smooth, the first problem that we faced was many parents' reluctance to see their girls play football," Kiron remembers. "Surprisingly, the privileged upper class society too had a similar mind-set. We organised Mohanogor inter-school football tournaments for different girls of different English and Bangla medium school. We had to go through hours of counselling with the parents about why they should let their girls play. Even though many of them had potential, they did not continue with the sport, as they believed football would hamper their education."
"I have always been a football buff throughout my life. When I started practicing football in Kolshundor village, we used to play in salwar kameez on the school field in the afternoon with our local coach, Mafiz sir. 
Everything used to be so different compared to the strictly disciplined life that we lead here in the camp of the Bangladesh Football Federation, but one thing stays the same: my determination to do something for the country by playing football," adds Sanjida, who is getting ready for the upcoming SA games.
Here at the BFF camp, the girls wake up at the crack of dawn every day, and swiftly make their way to the field where the practice sessions are held.
"We have limited fields as many different sport teams come to practice here," says coach Golam Rabbani Chhoton. The team's turn begins at 6:30 in the morning. After two hours of practice, they come back to the camp, have their breakfast and sleep till noon. After lunch, the second round of practice begins for another three hours.
Their love for football does unite them in their goal to play and win but they all have another thing in common- their willpower to prove detractors wrong.
"Neighbours would sometime tease me for playing a 'boy's' game," says Krishna.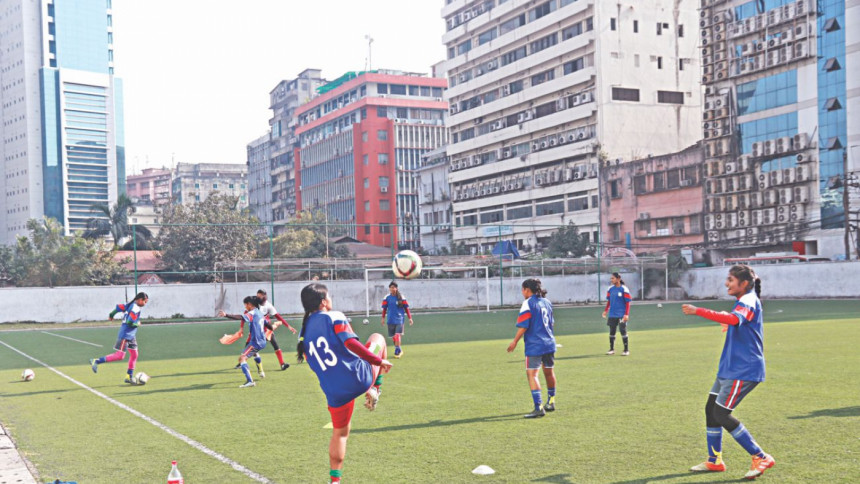 "Don't forget to mention about people whining that 'girls should not be allowed play football wearing shorts'," adds Moushumi, laughingly. "If they fall down and get injured no one will marry them," taunts the coach.
The days of squinting in disapproval and disbelief, and getting apathetic reactions from people are over; the villagers and families of players now take immense pride in the girls. Several girls of their village consider Marzia and Sabina as their idols as they strive to enter the world of football.
Even though the scene has changed quite a bit with this victory, women footballers face challenge beyond the playing ground.
"The problem remains elsewhere," adds Kiran. "As soon as they turn 20 to 22 years, they start getting pressurised into getting married. We try to make them financially independent by giving them job opportunities with Bangladesh Ansar, BJMC (Team Bangladesh Jute Mills Corporation) or Bangladesh Navy so that their families don't put pressure on them to get married," Kiron says.
Also football, being a physical demanding sport and one of the toughest games in the world, require yearlong training, believes Kiron.
Just like many other countries, our women football team is also grappling with gender bias and discrimination when it comes to finding a sponsor. "Lack of sponsors in football means we have to settle on fewer training sessions as well as compromise on the yearlong camp that they need," she explains. "I am affiliated with international football organisations, and I have seen first-hand that the footballers there have a number of trainings and intense supervision during off-season periods." Kiron argues that an an academy dedicated for women footballers is a must. The women's wing of BFF tries to train the young footballers through yearlong practice sessions by organising different national championships, age-level championship, club leagues and school leagues so that they are always in practice.
She believes that having tournaments like Bangamata Gold Cup Football Tournament is a positive step that helps to find different talented footballers from all over the country, and hopes that many more football competitions are organised for women in the country. She also emphasised on the importance of different inter-school and inter-college competitions within the city which would help them find more talented players.
Like Kiron, coach Chhoton too believes that the scenario has changed over the past few years. In fact, more and more women are participating in sports these days and both the print and visual media are covering women's sports, according them the same importance given to men's sports teams.
This was not a serendipitous victory, believes the coach. "I believe each one of these girls is capable of doing something even bigger than this," the proud coach concludes with hope in his eyes.
The writer is a feature writer for Star Weekend, The Daily Star.