INTERVIEW
Making waves in the world of public relations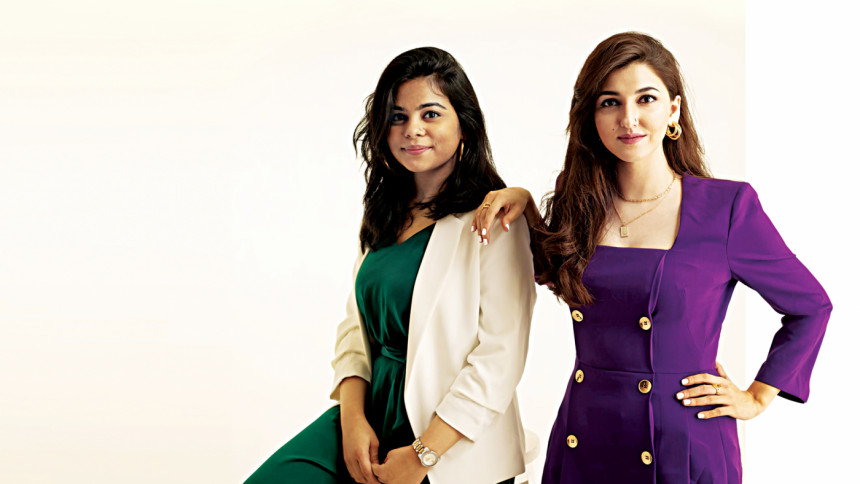 Turn Up PR is an emerging firm that has gained a foothold in the public relations (PR) market in just one year. The organisation integrates various tools that extend beyond the traditional media for publicity curation. It aims to promulgate success stories of Bangladesh, particularly about businesses that are based in the outskirts of the cities or abroad, globally.
In an interview with Star Youth, The Daily Star, Umaila Akhter, Co-founder and CEO, and Naina Hussain, Co-founder and Chief Creative Officer of Turn Up PR, share their insights of working in the industry.
How did you start out with Turn Up PR?
Umaila: After spending 12 years working in communication, I saw a gap between traditional, organic, and digital public relations. Naina and I were on the same page about my idea to bridge this gap, so we decided to collaborate.
Naina: I studied in America and worked in the advertising sector, where I learned about the new techniques that were being used instead of traditional media. I wanted to implement those strategies here at home.
What are some challenges you have faced so far?
Naina: As the inception of our company was during the pandemic, we were riddled with uncertainties. Not having an office space hindered building team values. On the other hand, there was a surge of new businesses which needed guidance. Editorial budget of larger corporates' decreased due to the economic unrest. So, we tried to help them adapt to the novel challenges and offer solutions around their pain points.
Are there any misconceptions that people have about PR?
Umaila: During business progressions, most people tend to heavily invest on marketing or advertising to build their platforms and maximise exposure. However, PR plays a vital role in building market perceptions in the industry where that business or person operates. People might think PR is only required by companies but individuals themselves could utilise its benefits.
Can you tell us about some campaigns by Turn Up PR?
Umaila: For "Mental Health in an Unequal World: A Campaign Case Study", Turn Up PR partnered up with the leading fashion brand Cats Eye, and renowned artist Morshed Mishu. This campaign sparked conversations about the inequality and stigma surrounding mental health.
With Turn Up PR and Dhaka Tribune as collaborators, the mental health campaigns hosted by SAJIDA Foundation addressed important issues and initiated policy-level discussions among audience from all walks of life.
What changes do you want to see in the PR industry?
Umaila: PR should be part of every company because everyone could benefit from brand awareness, media coverage, and audience engagement. We want to explore untapped areas of PR, such as employee relationship management, corporate social responsibility, and crisis management. We are also very excited to announce that next year, we will launch a new wing called Turn Up Studio.
The author is a student of BRAC University, and a freelance journalist. Email: shanzaychowdhury@gmail.com.