Preserving Synergy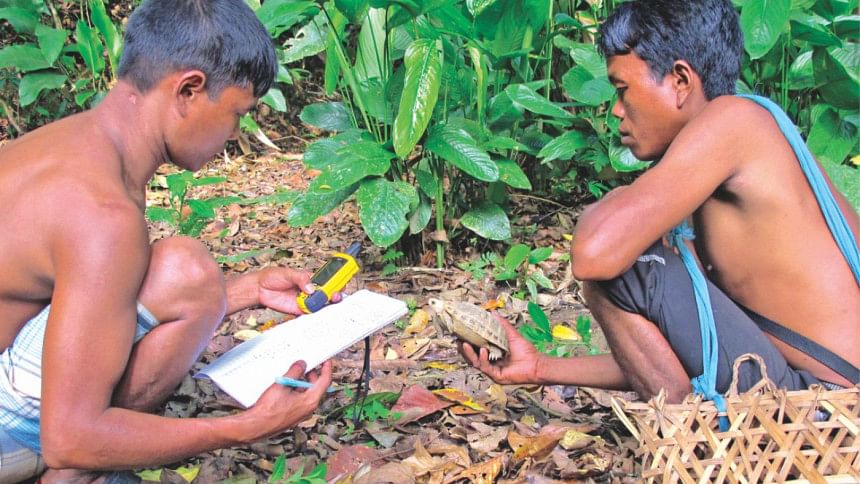 The word 'reptile' may evoke a reaction of disgust in most people, but in Shahriar Caeser Rahman it evokes happy, loving emotions. "Not just reptiles. Any animal evokes that emotion in me. I've always loved animals. Instead of having normal play things as a child, I used to play with the chickens that lived around my home." Caeser always felt one with nature. There are times you would catch him leaving his humble abode to go take a nap on beds of grass instead. "People would make fun of me as a child, saying that if I'm always so involved with animals, I will never have a future." 
He completed high school and half of his college education in the United States, where he was majoring in Biology. "In the US, I realised my real thirst for adventure and nature. I started working there for animal conservation in sanctuaries. I learned a lot about what I love there." shares Caeser. 
"The reason I work mostly with reptiles is how neglected they are. The moment people think of snakes, frogs, lizards or turtles, they squirm. I want to build a bridge between humans and every kind of wildlife."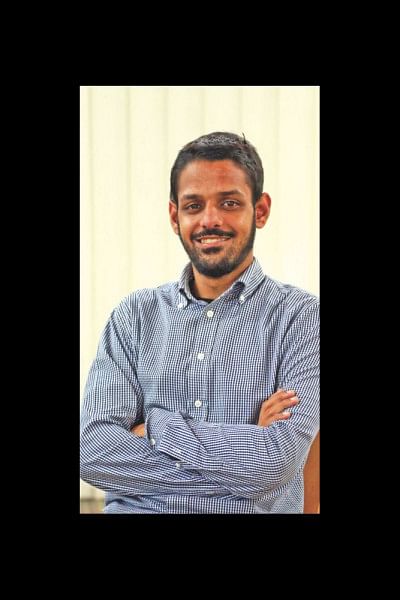 After coming back to Bangladesh, in 2011, with the support of Orianne Society, Caeser began the Python Project with a mission to conduct research and promote conservation of reptiles in Bangladesh, with the Burmese Python as their flagship species. They've been carrying out this project in Lawachhara, Sylhet, Chittagong Hill Tracts, the Sundarbans and adjacent areas. The project is conducted in collaboration with CARINAM, Bangladesh and Forest department of Bangladesh. The goals of the project are to assist with effective conservation of Burmese Pythons in their native range by collecting ecological information, to raise awareness about the decline in population of Burmese Pythons and their importance among local people, to provide training in conservation research techniques, to formulate a sustainable model to mitigate python-human conflict, and to mitigate python hunting throughout Bangladesh and beyond.
For the project, Caeser and his team members located and collected pythons and gave them different names. Each python then had a tracker surgically implanted into them, which transmits radio frequency to help find the location of each python. This method of tracking is called Radio telemetry, and is in no way harmful for animals. "This process will help us know the lives of these snakes. The more we know about them and how they survive, the easier it will be for us to end human-python conflict. Our country is blessed with uncommon and beautiful species such as the Indian, Burmese and Reticulated pythons. They are all listed as vulnerable and are opportunistically hunted by indigenous people. Instead of killing them off, we should do everything in our power to conserve them." says Caeser.
Another project Caeser launched, the Eco-Guardian Programme, is for the rare Elongated Turtle, amongst other species, which are not only endangered in Bangladesh but are also dying out globally. These turtles are found mostly around the Chittagong Hill Tracts and are frequently hunted for consumption by the locals. Caeser travelled to the corners of the Hill Tracts and spent time with locals. There he found that these people did not have any intention to harm the animals, but only used them as a source of food. Caeser made them realise how much of a special species it was that we were blessed with and convinced the locals to help conserve instead of consume. With the permission of four of the village heads, he taught the locals the methods of conservation and even gave them equipment which they dutifully handled. "Even the dogs they used for hunting are now trained to save the turtles instead," says Caeser. "The locals of the villages are now very supportive. They have even signed a contract to help conserve the animals. In return for their loyalty and support, I have opened up primary schools for the children of their village, but we still need some funding to make them bigger and better."
In this day and age, individuals like Shahriar Caeser Rahman are the very few who can help restore faith in humanity. With no intention to acquire fame and money, he works relentlessly to save the lives of humans and animals alike by bridging the gap between them. From the remote corners of Bandarban, all the way in the midst of a chaotic Dhaka, brave and determined Caeser has been making a difference worth every praise.