How the quota reform movement was shaped by social media
The recent quota reform protests took place as much on the streets of Dhaka as it did online, particularly on Facebook. Pitched battles in the middle of the night resulted as people responded to updates in real time. Events at the University of Dhaka (DU) led to uproar spreading to other universities in the city and other major cities of the country, where the youth took up protests in solidarity as well as a shared demand that the quota system, which reserves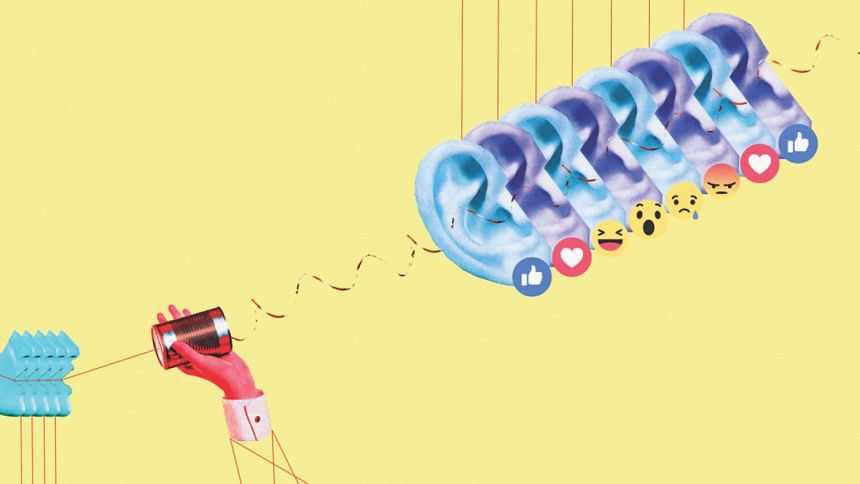 The recent quota reform protests took place as much on the streets of Dhaka as it did online, particularly on Facebook. Pitched battles in the middle of the night resulted as people responded to updates in real time. Events at the University of Dhaka (DU) led to uproar spreading to other universities in the city and other major cities of the country, where the youth took up protests in solidarity as well as a shared demand that the quota system, which reserves 56 percent of government jobs for certain groups, needed to be reformed.
Those wanting updates on the situation turned to Facebook rather than traditional news media. The Facebook pages, groups, and accounts of DU students in particular had live updates every few minutes from the centre of the protests as protestors and activists turned to social media to share news before the media even got there. Social media was the frontline of information, with posts on Facebook being crucial triggers that sparked a movement.
One the triggers was during a brutal police crackdown on anti-quota protesters gathered at Shahbagh and the DU campus on the night of April 8 when a picture of a bleeding male protester, identified as Abu Bakar Siddique, thought to be dead went viral near midnight. He had been shot in the face with a rubber bullet; police had also unleashed batons and teargas on the protestors.
Using social media to organise and broadcast protests is nothing new, having been widely used side-by-side with street protests in movements such as the Arab Spring of 2011 and Black Lives Matter in 2014. Here too, social media proved instrumental in getting the word out about what the protestors were facing, with the help of smartphones in every hand and technology such as Facebook Live. However, just as real images and updates were circulated, so too did 'news' that later proved inaccurate. Word spread faster than it could be verified and the movement was caught up in the rapidly changing events.
Enraged students, including females who had to broke out of their locked university hall gates, took to the streets to join the protestors under fire. In the mean time, it had been learnt that Siddique was alive. But by then, the photo and posts had been picked up by other students, activists, and Facebook pages they frequented.
These pages included 'Troll Du', 'Quota Songskar Chai', 'Basher Kella' and 'Zakir's BCS Specials'. The last, a Facebook page popular among students and BCS job-seekers, had posted "AB Siddiq, a third year Dhaka University student, has breathed his last at a hospital suffering from bullet injuries". All this took place in less than half an hour before it was learnt that Siddique was, in fact, alive but injured—which he later confirmed in a Facebook post.
On April 10, several government websites were hacked with messages on the cause. These included the websites of the prime minister, president, and home ministry's offices which displayed a sign saying "Hacked by Bangladesh", a photo of the protests and demands including #Reform Quota BD, #Stop the Genocide, and #Reform Quota System.
Then came the April 11 events at Kabi Sufia Kamal Hall. A graphic photo and posts circulated on Facebook pages reading, "The Sufia Kamal Hall BCL unit president has cut tendons of a resident of that hall for her involvement in this quota movement." This set off a chain of events as other female residents of the hall, provoked, allegedly beat up Iffat Jahan Isha, who was then expelled from both the BCL and DU that very night. Videos posted on Facebook show Isha, made to wear a garland of shoes around her neck.
Shifting the blame
Following these events at the Kabi Sufia Kamal Hall, the hall provost undertook an investigation into what happened that night and four female students were handed over to their guardians like errant children for allegedly "spreading rumours through Facebook fake accounts" on the early morning of April 11, which the authorities had 'investigated' by going through their phones. An audio clip circulated online of the provost warning students not to give "misleading posts" on social media.
DU VC Md Akhtaruzzaman said that their expulsion was "completely a rumour" and "propaganda against the university authorities". On the other hand, students allege that no investigation of the torture of quota protestors has taken place. The events since show systematic efforts to delegitimise the movement by blaming the protestors for spreading rumours and fake news rather than undertaking investigation into the crackdown on protestors by police and members of the BCL.
The backlash since the protests ended has focused on what happened online. Cases have been filed by the DMP's Cyber Security and Crime division which were investigating up to 200 Facebook accounts for cyber crimes—accounts which they said had been identified for "spreading false propaganda regarding quota reform protests on different social media platforms".
"We must find out those culprits who spread rumours through the social media to instigate destructive and subversive acts in the name of quota reform movement across the country," the Home Minister, Asaduzzaman Khan Kamal, told the media.
On April 23, police said they had identified two accounts which had circulated the misinformation that a student had been killed and that someone had cut the tendons of a student at a female hall. Details of a further 15 IDs have been requested from the Facebook authorities. 
Rashed Khan, a co-convenor of Bangladesh Sadharan Chhatra Odhikar Sangrakkhan Parishad, the platform of quota protesters, said that he and his fellow leaders were repeatedly targeted on a Facebook group named 'Gujobe Kan Diben Na'. Their Facebook accounts have subsequently been hacked and their online presence nullified. They, among others, currently face five cases—one of which is for spreading rumours on social media.
Though their safety is in question, they hesitate to file cases against those harassing and intimidating them both online and on campus since the protests ended. "We can't file cases for our protection as we fear that they will plant more such cases against us and detain us indefinitely," says Khan.
Under the broad umbrella of cyber crimes, the protestors are being blamed for spreading rumours and fake news because they broadcast what was happening around them, in the moment. The outpouring of information in the wake of the events is now suspect to investigation for possibly "disturb[ing] the law and order situation". This is exactly what the general public feared, having their social media accounts under surveillance, with the emergence of the Digital Security Act. While a total dependence on social media for accurate news is problematic in such situations, how else would first-hand information from the site of the protests have emerged?