Children's activities at Dhaka Litfest 2019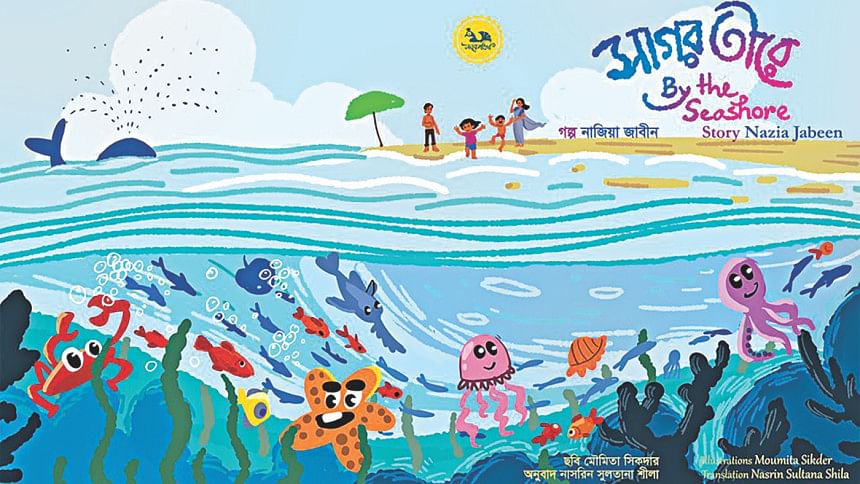 Every November, Dhaka Lit Fest creates a hub of stimulating activities and conversations for the culturally inclined. Most of these sessions are designed for adults; but for years, the Nazrul stage, the Cosmic tent, and some of the book stalls dotting the Bangla Academy grounds have also turned into playgrounds for younger minds. This year, as in the event's past renditions, there will be puppet shows, readings of real life stories by the HerStory foundation, and other activities bringing children's books to life. Star Weekend got in touch with some of the writers, illustrators, and organisers working on the festivities at the Dhaka Lit Fest 2019, taking place from November 7-9.
This is what they have planned for the kids today and tomorrow:
Friday morning—day two of the festival—begins with "Worlds of Fantasy" on the Nazrul stage. Some of us in Bangladesh might not be familiar with a certain Curtis Jobling, but we might have heard of, and even grown up with, one of his animated creations. A little something called Bob the Builder?
From 9.45 to 10.45 am, acclaimed author and illustrator Curtis Jobling will take six to 10-year olds on a literary ride, first with his most loved cartoon characters, and then with illustrations, readings, and quizzes of Max Helsing, his fantasy novel populated by monster hunters.
He will later hold stage on the same day from 11 am to 12 pm at the V Novera Hall with interactive readings for young fantasy fans. From 11.15 am to 12.15 pm on the Nazrul stage on Saturday, three to five year olds can find out how Bob the Builder was first designed, and learn to draw Jobling's other popular cartoon characters.
Meanwhile, at 9.45 on Friday morning, the Cosmic Tent will be abuzz with science experiments for seven to 10-year olds in "Fun with Physics". Helped by toy manufacturers Onnorokom Bigganbaksho and conducted by popular science speaker Ratul Khan, the session will put up four live physics experiments, moderated by Imran Ahmed. "These sessions will encourage middle-school students to try simple but exciting DIY science experiments at home that will help them learn the fundamentals of physics through application," explains Srabanti Datta, who planned the session.
A later session of "Fun with Physics" from 12.15 to 1.15 pm in the V Novera Hall is targeted towards slightly older children aged between 11 to 15 years.
Saturday morning opens with two more fun book readings, both on the Nazrul stage. At 10am, author Nazia Jabeen will take us underwater. Her bilingual book Sagor Tire (By the Seashore) published by Mayurpankhi, translated by Nasrin Sultana Shila and illustrated by Moumita Sikdar reveals underwater creatures like mermaids, starfish, prawns, and their other friends as they play games and create ripples in the waves on a seashore.
"It is written with very simple words and sentences to introduce young children to life underwater and develop a love for nature," shares the author. "While the session will mainly comprise of the book reading and some fun illustrations, I'm more excited about hearing stories from the kids themselves. I'm certain that their ideas of life underwater and on land will be far more fascinating."
Nazia Jabeen is also the founder of the Braille book publisher Sporsho, which has so far published 74 Braille books in Bangladesh, dealing mostly in fiction. This year, for the first time, they're bringing their work to DLF. Braille books in Bangla and one title in English for visually impaired youngsters will be on sale at Sporsho's book stall at the event.
Once back from their voyage into the sea on Nazrul stage, at 10.30 am on Saturday the kids can meet Nandita Afzana Khan and Shafrin Islam, the author-illustrator duo behind the children's book The Elephant in the Room. 
"As the idiomatic meaning to the phrase goes," Nandita says of the title, "the story addresses 'an obvious problem or a difficult situation that people do not want to talk about.'" The story was inspired by the author's own life as well as an unsettling experience that her four-year-old niece faced amidst peers at a day care centre. "The story was made up to cheer her up and inspire her to face life's odds and overcome them with love, empathy, and more importantly resilience."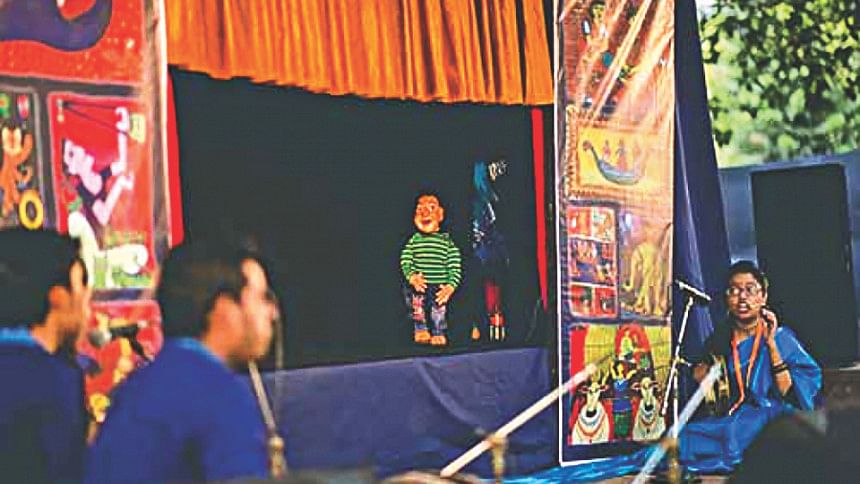 Shafrin, the illustrator, highlights, "I chose watercolour combined with ink and Prisma pencils for the book. Watercolour has a soothing effect but I also wanted to keep the rough look instead of making it extremely perfect. The scenes were broken down into sequences and thought out meticulously along with the positioning of the illustrations for the layout. So that the eye catches even the minor details and connects them to the story."
Since the book contains a song, it will be read and sung aloud by the two creators in the voices of the characters, accompanied by Shafrin on the ukulele.
Finally, from 1.45 to 2.45 pm at the same stage on Saturday, "Play with Words" will introduce middle-school students—10 to 12-year-olds—to puzzles, scrabbles, riddles, anagrams, crosswords, and other word construction games. Srabanti Datta, who designed and will conduct the session, explains, "The interactive games will motivate children to take a curious interest in perceiving and deconstructing every day words in entertaining ways."