Childhood choked by brick kilns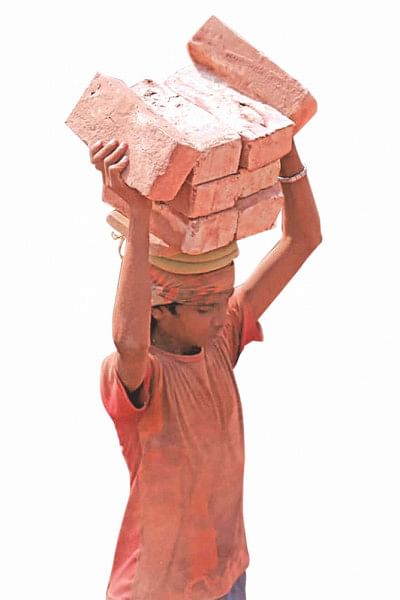 On January 25 this year, 13 workers of a brick kiln in Cumilla died in their sleep when a coal laden truck flipped over their shanty. Among them, seven were regular students of two high schools in Jaldhaka upazila of Nilphamari district. They were lured into working in the brick kilns for some extra cash.
According to local people, the agents, Ranjit, Bikash and Kanak, who also died in that incident, had been recruiting school-going boys to work in the brick fields for a while. As bait, they used to pay them BDT 500-1,000 in advance and take them to the distant brick kilns to work. This tragic incident once again sheds light on the fact that child labour is rampant in brick kilns, considered one of the most unsafe and hazardous workplaces.
A report published in Daily Bonik Barta on January 11 last year revealed that more than 5,000 children work at the brick kilns in Bhola district alone. According to a 2014 study conducted by the International Labour Organisation (ILO) titled "Health hazards of child labour in brick kilns of Bangladesh", 86 percent of the child workers who participated in the study, work for more than eight hours in a day. 36 percent of them work for more than 10 hours. More than half of the child workers stated that they have to work seven days a week. The question remains, why are so many children employed in one of the most hazardous workplaces in the country? The answer lies in the manufacturing process practiced in most brick kilns.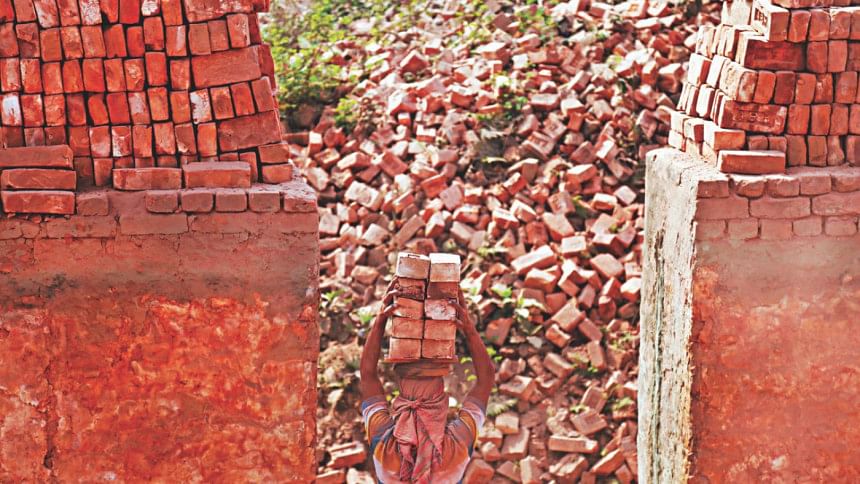 At present, there are 7,900 registered brick kilns in the country which use the conventional method to manufacture bricks. However, according to experts, the number of unregistered brick kilns is much higher than registered ones. Conventional kilns operate only in the five or six dry months when rain is scarce. As a result, they employ very few permanent staff.
At the very beginning of the brick manufacturing season, which starts immediately after the monsoon ends, the kiln operators send armies of workers to collect clay from nearby agricultural lands. In the process, large amounts of topsoil (essential for crop-cultivation) get depleted. According to the ILO study, significant number of child labourers are employed in this process.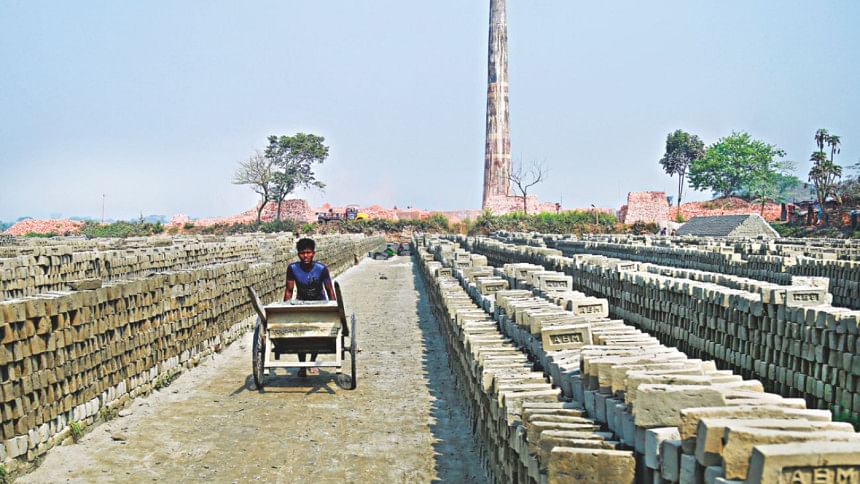 The labourers then engage in preparing and moulding the clay. Preparing the clay involves shovelling, weathering the clay and mixing it with earth and dirt. Afterwards, the prepared clay is moulded in a wooden case to give it the standard shape of a brick. The raw, wet bricks are placed out in the open to dry. All this is done manually. All the labourers then carry the raw bricks to the kiln where they are covered with dirt and earth and pushed into the furnace.
To complete these tasks, which require no special skill, kiln operators and their agents target poverty-stricken villages and urban slums to recruit unskilled labourers. Children and youth who can be hired at a nominal wage, easily fall prey to these agents. Since this is a seasonal business, poor families in rural areas often send their children to the brick kilns to be used as cheap contractual labour.
A report published in Prothom Alo on January 11, 2017 revealed that in more than 100 brick kilns at Keraniganj, child labourers from Kishoreganj, Jamalpur, Mymensingh, Faridpur, Barishal and Shariatpur districts were found working as contractual labourers. Their parents sent them to the brick kilns in exchange for BDT 6,000-8,000.
These children lived in the brick fields and were mostly engaged in carrying raw bricks to the kilns. They earned Tk 100 only after carrying 1,000 bricks but most of the children could carry only 500 bricks a day, according to the report.
In the last two years, we have not seen any significant steps to set these children free from such exploitative, backbreaking work.
Although there are several legal provisions which prohibit child labour, there are also loopholes in these provisions which need to be addressed immediately. In 2013, the Bangladesh government and ILO jointly published a list of hazardous jobs for Bangladeshi child workers. However, engaging children in brick manufacturing was not mentioned in that list of 38 jobs, activities or processes. It only includes brick or stone breaking which is not part of the hazardous brick manufacturing process mentioned above.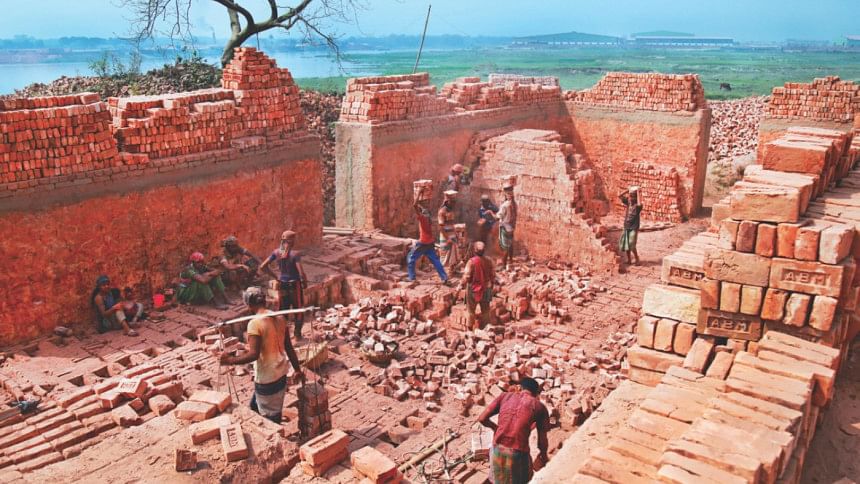 Section 83 of the Bangladesh Factory Rules, 1979, lists 18 activities as hazardous operations where engaging children is prohibited. However, the list also does not include production of bricks using fixed chimneys. However, the ILO study states that brick kilns, many of which use low-grade coal, emit toxic fumes containing large amounts of carbon monoxide, nitrogen oxide and oxides of sulphur which are extremely harmful to the eyes, lungs and throat. Moreover, long working hours under the scorching sun in the brickfields, massive accumulation of dust, the risk of falling from the trucks and piles of bricks, and carrying excessive loads pose serious health hazards for child workers.
In November 2013, the parliament passed the Brick Making and Brickfield Establishment Act, 2013 which compelled brick kiln operators to modernise the method of brick production. Since then, the number of eco-friendly and energy efficient brick kilns, which require more sophisticated technology and skilled labourers, is gradually increasing.
According to the Department of Environment, it has managed to enforce 2013 act in 65 percent of the kilns. However, this upgradation was limited only to registered kilns. Owners of fixed chimney kilns have already demanded amendment of the act; they claim that had they followed the regulations, at least one million workers would have lost their jobs. However, the fact remains that many of these one million workers are children who are not supposed to work in the hazardous conditions of the brickfields in the first place.  
The writer can be contacted at [email protected]