Ray of Light Care Services in Bangladesh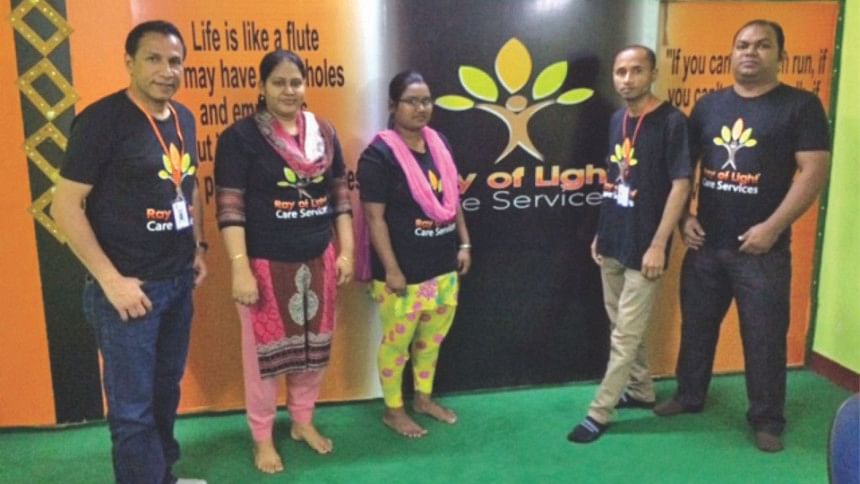 Ray of Light Care Services has started operation as the first ever comprehensive and person centered Caregiving Service in Bangladesh. The organisation provides Personal Care and Home Help Services, which includes Nursing Care; Companionship; Befriending; Respite Care; Day Care Facilities and Child Care Services to a variety of age groups by highly trained professionals. 
Currently, neither in the developed nor in the developing world, the growing demand for care services is being met with a proportionate growth in the number of qualified professionals. Nizam Chowdhury, Managing Director at Ray of Light Care Services, was directly involved in the sector in UK for over 20 years, and realised a similar potential demand of such services in Bangladesh. This compelled him to come back and set up an organisation here with a very clear vision. Trusting random strangers with no proven training or track record with the care giving responsibility of precious family members is inconceivable in Bangladesh. The staff at Ray of Light Care Services, called 'Friends of Ray of Light', is hand-picked after a thorough filtering process. They are provided with intensive in-house training in order to provide for the sophisticated needs of each client.
The organisation also provides full support for regular household chores such as the bill paying, banking, and shopping needs by highly trained staff. This makes Ray of Light Care Services a unique service provider that caters to any and household care assistance.
With an encouraging number of responses, Ray of Light Care Services is looking forward to set the standard as a pioneering services provider in this sector, which is poised to grow in coming times. Children, sick, disabled and the elderly people can finally be trusted with professionals trained by a very experienced management at Ray of Light Care Services. All in all this organisation provides a comprehensive support which is going to be tailor-made to your needs and requirements.