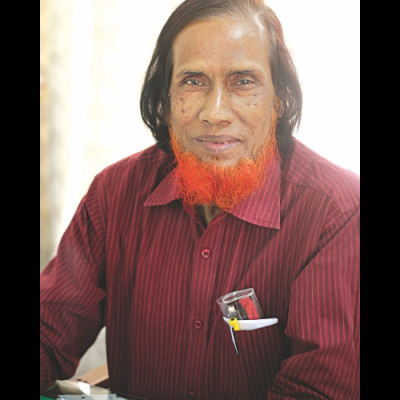 Md. Abdus Salam is a teacher, a trainer and the principal of a school- a profession not uncommon if a little underappreciated in these parts of the world. Salam however is no ordinary school principal, he heads a special school for the deaf and not just any ordinary school, a school that teaches the deaf and hearing impaired to speak and attempts to integrate them into the mainstream society. A school that Salam wishes he could have enrolled in, as he struggled with his own hearing impairment.
"I became disabled at the age of six months, when I had typhoid and lost my hearing as a result," Salam says.  "After that for 7 years I could not speak. When I was eight years old, an uncle of mine who had worked in Germany with children with hearing impairments, came to live with us. "When he learned of my impairment, he took over my education, and with his help I started to talk."
Salam was eventually enrolled into school and started from third grade. "It was very tough for me, trying to keep up with my peers in school, and I struggled throughout high school," he recalls. "I used to lip-read and when I wanted to learn how to say something I would have to feel the vibrations on my uncle's voice box to learn the appropriate sound.  It wasn't until my years at Sarwardi College, that I received my first hearing aid. I remember it was a Phillips product."
Despite his hearing aid, his struggle continued post graduation when he discovered no one wanted to hire him due to his disability.  During this time, one day he came across a few men communicating in sign language in a bazaar. Having never seen this method before, it affected him deeply that there were people like him out there who did not have the same opportunity he did, to learn to speak. He started approaching families with deaf children and soon had about 5 students he tutored at home, but without any pay.
"Once the children began to speak the families were delighted and would give me a small sum of money-whatever they could afford," he says.
"I decided I wanted to help more people and I approached a school for the deaf-mute where they used sign language as means of communication, but here too I faced opposition and they turned me away, scoffing at the idea that they could learn to speak," he continues.
At the point of being completely disheartened however, Salam came across an ad in the newspaper, looking for a companion for a child with hearing impairment. "I immediately decided to meet Mohammad Shams-ul Haque, the man who placed the ad, because I thought to myself, he would understand the suffering of others like his child and would want to do something for them," Salam recalls. Haque was at the time, the chairman of Beximco Pharmaceuticals.
When within a year, after 12 hour work days, the child learned to speak and was sent off abroad for further studies, Salam finally spoke of his original intentions to his employer. "He liked the idea I placed before him and told him he could help by backing me financially," he says. "So in 1980, we established HICARE Society, an NGO that assists the deaf and hearing impaired and in 1982, we built HICARE School which has 11 branches around the country."
Till date, 700 students from HICARE Dhaka alone have learned to speak and enrolled into schools and universities. What more, some have found jobs having completed their Masters degrees, and others have become architects and engineers- all thanks to one man's unfaltering determination.