'We had our hearts broken'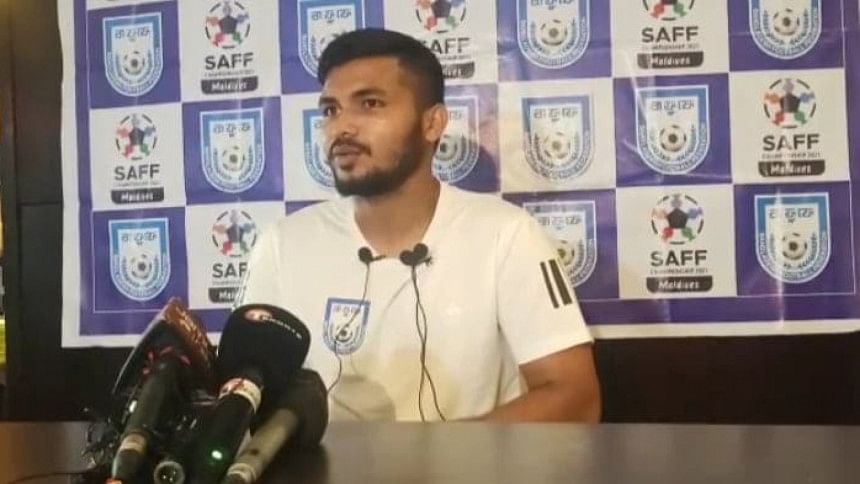 For someone who had just tuned in yesterday to watch the ongoing SAFF Championship's virtual semi-final match between Bangladesh and Nepal at the dying seconds of the 78th minute, the move from the left that resulted in the sending off of goalkeeper Anisur Rahman Zico would seem like a great through-ball created by the Himalayan nation behind Bangladesh's defensive high-line. Although in reality, it was Rakib Hossain, whose atrocious back-pass towards the direction of his central defenders had Bangladesh on a slippery slope from then on at Maldives National Stadium in Male.
Zico, who had displayed a valiant effort throughout the game, rushed out of his box in a flash in an attempt to cover up for his teammates's unforced blunder. And the talented keeper almost managed to close down Nepal's forward Nawayug Shreshtha, who took a heavy first-touch on the ball which Zico could not avoid removing his hand out of the way. And thus, the perfect recipe for disaster had materialised for the men in red and green, who were 1-0 ahead up until the 88th minute in a must-win game.  
"Actually, it was accidental [handball incident]. I won't complain about receiving the red card but the main problem was that disgraceful penalty decision, which was completely unjust," said Zico in a press conference today.  
"There have been occasions where I've felt bad but never have I felt this low like yesterday, where we got close to achieving the dream of reaching the final after we took a lead.     
"We've prepared for this and were confident and in the end it didn't happen and so we had our hearts broken," said Zico, who still looked exhausted from the emotional roller-coaster ride yesterday.   
"Of course, it's not possible to console us at the moment. It's a matter of playing for the country, and everyone has so much emotional attachments involved.
"In the dressing room [after the match], a lot of tears were shed and none of us could look each other in the eye for a long time. I guess I could not sleep for even two hours [last night]," said the talented goalkeeper who plays for Bashundhara Kings, as he went on to express his similar and recent unfair treatment received from the on-field referee.    
"Recently, when I came here [Maldives] to play the AFC Cup for Bashundhara Kings, the referee had sent off our player as well. 
"Our frustrations are justified, as it's not enough to just perform at 100 percent on the field to try to win if the referee treats us unfairly," said Zico, who however, seemed optimistic about what is in store for the future.  
"Anyway, we have opportunities ahead where all our players will look to do well to bring a trophy home in future," Zico concluded.