We can overcome this challenge to reach the final: Tariq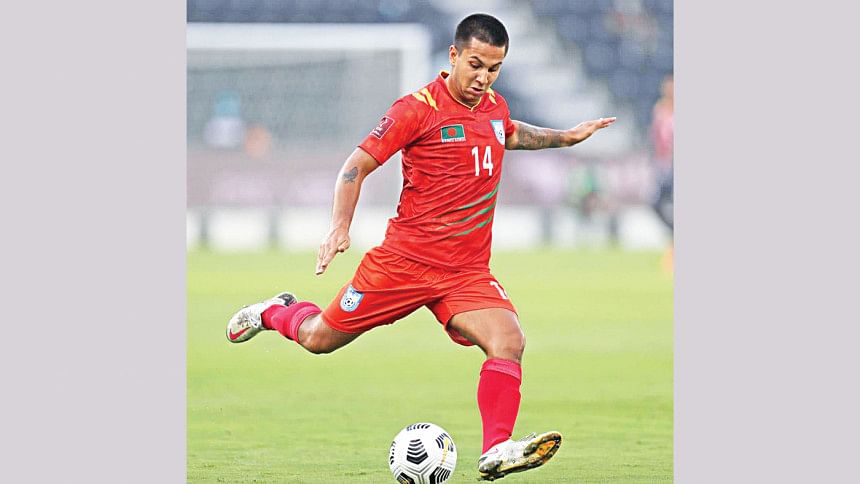 Having enjoyed a two-day rest following the defeat against Maldives, the national booters looked upbeat in the two-hour long training session today ahead of their do-or-die SAFF Championship fixture against high-flying Nepal.
Interim Bangladesh coach Oscar Bruzon briefed the players for half an hour. He discussed the upcoming match against Nepal while showing a few things with the use of practice cones as all the players and coaching staff stood round him at the Henveiru training ground in Male.
Though Bangladesh's final berth depends on some equations, they need an outright victory over Nepal in their fourth and final group match as hosts Maldives joined Nepal with six points after beating Sri Lanka 1-0 earlier today. Nepal are scheduled to take on India tonight.
"I felt fresh today because we have undergone two days of recovery. It has been very good for mind and body. The team also looks good and I think everyone overcame it [fatigue]. I think everyone showed their quality today in the training ground," said centre-back Tariq Raihan Kazi after training.
Tariq is playing the SAFF Championship for the first time and he was enjoying the tournament.
"It has been great experience. It has enlightened me more and more about South Asian football fanfare and a lot of people are coming into stadium. I see people love football in this region and it has really been great experience," said Tariq, who does not want to take pressure in the match against Nepal.
"We won't take any pressure and only intend to derive pleasure out of it. We will be motivated to win the game against Nepal and make it to the final and make the whole nation proud because we are hundred percent confident that we can overcome this challenge to reach the final," Tariq said.
"We have a plan to stop their forwards. It is a different team and a different set of players. We will come up with a different game plan to stop them," Tariq said.
Yeasin Arafat will be suspended for the Nepal game but Tariq hoped that the others will be able to fill his role at left-back.
"Yeasin is a great player who is an attacking minded full back but we have other players who can replace Yeasin and I don't think the quality will drop if someone comes in his place."