Tigers reach three figures after Liton perishes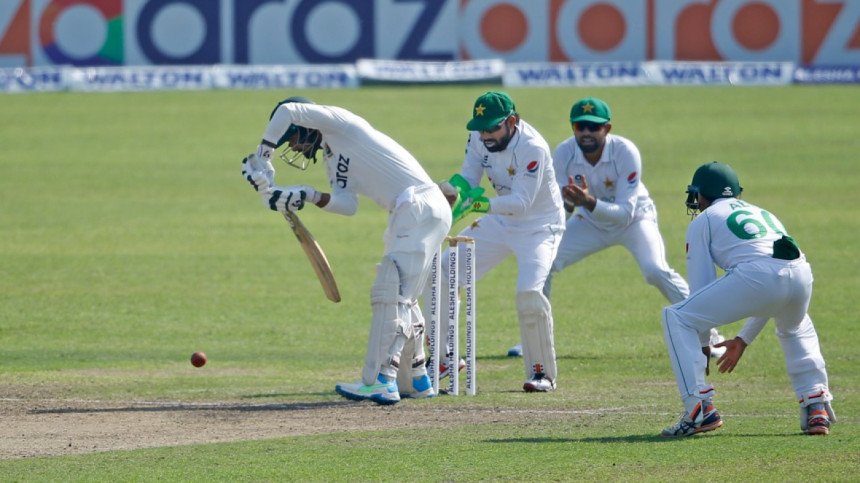 Bangladesh surpassed their first innings tally of 87 to reach three figures in the second innings before Liton Das perished as the hosts trail by 104 runs at the first drinks break of the post-lunch session after being enforced a follow-on by Pakistan on the fifth and final day of the Dhaka Test.  
The Tigers are in deep water at 109 for five after 38 overs. Shakib Al Hasan, the team-highest scorer of the first innings, has joined Mushfiqur Rahim, on 31 off 97 balls, at the crease.  
Liton began the post-lunch session by bringing up the fifty partnership with Mushfiqur for the fifth wicket, as he rocked on the backfoot to pull a Sajid Khan loose, short delivery past the short leg.
However, the partnership could only last up to 73 runs as a similar delivery and shot ten overs later brought the downfall of Liton, on 45 off 81 deliveries. This time around, a fielder in Fawad Alam was present at square leg to a take a straightforward catch, much to the delight of Sajid, who added another victim after his eight-wicket haul in the first innings.
 
Earlier in the session, the wicketkeeper batter got lucky against Shaheen Afridi in the next over when an inside edge from a half-hearted defensive stroke narrowly missed the leg stump.
Both Liton and Mushfiqur had played proactively on a wicket which has dried up in the sun and looked in a better shape, comparatively than yesterday, for batters. Still, Pakistan bowlers, especially Afridi, has never looked far from breaking the partnership with his movement, pace and bounce.
And more promising signs popped up for the visitors as Sajid got one to bounce awkwardly high for Liton in the middle of the 30th over but Liton got lucky again as the ball landed on the vacant silly point area off his glove.
However, it did not require a brilliant delivery nor did the fifth day pitch had any role with the manner Liton got out.