Tigers avoid sea; reach Guyana by air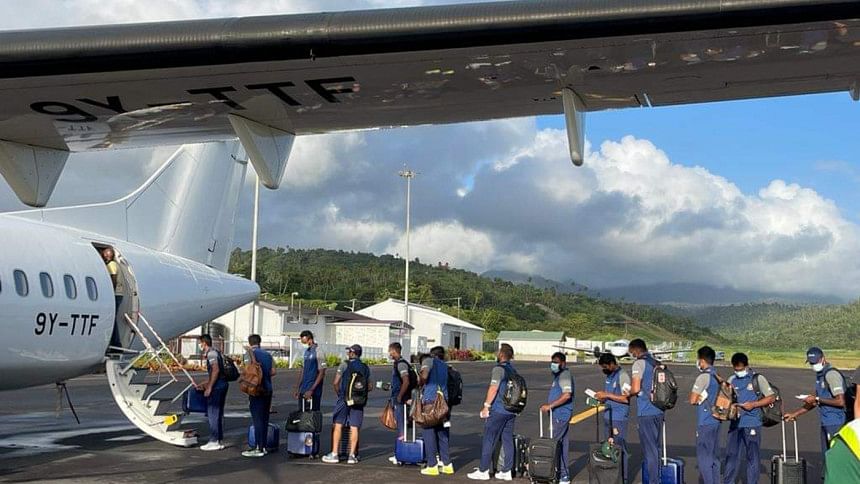 Following their distressing experience during a sea voyage from Saint Lucia to Dominica ahead of the first T20I, the visiting Bangladesh team today travelled from Dominica to Guyana by air to take part in the third and final match of the T20I series on July 7.
In a five-hour-long ferry ride from Saint Lucia to Dominica via Martinique island before the first T20I, a number of cricketers felt seasick and questions were raised regarding Bangladesh Cricket Board's (BCB) travel arrangements for the Tigers' current tour of the Caribbean.
But this time, a flight was arranged for the Tigers. The Bangladesh Cricket Board's official Facebook page posted a video where the members of the Bangladesh team were seen boarding a flight from Dominica.
Earlier, asked why the BCB agreed on transporting the cricketers from Saint Lucia to Dominica on a ferry, the BCB CEO Nizamuddin Chowdhury told The Daily Star that they had no other option.
He also added that the West Indies board could not arrange a charter flight to carry both contingents at once as only flights with fewer seating capacities available due to Covid-19 restrictions.
The first of the three-match T20I series was washed out while Bangladesh lost the second game convincingly by 35 runs. The Tigers will now look to save the series in the third and final game.