Good for us if it doesn't behave well: Tamim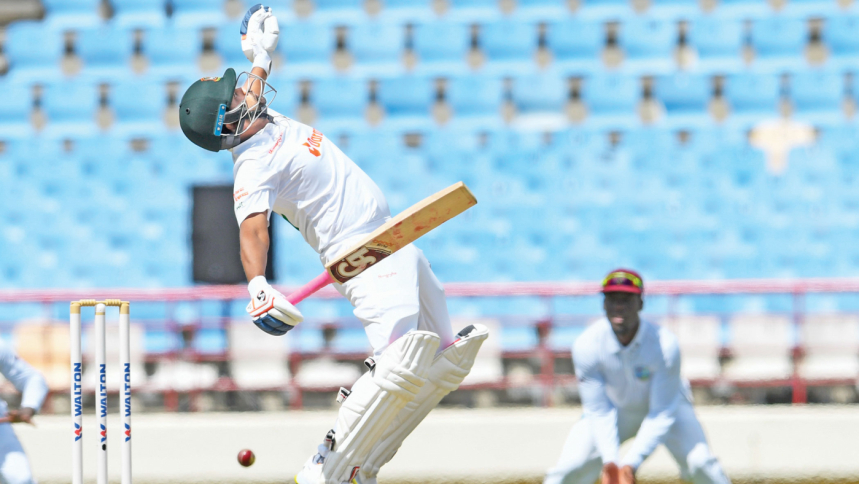 Bangladesh opener Tamim Iqbal was left hoping that the surface will deteriorate sooner rather than later after Bangladesh were bowled out for 234 and West Indies reached stumps without losing a wicket and posting 67 runs on the board. He felt that opposition bowlers bowled more into the pitch in order to get the most out of the conditions as there was not much swing on offer.
Asked on the what the conditions were for bowlers, Tamim said: "I think Antigua was more helpful (for pacers) for sure. There was swing and some deliveries seamed. On the first day (in the second Test), there were cracks and uneven bounce but neither team got the ball to swing that much."
A couple of deliveries rose sharply on day one but there were a few that kept quite low. There were some cracks on the surface on day one and Tamim was hoping the wicket will deteriorate more by getting some sun. With West Indies off to a positive start, it will make Bangladesh's task a lot harder if the hosts get a big first innings score.
"We have to see how the wicket behaves tomorrow. If the cracks get bigger by getting some sun, if it starts to behave (badly) … and we want it to not behave well, it's good for us.
"This is not a wicket where you can do anything you want. You have to play a patient game in Test cricket," he said.
While a lot of Bangladesh wickets in the first Test fell to caught behinds at slip or to wicket-keeper, in the first innings on day one of the second Test, there were quite a lot of bowled and leg-before dismissals. Tamim said that it was not a technical aspect, rather the bowlers bowled more into the wicket as there was little help from the conditions.
"It's not a technical matter", Tamim said when asked about whether there were any technical messages from the coaches. "It's a proof that when there is not a lot of help in the wicket, oppositions bowl into the wicket. When the wicket has invariable bounce they bowl into the wicket," he added.