Fast and aggressive: Donald's watchword for Taskin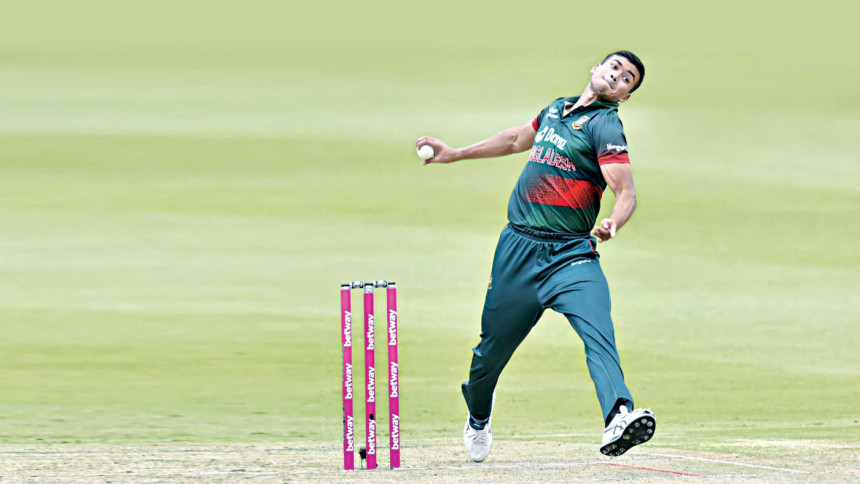 Tigers' pace bowling coach Allan Donald was all about the aggression and pace during his playing days. With paceman Taskin Ahmed shining for the Tigers in South Africa when he last played before his injury, Donald had been trying to instill the belief within Taskin ahead of the T20 series in West Indies.
Bangladesh team practiced at St Lucia yesterday and Taskin was eager to learn how to shape himself up after coming back from injury and what his role would be heading to the T20Is
"I talked to him (Donald) to understand what my responsibility would be after coming back from injury. He was making me understand that the type of bowler I am, my role is to be fast and aggressive," Taskin told the media.
Bangladesh are gearing up for the shorter formats in the Caribbean and Taskin, who was included in the side to replace Mohammad Saifuddin, last played in the format against Pakistan at home in 2021. The fast bowler said that Donald urged him to keep his aggression up whether he was being taken for runs or not.
"There will be times you give away runs. Sometimes you will take wickets alone and win the match but you should not waver from your role. You have to stick to your role and be focused. As days progress, your rhythm will get better and we're going to work more going forward," Taskin said about what Donald's instructions had been.
For a long time, Bangladesh did not have a pace attack to threaten opponents but the resurgence of the likes of Taskin, along with Ebadot Hossain, Shoriful Islam and Mustafizur Rahman, make the Tigers' bowling attack a more fearsome prospect. After Test skipper Shakib Al Hasan heaped praise on Taskin's role in spearheading the Bangladesh pace attack, Taskin was inspired.
"Obviously very inspired to hear Shakib bhai speak such words. It will give me added inspiration. Will try to maintain process to improve myself and overcome weaknesses. There are still weaknesses and improving on those can help make me a more complete bowler so that I can help the team win more in the future. That's the goal."
The first of the three-match T20I series against West Indies will begin on July 2 while the second and third match of the series is scheduled on July 3 and 7 respectively.