Tucker hoping 'something magical happens overnight' to the flat track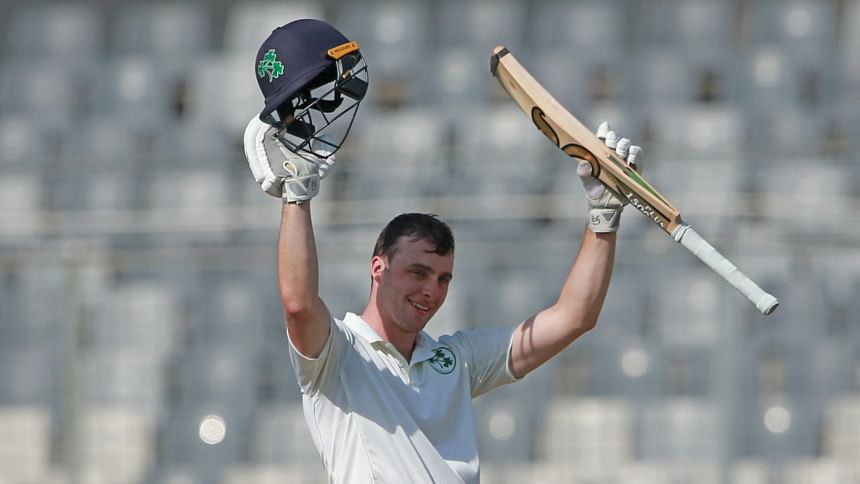 Ireland's Lorcan Tucker hit a wonderful ton against Bangladesh today in what was his debut Test. The Irish were under pressure coming into day three, having lost four wickets in 17 overs. Tucker and Co. went against the grain to show patience and then accelerated when they felt the time was right. Tucker's ton has given him enough confidence to hope for something more from this Test match.
Ireland were 13 for four yesterday and had appeared to be on the verge of defeat with top-order failing to counter Shakib Al Hasan and Taijul Islam in the final session on day two. From there, they found a way on day three to make Bangladesh toil on a hot and humid day.
It took 30 overs for Ireland to reach fifty and it needed a 38-run partnership between Harry Tector and Peter Moor to reach that figure alone. Moor slashed at one angled across him by Shorfiul Islam to depart for 16 off 78 deliveries. Going had been slow, but Ireland bided their time.
Tector was looking solid along with Tucker, who was growing in confidence as the innings wore on but they needed another 104 to offset Bangladesh's lead. The duo put on 72 off 145 and Tucker counter-attacked whenever opportunity came. Tector eventually departed in the 57th over, trapped leg-before trying to sweep Taijul after a patient 159-ball 56 but those runs were immensely important to Ireland's cause in trying to make Bangladesh bat again.
Andy Mcbrine looked even more solid and he and Tucker contributed 111 off 171, a partnership only broken after Tucker had struck his maiden Test ton. Ireland had played just three Tests since gaining Test status in 2017 and there is no red-ball structure in domestic cricket as of yet. Tucker talked about how he weathered the conditions and the hot weather to get into a specific Test mindset.
"You are trying to get into a space where you think you can bat for long periods. We are not quite used to the tempo (of Test cricket). We haven't played that much multi-day cricket. So just trying to slow down, and not be afraid of dot balls, a maiden or a series of maidens in a row. Just trying to get into the mindset of things happening slowly. I know the temperature is hot but to get into that mindset, you have to forget about the weather," he said at the press conference after day three.
"This morning we tried to take our time and then hopefully as the day goes on and Bangladesh tire, you can take advantage of that, to try to increase your scoring rate. It worked pretty well. I think it will be a template for us going forward," he said.
The wicket had been pretty flat with not much turn available for spinners. There was no real carry for the pacers either to bring slip cordon into play. Ireland put 286 for 8 on the board, leading by 131.
Tucker hoped something magical happens to the pitch after they manage to put on some more runs and challenge Bangladesh in their second innings.
"It was a brilliant day. It was our first Test in Bangladesh. I didn't think it would happen today but it is special for me and the team.
"The wicket is playing well. It will break up a little bit more. Maybe something magical happens overnight. We know we can take wickets to win the game tomorrow. We hope to give Bangladesh a real target to chase. We think all the pressure is on them.
"We will be pretty happy with anything up near 170-180. Another 40-50 runs," he said as Ireland now look to have a go at Bangladesh on day four with the ball.