Kelmendi's historic gold
A message of hope for Kosovo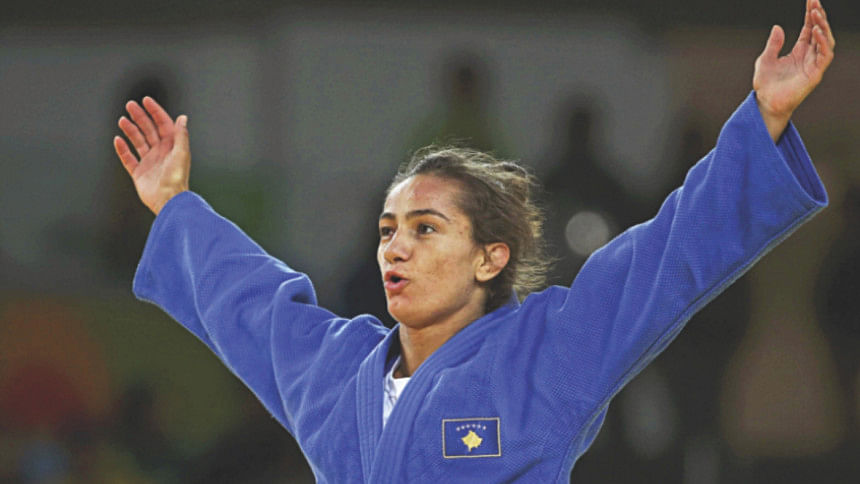 Majlinda Kelmendi won Kosovo's first ever Olympic gold medal at its maiden Games putting her fledgling country on the sporting map and sending a message of hope to its new generation.
The 25-year-old sank to her knees in tears after beating Italy's Odette Giuffrida by yuko in the women's 52kg judo final on Sunday.
Kelmendi ran to hug supporters chanting "Kosovo, Kosovo!" in the stand.
"I have always wanted to show the world that Kosovo is not just a country that has gone through war," she said with the Kosovo flag draped around her shoulders.
Kosovo declared independence in 2008 from Serbia, whose forces fought to stop breakaway rebels in 1998-99. One of the poorest parts of Europe, it has since had its own scrap for recognition.
Every sign of statedom counts. And the Balkans war child faced so much spotlight in the months leading up to Kosovo's Olympic debut that she went into hiding with her coach to train.
Kelmendi emerged to show her pride carrying the Kosovo flag at the Olympic opening ceremony on Friday.
Her fearless determination shone through in the final. She took control from the start, pinning the 21-year-old Giuffrida quickly to score her single point yuko. Highlighting her reputation for nerves of steel, Kelmendi never gave up her slight advantage. Japan's Misato Nakamura and Russia's Natalia Kuziutina won the bronze medals.
"This medal means a lot, not only for Kosovo's sport, but for all Kosovo as a country.
"We have survived a war. There are still kids who don't know if their parents are alive, don't have anything to eat or books to go to school. So the fact of becoming Olympic champion is just huge for all of us."
About 100 countries have given their diplomatic stamp to Kosovo. It has been recognised by the International Olympic Committee for less than two years.